Panhandle Area Council incubator helps brew up success story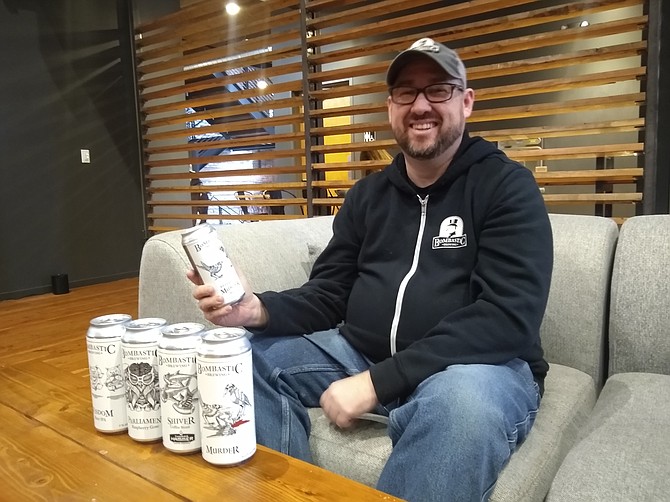 Beer brings people together.
That's what Russell Mann believes.
Mann is one of the three owners behind Bombastic Brewing, one of the start-ups that lease space at Panhandle Area Council's incubator business center next to the Coeur d'Alene Airport.
It's an ideal location for the company, which has a unique business model that necessitates less space than traditional breweries.
"PAC was super important to us," said Mann, who founded the craft brewery with partners Matt Skillicorn and Phil Hottenstein. "We're able to brew on a small scale there."
Bombastic Brewing uses a contract brewing model. Rather than utilizing their own equipment, which can cost in the neighborhood of $350,000, the business partners with other small brewers.
Many small-scale beer makers brew once or twice a week, or even less frequently, Mann said, though they have the capacity to make more batches. Bombastic Brewing pays to take advantage of that additional capacity, which would otherwise go unused.
"It's mutually beneficial," Mann said.
The practice makes brewing more accessible, he said, helping brewers save on startup costs.
But it wasn't always possible. When Bombastic Brewing got its start in 2014, contract brewing existed in a legal gray area in Idaho — neither explicitly legal nor explicitly illegal.
Idaho later tweaked one of its beer-related laws and the state interpreted the new text in a way that prohibited contract brewing.
Bombastic Brewing joined with Idaho Brewers United, the state's brewers guild, and worked for a change to the law. In the meantime, they brewed modest quantities of beer out of their small space near the Coeur d'Alene Airport.
Gov. Brad Little signed Senate Bill 1078 in 2019, which clarifies that one company producing fewer than 30,000 barrels a year is authorized to contract with another brewer producing fewer than 30,000 barrels.
In addition to cutting costs, Mann said contract brewing also helps decrease the environmental impact, since beer is brewed as close as possible to where it will be sold.
"We're brewing in multiple spots," Mann said, adding that the goal is to partner with even more breweries at one time.
Bombastic products are available at more than 30 locations through Idaho, Washington, Montana and Utah. Locally, their beer can be found at several stores in Coeur d'Alene and Sandpoint, as well as in the Treasure Valley.
"We expect to double our sales this year," Mann said.
Crafting recipes and brewing is as much an art as it is a science.
Mann spoke with excitement about the latest batch of Attempted Murder, an imperial stout with vanilla and cinnamon, one of the many varieties Bombastic Brewing offers.
"We've completely nailed the spices," he said. "It's perfectly balanced."
For the three business partners behind Bombastic Brewing, there's a certain hobby aspect to their work. They're not just beer makers — they're fans of the product.
"We've traveled to 15 different countries just for beer," Mann said. "We've had beer from every state. We're very familiar with what people are drinking."
That's why Mann, Skillicorn and Hottenstein want their customers to have access to good beer.
Mann noted that Bombastic's products aren't meant to be enjoyed alone.
"Share it with somebody," he said.
Info: www.bombasticbrewing.com