New jet center takes off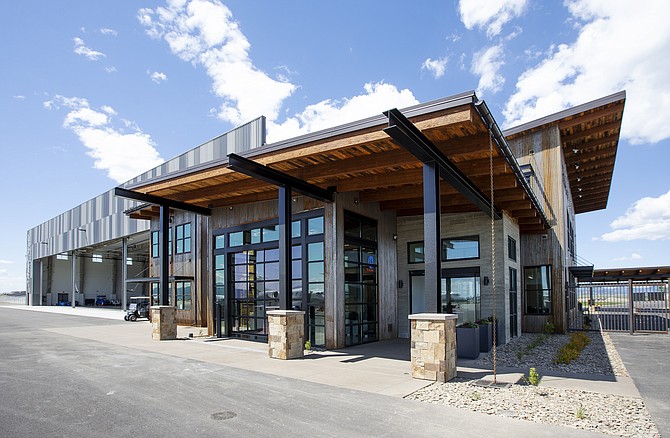 Wooden boat manufacturer StanCraft Co. has made the leap from the waters to the skies with the opening of a 30,000 square-foot private airplane hangar at Coeur d'Alene Airport Pappy-Boyington Field.
The new complex consists of a 15,000-foot terminal that features a "crew club" with private communication pods, bathroom with showers and a pair of sleeping rooms.
The facility also contains a business center, conference room, tenant offices and even a golf center.
Downstairs, a coffee shop is open to the public.
The entire space is designed to showcase all that North Idaho has to offer — right down to paintings and sculptures crafted by local artists that decorate the terminal.
For StanCraft co-owner Robb Bloem, that's what it's all about.
He wants the jet center to give a great first impression, from the moment people step off the plane.
"(The Coeur d'Alene Airport) is a gateway," he said. "It's just as important as U.S. 95 or I-90. So many people fly into Coeur d'Alene."
Most of StanCraft's clients fly private. For years, clients had asked if StanCraft could renovate the interiors of their jets.
That's where William Mancebo comes in.
With decades of experience, Mancebo is the head of interiors for StanCraft.
He's dedicated to his craft — so much so that he'll work long hours for weeks straight just to please a customer.
"A piece of me goes out in everything," he said. "It's that important to me."
Because the client's experience is at the center of what StanCraft does, Mancebo says it's the perfect fit for his style.
"I think this jet center is going to be something fantastic," he said. "It already is."
StanCraft decided to establish the company as a fixed-base operator (FBO). The company acquired Hayden-based Southfield Aviation in the process.
It's the summer season, and between private aviation and helping to refuel firefighting aircraft, the jet center is always humming with activity.
The interiors business is picking up, too.
Bloem said he wants to keep investing in the area and creating jobs for locals, with the jet center in the middle of it all.
South Field Aviation came with four full-time employees, a number that has already grown to 15.
Over the next five years, Bloem said, he expects to employ about 50 people at the jet center, which will continue to expand.
"Our goal is to create some good industries so our kids, whether they go to college or not, can stay and live in North Idaho," he said.
If visitors come to the Gem State to recreate and enjoy the area's natural resources, Bloem reasoned, then Idahoans should benefit.
"Like it or not, growth is coming," he said. "We'd better be ready."
Info: www.stancraftjet.com