A tidal wave of business success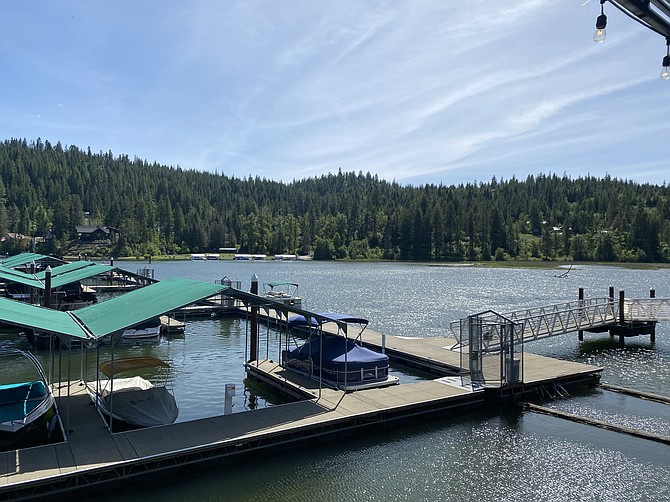 Boating isn't just a recreational sport to the citizens of Kootenai County. It's an important way of life.
At least, that's what Nick Snyder, director of the Kootenai County Department of Parks and Waterways, says — and with good reason.
Kootenai County is the largest boating community in Idaho, with more than 44,000 navigable acres of water serving over 20,000 registered boaters every year.
In 2020, Kootenai County made up a little over 21% of Idaho's registered boating population. With 20,564 vessels designating Kootenai as their primary location, and 3,629 as a secondary, the North Idaho area is swimming miles ahead of any other county.
The closest runner-up, sitting at 12,729 boaters, is Bonner County, followed by Ada with 9,869.
The demand of recreationists drawn to Kootenai County's sparkling blue waters is supplemented by over a dozen boat rental operations and marinas in the Coeur d'Alene-Post Falls-Hayden area.
If you're looking to rent a boat this summer, you might have to do some digging as many companies are booked months in advance. Following a year of COVID precautions that encouraged space, many flocked outdoors, including Kootenai County's waterways.
Kent Carson, the owner of Kent's Coeur d'Alene Boat Rentals, said that if 2021 is anything like 2020, every boat business will have a crazy year. Carson's been in the boat business for 27 years and said he's seen a dramatic change in Kootenai County's boating industry.
"When I moved here in 1993, there was hardly anyone on the water other than on July 4," Carson said. "Now it takes you an hour to launch a boat at Hayden Lake, and most of the people in the parking lot have Washington plates."
About half the people who reach out to Carson's company are out-of-state residents, he said, which has contributed to a massive increase in customers.
"I've turned away a lot of people already. I'm already booked into the summer. I had six rentals yesterday and five or six calls a day to reserve," he said. "If you want a weekend or Fourth of July, you're out of luck."
A leader in Kootenai County waterway recreation is the Hagadone Marine Group. Under the Hagadone Corp. umbrella there's the Hagadone Marine Center, Lake Coeur d'Alene Cruises, Coeur Custom, Hagadone Boat Storage, Blackwell Island Marina, the Boardwalk Marina, Silver Beach Marina, Blackwell Pro Shop, Quick Launch, Resort Boat Rentals, and the Marina Cantina.
Hagadone Marine Group President Craig Brosenne said affinity for the lake stems from the organization's visionary leader — the late Duane Hagadone, who died April 24.
"All the businesses he's built were created around the lake," Brosenne said. "The lake is the natural draw for people and their families, and it's been a big part of our success - hospitality, the restaurants, cruise boats, the marine center, boat sales, storage, everything you see."
When COVID-19 struck, many businesses slowed down, but quite the opposite occurred in the marine industry, Brosenne said. He estimated that business is the busiest it's been in 30 years. It has become so popular that enthusiasts have to order boats from manufacturers rather than buy one off the lot.
In a report by the National Marine Manufacturers Association released earlier this year, sales of personal watercraft — like Jet Skis — increased by 8% (11,000 units) in 2020. Wake boat sales were up 20% (13,000), and fishing and pontoon boats were up 12% (143,0000 units). Retailers sold more than 310,000 new powerboats in 2020, the report said, which is the highest level of sales seen since before the Great Recession in 2008.
"The shelves are empty. (Sellers) are completely out no matter what state you're in," Brosenne said. "So people are ordering boats for 2022 now, and that's just the new norm. They can't build them fast enough. People have been waiting six or seven months to have their boats delivered because there's a national shortage of resins and materials."
Only two weeks into June, Brosenne was confident that 2021 would be the busiest year in Hagadone Marine Group history — which is even more impressive considering last year was a record season. He estimated that his operation would sell between 350 and 400 boats this year, about 100 more than pre-COVID numbers.
"It was a COVID catalyst. Nobody expected this to happen," Brosenne said. "But Coeur d'Alene has been found. People are moving here for a better way of life and outdoor recreation."
He explained the Hagadone Marine Group serves customers throughout the Northwest, including 17 lakes ranging from north of Coeur d'Alene down to McCall. In addition to boat sales, the organization also is home to the most extensive boat storage in the country with 2,000 spaces, and 380 more are currently under construction, with the region's only dry stack facility anticipated to open in April 2022.
"We have over 1,100 people on a waitlist for our wet slips, and that was the catapult to build the dry stack facility," Brosenne said. "It's hard for everybody to keep up with the growth, the community, and on the marina side of things, but everything is a success on our end."
The Hagadone Marine Group has grown substantially from the small dealership that opened in 1944, and Brosenne said it will continue developing in years to come. He said the group has discussed ideas including a second quick launch, houseboat rentals, watersport opportunities, or even a boat club.
"Every time we build anything, we've improved it, and we've improved it over the last 16 years into what it is today," he said.
MARINA AT BLACK ROCK
For some establishments, like The Marina at Black Rock, tucked away in quiet Rockford Bay, the business has been growing for years — but nothing compared to 2020.
"The demand for slips is huge," general manager Jeff Messinger said. "The gold on this lake is slips because there's no more. We have a full marina."
Boat slips are parking spaces for watercraft at marinas, usually with a walkway and cover on the water where renters or owners can leave their vessel during the summer season.
There was a time, Messinger said, when it was hard to fill The Marina at Black Rock's 129 slips due to the overall costs of the summer activity. Now, like many other marinas around Lake Coeur d'Alene, the marina has a waitlist - 45 and counting.
Messinger explained that list will likely need to wait for a while, as only three or four people leave every year. Securing a rental isn't easy, either. With only three provided by the marina, booking now is nearly impossible, he said.
Interest in Black Rock has been rising for about four years, Messinger said, mainly from out of state. From classic general store candy, an enticing smell of ribs smoking in the back kitchen, Shooters Bar & Grill, the Tobler Marina, and an RV Park, Black Rock is the classic 1980s summer camp families cherish. It used to be the second-homers visiting the summer cabin on holidays, he explained, but the business has changed with the constant flow of visitors.
"We used to be only open from May to October, but there are so many people that live around here now because of the residential growth that we're open almost year-round. We're only closed in January," Messinger said. "We're really busy. Crazy busy, enough to support us easily."
Sales after Memorial Day weekend already topped past years, Messinger said, and if he had to estimate, he would say business has grown by about 25% since 2016. What Black Rock used to make in the whole year is now made in two months; June is the new July, and April was as busy as June.

"It's just crazy to think your little town is on the map now," Messinger said, looking across the lake at Coeur d'Alene. "It's incredible."