A milestone for Magnuson, McHugh & Co.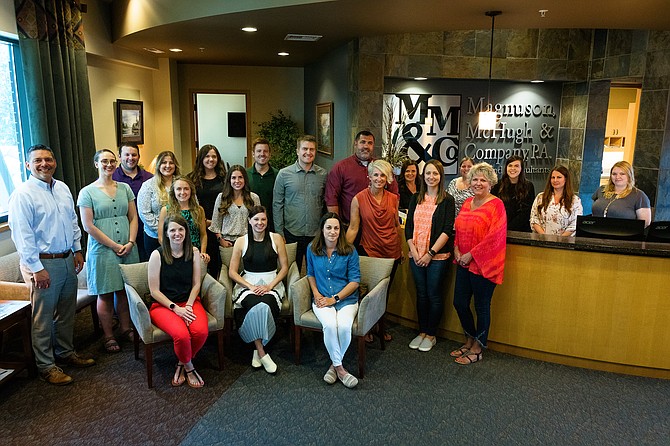 Caring for clients, community and staff is a cornerstone on which Harry Magnuson and John McHugh built their company seven decades ago.
"It's the bedrock of what Harry and John formed the firm on," Magnuson, McHugh & Company, P.A. President Michelle Haneline said. "They were both well known for giving back to the community while making sure the clients and staff were well taken care of. We always keep those values in mind as the firm looks to the future."
Magnuson, McHugh & Co. offers a wide selection of financial and consulting services for individuals and businesses, from estate planning and tax return preparation to bookkeeping and payroll. The firm officially celebrated its 70th anniversary on May 8, from when it began as a small office at Fourth Street and Sherman Avenue.
Since then, it has grown to be a local household name. It's a company of 25 professionals working in a 10,000-square-foot office on Northwest Boulevard, still small enough to connect with its hometown yet large enough to tackle the diverse needs of clients in a region booming with population growth.
"We have a lot of very smart people and we tend to shine when somebody comes in with a complex problem that often touches several of our departments," wealth management director Kevin McClelland said.
"They're not just coming to get their tax return done, right? The business is looking to grow, or expand or something that needs a game plan," he said. "To get everyone together and talk about different ways to achieve those goals is unique and our differentiator. The team approach creates a strong client relationship, but also enables us to give our best advice."
In 70 years, the firm has built close relationships with local businesses that look to it for financial advice and guidance. Some of those businesses have spent generations doing business with Magnuson, McHugh & Co. Appreciation for those positive relationships is reflected in awards such as the Business Journal of North Idaho's Best of competition, which Magnuson, McHugh & Co. has won in the "Best Accounting Firm" category multiple times by vote of the people.
As far as services are concerned, the company offers the traditional tax planning and preparation, small business services, accounting and payroll and audit.
A fairly new department, wealth management was created five years ago because "the clients were asking for it," McClelland said. This includes asset protection and planning for retirement, taxes and investments.
"Part of the reason is because these larger institutions were failing them," he said. "They were getting bounced around, they were getting bad advice, they were getting no advice. Our ability to utilize tax expertise in-house when making investment decisions has really resonated with the families we serve."
Employees are encouraged to give back to the community, which is a win-win-win for company, community and staff.
"It's strongly encouraged you find a niche for yourself in the community," Tori Gray, principal and director of the firm, said. "It could be a smaller shoestring organization that really calls to someone, right up to the biggest boards in the community, like the North Idaho College board or the hospital, the library, Rotary, United Way. If it calls to someone, by all means, we encourage it. We'll give them the time and help them with resources as much as we can."
Steve Flerchinger was the director of audit and assurance services before he retired from a 40-year career with the company in 2019.
"I was president of United Way for a year, and the campaign chairman for a year. I've been president of Rotary and the Post Falls Chamber of Commerce," Flerchinger said. "They definitely provide time for us to do that and they pay for our expenses doing that. It's really beneficial for us to get out there, learn about what's going on in the community and give back to the people who support us. That's very important in the culture of Magnuson, McHugh & Co."
As well as serving the community outside the firm, Magnuson, McHugh & Co. takes care of its employees within.
Supervisors are aware of a healthy work-life balance. Employees enjoy team-building activities, such as bowling nights and 10-key competitions.
"Culture is so important to any successful business," said Haneline, who has been with the firm more than 25 years and serves as a shareholder as well as president.
"I feel the most talented professionals have a choice of where to work," she said. "I'm proud that Magnuson, McHugh & Co. has fostered a culture that prioritizes community and family."
The firm was recently recognized by Accounting Today as a top 100 Best Accounting Firm to Work for, both in 2019 and 2020.
For 70 years, this accounting firm has been at the service of the community, formed bonds with its clients and taken good care of its employees.
These are legacies that will only continue to grow into the future.
Info: www.mmcocpa.com