On site, all the time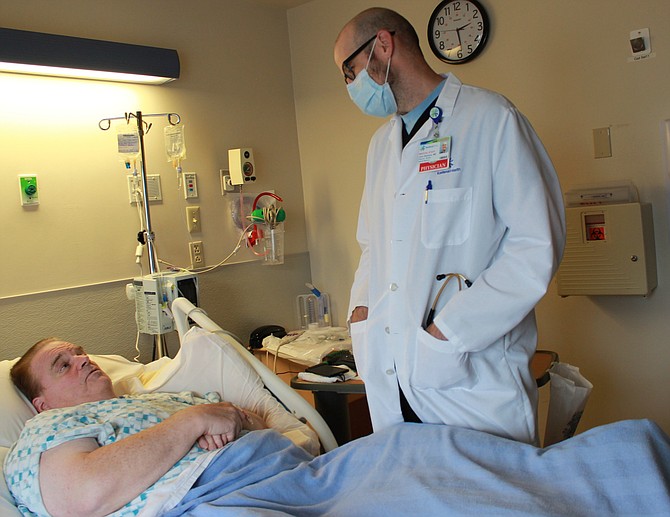 It was an exceptionally warm October afternoon as hospitalist John Siemers, M.D., stopped by a room on the north end of Kootenai Health to check on one of his patients.
Ray Hoyt had been in the hospital for a few days with a leg infection. Siemers listened to his heart and lungs through his stethoscope and gave Hoyt a brief update on his status. Siemers then updated Hoyt's file on the computer near the door and let him know he'd be back to see him soon.
"The people they have here are fabulous," Hoyt said, sharing that he has had some exceptional experiences while in the care of Kootenai Health.
A number of those people making his experience exceptional are "hospitalists" — care providers who solely work in the hospital and are dedicated members of hospitalized patients' care teams.
They don't work in clinics or outpatient offices. They are exclusive to hospital work and contribute their expertise to caring for each patient who is admitted.
"In layman's terms, I'm the substitute for your normal primary care physician while you are in the hospital," hospitalist Jeffrey Wilson, M.D., explained. "I'm the quarterback for all of your care in the hospital, ordering labs and diagnostics. My job is to get you better and discharged out of the hospital as quickly as is safely possible."
Kootenai Health has 19 full-time hospitalists, four "moonlighter" hospitalists and three nurse practitioners who work as hospitalists. In addition to their large patient census during COVID-19, a number of contracted physicians are also working with their team. They care for the adult patient population. A separate pediatric hospitalist team treats children admitted to the hospital.
The need for these always-on-site doctors has only grown since the hospitalist model was first adopted in 1996. Hospitalized patients are often more critically ill and increasingly more complex than they were in the past. Outpatient practices are also busier and, as the median American age increases, the need for health care of all kinds continues to grow.
"Just more than 20 years ago, hospitalists didn't exist, it was only primary care doctors," Wilson said. "They would round at the hospital in the morning, work in their clinic during the day and be back at the hospital in the evening. It was challenging for patient care because the doctors were often unavailable during the day while at their clinics. The hospitalist model makes physicians accessible at any time to nurses or any patient."
Hospitalists share the workload with nurses and specialists, they serve as another resource to see the entire picture of a patient's health and how all aspects of the patient's care are working together. They send discharge summaries to primary care providers so they know the details of hospitalization and what needs to be addressed afterward. For urgent issues, a hospitalist will directly contact a patient's primary doctor.
"The large majority of all patients in the hospital are under our care," Wilson said. "Without hospitalists, you wouldn't have the benefit of continuous coverage by doctors in the hospital."
During a pandemic, these in-hospital physicians are more needed than ever.
"Any patient with COVID-19 who doesn't require critical care has been admitted to the hospitalist service, which is the vast majority of patients requiring hospitalization for COVID-19," Kootenai Health hospitalist Maggie Greene, M.D., said. "After someone admitted to critical care has clinically improved and is able to leave critical care, hospitalists will take over the management of their care."
In a typical day, Kootenai Health has 10 rounding teams, up from five teams more than a year ago prior to COVID-19. These physicians see an average of 15 patients per day. They manage the patients' acute issues and work on how to safely discharge them from the hospital.
"With a large portion of our region's growing population being over 65, our hospital is expanding to address the needs of our community, including increasing hospital beds and ensuring hospitalists are available to provide care to those patients," Greene said.
Two of Kootenai's hospitalist physicians are dedicated to triage each day, she said.
"This means they admit patients from the emergency department as well as accept and admit patients from other hospitals and clinics in our region," she said. "At night, we have a nurse practitioner and dedicated 'nocturnist' who continue the admissions process and manage all of the patient issues that need to be addressed at night on the medical floors."
Wilson joined the team in 2011 as his first job after graduating from internal medicine residency at Providence Sacred Heart Medical Center in Spokane. He entered this profession because of a profound experience he had following injuries sustained in a chemistry lab explosion. He was in the hospital for three days and underwent surgery on his face and arm.
"It was one of the most vulnerable times in my life," Wilson said. "My family and friends didn't recognize me for a short time."
"In this state, you're literally at the mercy of those around you," he said.
"I was at the lowest point in my life and feeling hope from the doctors and nurses around me," Wilson said. "It was inspirational in the sense that now I get to do that for people when they're in their most vulnerable, helpless moments."
Hospitalists are in high demand in northern Idaho, even more so because of the COVID-19 pandemic. In the past year and a half, Kootenai hospitalists cared for more than 1,900 different patients admitted with COVID-19.
Preparation for an adult hospitalist includes residency training in general internal medicine or family practice. Residencies are generally three years of hands-on instruction. Some hospitalists specialize in fields such as pediatrics, neurology, obstetrics and gynecology and oncology.
Overall, hospitalists have knowledge across broad scopes of illnesses and injuries, and no two patients are the same.
"We went into internal medicine or family medicine with a love for being able to understand multiple body systems and working with patients and their families to improve their health," Greene said. "We love coordinating care with other caregivers such as our nurses, therapists and well as our team dedicated to safely discharging patients back to the community.
"We have a passion for educating our patients and their families and encouraging them to be participants and advocates in improving their health," Greene continued. "We love that every day is different for a hospitalist. We don't have a clinic schedule. We just take whatever comes through the doors of the hospital each day and we love the challenge that brings!"