Spilling the beans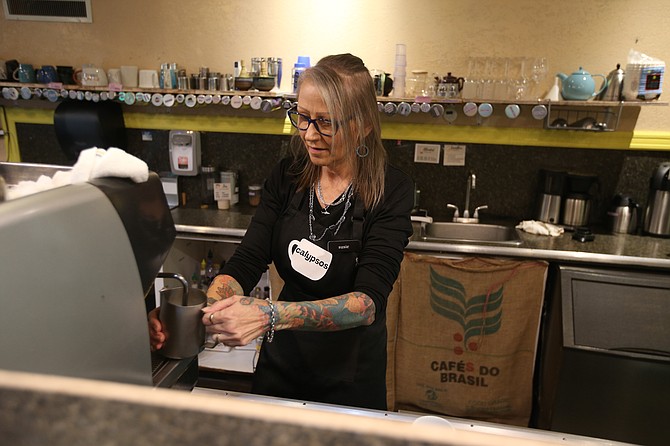 Welcome to Coeur d'Alene's living room.
Have a seat. Make yourself comfortable.
That's what Diane Rueber wants folks to do at Calypsos Coffee Roasters — and she hopes they keep doing it for years to come.
About three years after coming under new ownership, the coffee shop and eatery located at 116 E. Lakeside Ave. is for sale again.
Stepping away from Calypsos is painful but necessary for Rueber, who plans to move soon in order to care for an ailing family member.
"It's hard to leave your business," she said. "I feel like I'm giving up my baby."
Rueber moved to North Idaho with her husband in 2017, after the death of her brother, who lived in the area. Her son, RJ, soon followed.
It was RJ who found the online listing for Calypsos and convinced Rueber — who comes from a family of entrepreneurs — to buy it.
Back then, she wasn't actively planning to go into business, though the idea had been percolating for many years.
"If I wanted to buy a business, Calypsos would be the one," she said.
The opportunity was too good to pass up. Calypsos is iconic, Rueber said — a fixture of downtown Coeur d'Alene, known for its relaxed atmosphere.
She admits the first year was tough. The Ruebers knew coffee, but they didn't know the restaurant business. They didn't make much profit.
The second year was a different story. They found their footing in 2019, Rueber said.
"It took off," she said.
Calypsos began selling gift certificates and gift baskets. The business also bought the Gaiwan Tea House selection, adding more than 50 high-quality, loose-leaf teas to the menu.
At the same time, Calypsos developed their own formulas for unique coffee blends.
"When RJ started getting into the groove of making coffee, it was exciting," Rueber said.
It was smooth sailing until March 2020, when the COVID-19 pandemic forced Calypsos to close its doors to the regular crowds.
Calypsos received federal aid, which helped the business stay afloat during the early days of the pandemic.
With the shop closed except for pick-up and delivery orders, Rueber used the opportunity to redecorate and repaint, as well as to refine the menu.
When the commercial refrigerator went on the fritz and Calypsos lost its stock of food as a result, Rueber said she was touched by the community's support.
"During COVID, people were so nice," she said. "Everyone was in the same boat."
Several interested parties have reached out about buying Calypsos, though nothing is final yet. Rueber said she's aiming for a smooth transition.
"I want it to be so seamless that people don't even notice," she said.
Above all, Rueber said she hopes to sell Calypsos to a buyer who's committed to maintaining the coffee shop's relaxed, welcoming vibe.
"People love it the way it is," she said.
Calypsos is known as a study spot, as well as for its open mic nights and other community events.
"I'm so passionate about this place," she said. "I really hope someone comes in with the same passion."
Rueber spoke those words from one of the comfortable couches at Calypsos, looking out at morning customers who sat together with homework spread across a table or simply connected over a cup of coffee.
"It's sad for me," she said. "There's no place like this."
• • •
Sale Detail
Asking price for Calypsos, according to an email, is $225,000.
The downtown Coeur d'Alene business is 4,400 square feet. The lease is $5,500 a month.
Information:
diane@calypsoscoffee.com
707-599-9705