Sushi Sensei takes dining to another level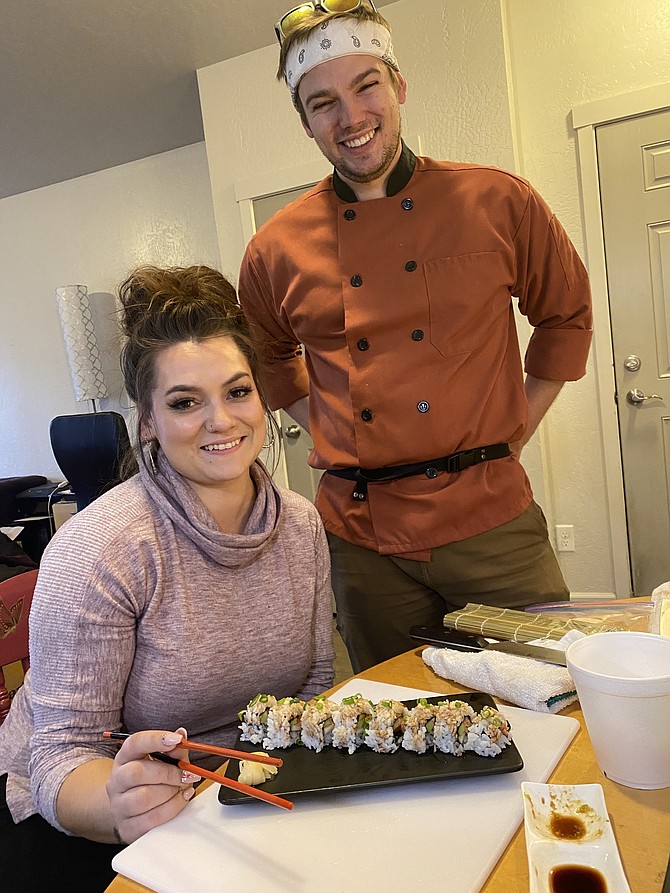 Most people go to a restaurant when they're craving sushi. But thanks to entrepreneur Issac Cunnington, there's another way to get more bang for your sushi bucks.
His freshly launched business, My Sushi Sensei, takes sushi dining to a whole new level. Cunnington books private events, in-home, office or other settings. Guests not only walk away stuffed full of high-grade sushi but they learn how to make it themselves.
Cunnington has been making sushi for about five years. He spent a year working at Coeur d'Alene's Fisherman's Market and Grill sushi bar before it closed because of COVID. The market is still the main place Cunnington sources his ingredients. It's the only place he buys sushi-grade fish.
"My ultimate goal is to have everyone leave my events knowing how to roll sushi, and to get full," Cunnington said.
Cunnington's approach checks more boxes than just filling your belly.
"To do an event like this, it's really unique and I'm trying to provide as much value as possible," he said.
Cunnington arrives dressed in the quintessential chef's coat. In a manner similar to Mary Poppins unpacking her bottomless bag, Cunnington unloads tools and ingredients from his case and cooler.
Each guest place-setting is prepared with a wrapped and oiled sushi rolling mat, sharp 8-inch chef's knife, bright-white cleaning rag, bowl of water, presentation plate and all of the meticulously sliced vegetables and fillings for the rolls. And, of course, perfectly prepared sushi-rice.
Cunnington enthusiastically presents helpful tips, news of sushi-history and details about what guests are preparing. A favorite of his sushi quips, is "clean knife, happy life," which is drilled into guests in a most charming manner.
Sushi chefs are known for maintaining a meticulous workspace, Cunnington said.
"If you've ever seen any chef roll sushi, their station is immaculate," Cunnington said. "The cleaner your knife is and the cleaner your station is, the better your sushi is going to turn out."
At this particular event, three styles of sushi were prepared - nigirizushi, which is sashimi on a gently hand-rolled bed of rice; makizushi, the traditional roll with nori on the outside; and futomaki, a specialty roll with the rice on the outside.
Fillings included Atlantic salmon, smoked steelhead, green onion, avocado, cucumber, tobiko (flying fish roe) and a variety of toppings and sauces.
Events can be tailored to include certain ingredients or encompass guest preferences, Cunnington said. Guest Dakota Goldman opted to add a touch of Asian pear to one of her rolls, which provided a sweet and savory flavor twist.
Goldman, a local bartender and sushi fanatic, said she'd tried to make her own sushi before — but it wasn't a succulent success.
"I think part of the reason mine didn't turn out so well is the rice mixture," she said. "My rice was really dry, it felt like, so my rolls were just falling apart."
Cunnington likens perfectly cooked sushi rice to the foundation of a house.
"Sushi rice is a finicky beast at best," he said.
Extremely sticky and starchy, it's enriched with sushi su, a seasoned rice wine vinegar, and requires very specific preparation. Because of the high starch content, as it dries it hardens.
Preparation of the rolling mats helps prevent the rice from sticking.
"I make the joke that if one of the rice grains makes it to the floor and the dog doesn't find it and the cat doesn't find it, you'll find it tomorrow because you're going to stub your toe on it later," Cunnington said. "It is unreasonably hard."
(Quick tip — Cunnington buys pre-prepared sushi rice directly from Fisherman's Market.)
Sushi Sensei caters to a variety of gatherings, everything from corporate office get-togethers to a girls' night in. Cunnington has taught his class in extravagant gourmet kitchens and in tiny apartments.
A recent event for Marissa Mitchell, founder and CEO of Let's Elope wedding service in Coeur d'Alene, was for 13 people.
"They went nuts for it," Cunnington said.
"Do you ever do date-night kind of stuff?" Goldman asked.
"I've done one date night. It's actually featured on the website," Cunnington said. "It was so cute, they had so much fun. It was a really personal and intimate setting."
Not new to the entrepreneurial lifestyle, Cunnington said this is about the fourth business he has launched. One of them was Main Frame Games, which won Cunnington a $3,000 award in last year's Northwest Entrepreneurial Competition through North Idaho College.
Cunnington's first business venture failed when the product he'd designed was beaten out by a similar one launched by Walmart just before he launched his own. But he went on to create a board game, Terror of Tortuga and the Chameleon Cornhole Board, which converts from cornhole to a regulation beer pong table.
At this point, the sushi venture is a one-man show, but Cunnington is training several others who are ready to step in when business increases. A full-time sushi slinger, Cunnington hopes to franchise the idea.
Sushi Sensei charges $50 per person plus the cost of ingredients, which is usually around $20 each. Committed to transparency in business, Cunnington doesn't mark up ingredient prices.
"That's the way I would want it," Cunnington said.
For most classes, guests will make four rolls but are welcome to roll more with any remaining ingredients, Cunnington said.
To book your own in-house sushi experience, go to sushisensei.com or find Cunnington on Facebook or Instagram.
"Sushi Sensei was such a fun experience, Issac made the whole process so approachable and really explained why and how with every step," Goldman said. "I'd recommend this experience to anyone wanting to try something new."