Selfless service — in and out of uniform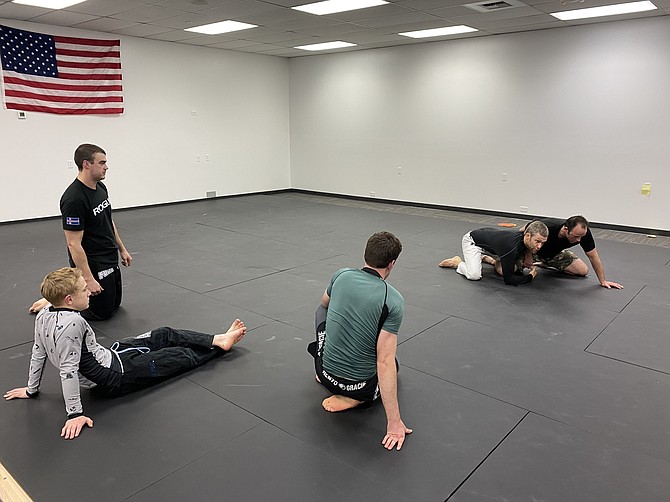 Practicing Brazilian Jiu-Jitsu techniques provides both physical and mental wellness benefits. Now, a local veteran also inspires charitable giving. 
When the Sparta Training Academy CDA opened its doors last month, its owners saw it as an opportunity to teach people of all ages situational awareness and self-defense. But as the holiday season approached, the team found another purpose — giving back to veteran families in need. 
Through Dec. 15, Sparta Training Academy CDA is hosting a Winter Food & Toy Drive for local veterans and their families through the Department of Veterans Affairs. The academy began gathering items shortly after opening and hopes to make $1,000 contributions. 
"In the military, we always provide selfless service to the less fortunate," STACDA owner and veteran Matthew Breitbach said. "I think it's important to support anyone that needs help. That selfless service to our brothers and sisters in arms doesn't stop because you're not in uniform." 
STACDA first started as a dream project for Breitbach, a Special Forces Combat Veteran and West Point graduate. Originally from eastern Montana, Breitbach said moving to Kootenai County was always the "end goal." 
"We love it here. It is beautiful," Breitbach said. "A lot of the local community is like where we grew up in Montana, and we feel at home here." 
After being commissioned into the U.S. Army, Breitbach spent about two years as an infantry officer before entering the Special Forces. The remainder of his 20-year military career was in the Special Forces Regiment. Breitbach was awarded three Bronze Star Medals, a Purple Heart, and an Army Commendation Medal with Valor Device for his service.
Breitbach's passion for self-defense began in high school wrestling and continued throughout his military service through infantry and special forces combative programs. Toward the end of Breitbach's service, his kids discovered Brazilian Jiu-Jitsu.
"I thought, 'What a good way to spend quality time with my kids,'" he said. "They can go to their academy and practice, and we can spend more time together." 
While working at a local gym, Breitbach met his two business partners: Anthony Friese and Devin Rourke. 
Friese's family moved around a lot as a child, but he spent his middle school years in Coeur d'Alene. Despite where he ended up, Friese said his favorite location was right here in the Lake City. 
While in Milwaukee, Wis., Friese was offered the opportunity to move back to Coeur d'Alene with his wife and two kids. 
"It was a no-brainer for me," he said. "I always knew Coeur d'Alene was the best place to live."
Like Breitbach, Friese's love of self-defense started in high school wrestling, which he pursued through college. Shortly after, a friend of Friese asked him to help coach a junior high wrestling team where he met a Brazilian Jiu-Jitsu blue belt.
"He was like, you got to try it," Friese said. "Man, I was hooked."
Learning martial arts techniques is more than just self-defense, the two said. The structured environment based on progression and learning is beneficial for children, women and all adults, Friese said. 
"Through the process, you develop fine motor skills, discipline and studying techniques that you apply over time to progress," he said. "That amount of self-discipline, focus, and body awareness are huge." 
With less than a month under their belt, the Sparta Training Academy CDA already has 50 students. The academy offers classes for kids, teens, adults, advanced, competition and home-school programs. It also has workshops specializing in situational awareness, nutrition, overall health and wellness. 
"As I was raising my kids, I wanted them to join a martial art for the anti-bullying, self-defense and healthy lifestyle principles," Breitbach said. "With that comes a lot of confidence for the kids, and it's impressive to watch them mold into strong young people."
Sparta Training Academy also plans to go live on their Instagram account on Veterans Day to pay tribute to "the fallen and families holding down the homefront over the holidays." Both of Friese's parents were in the military, who instilled in him the importance of supporting service members and veterans.
"Having the opportunity to be integrated into this community, provide instruction in martial arts and give back to veterans feels good," Friese said. "It feels good to have a good purpose." 
All community members are invited to bring toys, food and monetary donations to STACDA. 
"Veterans Day to me is more about selfless service and remembering the sacrifices previous generations went through," Breitbach said. "We have quite the veteran community in Coeur d'Alene who hopefully we can help through this program."
Info: @spartatrainingacademycda on Instagram and Facebook and www.stacda.com