Hibernation not likely for real estate market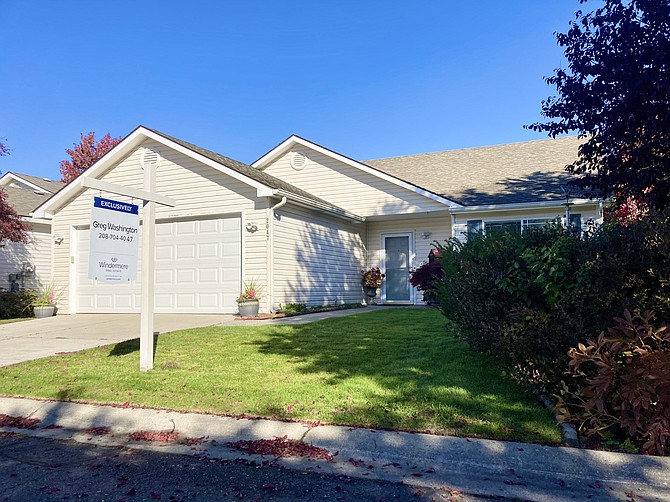 Kootenai County has been a front runner in the real estate race for a while now, but what happens when the snow flies? Will the market go into the deep freeze?
Not likely, experts say.
The county has grown by leaps and bounds, especially over the past year when Idaho finished No. 1 on the 2020 list of Top Moving Destinations from United Van Lines.
Some local Realtors acknowledge that the market has been cooling down a bit, but they think demand will still keep it competitive through the winter ahead.
The future may depend on what's happening in other states with COVID regulations as well as how cold the winter storms are.
"Typically in our market we see a natural slowdown of new listings and sales starting in late October and running through the New Year," said Jennifer Smock, co-owner and managing broker at Windermere/Coeur d'Alene Realty, Inc. "However, in January we will see an uptick of new inventory with sellers wanting to have their homes 'fresh' on the market for 2022."
Smock said there's typically less inventory for buyers to choose from in winter which leads to higher demand. The outcome could be a leveling out of pricing and not necessarily a decline in values.
"If (interest rates) stay low as predicted, then this will help to keep our market stable," Smock said. "Taking into consideration that if interest rates go up even one-half percent, then the buyer's ability to purchase goes down the same."
Smock said if the entry level buyer is qualified up to $400k at a 3.2% interest rate and they wait it out in hopes prices come down, and in that time interest rates go up to 3.7% instead, then the buyer's purchasing power will be reduced. What was $400,000 buying power is now $380,000.
Even with the nearly 40% year over year home value increases in some local locations, Smock said the area is still appealing to many future buyers.
"Depending on what happens in other states with COVID and all that has surrounded it, we could continue to see an increase in people moving to our area for years to come at a higher level than what we are currently prepared for," Smock said. "Inflation could have an impact on the real estate market as well."
Smock said if the cost of goods continues to rise, local real estate may become less attainable for some buyers when debt-to-income ratios are factored in.
"If it costs more just to pay the basics of food, shelter and clothing, then it will have an impact on the amount of disposable income needed to qualify and save for the necessary down payment needed," she said. "Weather may also play a factor in our market."
Depending on the severity of this year's coldest months, Smock said there could be fewer people vacationing and potentially moving to North Idaho.
"If I had a crystal ball my thoughts fall toward this winter staying somewhat stable," Smock said. "Assuming interest rates stay close to where they are at now, we will see a bit of a slower market as we are used to experiencing, but no major shifts necessarily."
Smock said another thing to note is the price reductions currently seen daily on the local MLS.
She said the daily increase gives an indication that the area may have hit some sort of a price threshold that the consumer is setting without even realizing it.
"Buyers are the ones who set value," Smock said. "They are willing to pay what they feel is reasonable for themselves for a home. Once it gets above this they stop making offers. This is when we start to see prices being reduced on homes."
Jared McFarland at Century 21 Beutler & Associates said winter is always interesting because of the direct effects of supply and demand, basic factors that control pricing.
"My guess is that throughout the winter we will see a decrease in inventory, especially through the holidays," McFarland said. "This is pretty standard historically."
McFarland estimates that January through April will see another jump in pricing because of the lack of inventory available.
As Memorial Day weekend nears, McFarland predicts people will become aware of the price appreciation and start putting their homes back on the market, increasing the inventory and slowing the price appreciation.
McFarland said a new element that increased the demand for housing through winter last year was COVID-19, as other states shut down businesses, restaurants and activities and many people ended up moving to Idaho.
"Last year this happened during the winter which ballooned the demand on an already low inventory level, making prices skyrocket," he said. "If we see a similar shutdown in our neighboring states, my guess is that we will see another large jump in pricing."
Ann Beutler, a Century 21 Beutler & Associates agent, said mortgage rates are still at record lows, and they expect them to rise very slowly over the coming months with projections to be around 3.5% by February.
"The current market is following its usual trend of slowing down as the cold months loom," Beutler said. "Buyers are becoming more prudent, causing some stabilization."
However, Beutler said with the increase of people now working from home, they're seeing buyers move here who would not have been able to in the past.
Emily Beutler, another agent, said the market has seemed to stabilize a bit from where it was six months ago.
"It's the most inventory we've had on the market in a couple of years, but prices remain high and it is mostly a sellers' market," she said. "The inventory may drop a bit in the winter as it usually does but I believe demand will stay the same making it a bit more competitive again. I don't foresee any big influx in prices like we did last year though."