Virus takes bite out of business-as-usual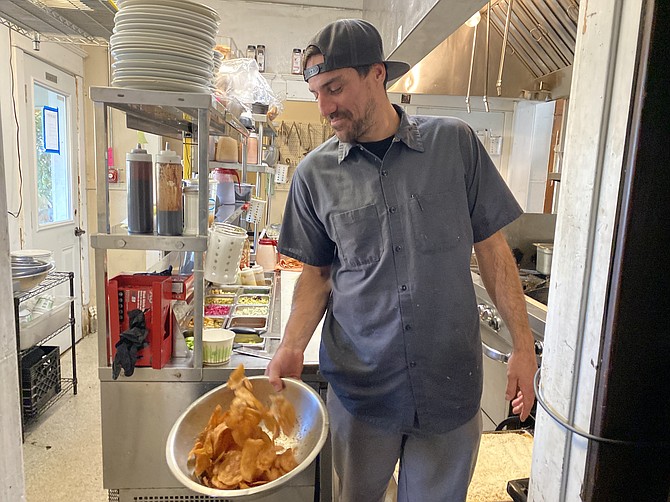 The continued impacts of COVID-19 shutdowns are painting a new normal for Idaho restaurants - one that's dominated by takeout orders, supply chain deficiencies and employee shortages.
Rathdrum business owners Sue and David Walsh have seen a massive wave of takeout orders for their restaurant, Nadine's Mexican Kitchen.
"We immediately got so busy with to-go," Sue said. "Like it was more money in just to-go than we had been doing when we had the restaurant open."
Nadine's is a fan-favorite Mexican restaurant, located on Rathdrum's Main Street for about six years. When the pandemic hit and the business was forced to close indoor dining, the Walshes told their staff to immediately apply for unemployment because they were unsure what would happen. They didn't want employees left high and dry.
After looking at takeout numbers, Walsh called everyone back in and didn't cut any hours.
"We had to create an extra job in the restaurant that we did not have before just to answer the phone and take to-go orders," Sue said.
Now, 19 months after the initial touchdown of COVID-19 in Idaho, takeouts are still a big part of Nadine's business.
"It dramatically changes the amount of revenue that we were getting," Sue said. "Originally, in our first few years, we probably did maybe 25% to-go orders, and we easily do 50% to 60% to-go now."
Takeout orders and third-party delivery services have also become popular with customers of the Republic Kitchen & Taphouse in Post Falls.
"It has a lot to do with third-party deliveries, whether it be DoorDash, Grubhub or UberEats," chef Lucas Chavez told BJNI. "People do pay extra money not to go out or have to have that human interaction."
Not all of Republic's customer base switched online, but Chavez said those who did "definitely had to do with sales being boosted."
"On a month-to-month basis, we ended up making about $20,000 extra just from third party deliveries," he said.
But all those extra paper, plastic and delivery goods have come with a price as the global supply chain continues to struggle following COVID-related inhibitors.
Since early 2020, manufacturers of food-industry materials have reported shortages in alcohol, glass, produce, dairy, coffee, plastic, grain, meat, and even ketchup. The lags in supply availability were initially caused by global isolation and businesses closing their doors.
When demand came to a sudden halt, producers from all sectors found themselves with a mass of unwanted goods. The sharp decline in need led some, notably farmers, to dump their spoiling products, cut back on production, and in some cases, lay off employees.
In April 2020, Dairy Farmers of America, the nation's largest dairy cooperative, estimated farmers disposed of as many as 3.7 million gallons of milk a day.
Then the world reopened, leaving manufacturers short-staffed, behind on production and unprepared for an immediate demand for goods. For those unfamiliar with economics, a not-so-funny thing happens when there's high consumer demand and low supply availability: inflation.
"What happens is this certain type of product goes out of production, and I can't get my hands on it," Chavez said. "Then, when it comes back, it's sold at 100% markup. In return, I buy these goods for a higher cost, which means that I have to raise the prices on my menu."
Some of the largest U.S. food distribution companies still report difficulty fulfilling orders due to supply chain and labor shortages. Sysco Corp. is the largest wholesale food distributor in North America. In August, Sysco CEO Kevin Hourican reported the company saw an inflation rate of 9.6% in the fourth quarter — mainly in poultry, beef, paper and disposable products.
"The food-away-from-home supply chain is under significant pressure. A robust customer demand environment is outpacing available supply in select categories," Hourican said. "Our supplier partners are struggling with meeting the demand of Sysco's orders, and certain product categories remain in short supply."
Walsh said transitioning to a higher level of takeout orders was initially difficult. But now, it's the supply chain that is causing a more significant issue.
Nadine's uses almost entirely fresh, never frozen or canned products, Sue Walsh said. So the restaurant is "constantly" dealing with lapses in ingredient availability or inflated costs, she said.
"Everything costs more. To-go products are insanely expensive and hard to get," Walsh said. "It's gone from, how do we not serve people inside to how do we make sure we have every product we need to serve people inside?"
In June, Kraft Heinz CEO Miguel Patricio told Time magazine that the inflation of raw materials was particularly impacting their product. Specifically, Patricio said the inflation of soybean oil, "which is an essential ingredient in Kraft's mayo and salad dressings, is at a 12-year high."
"I'm not going to pay $180 for a case of ketchup. That's ridiculous," Chavez said. "I'm buying cases of gloves right now for $180 a case, and there are only 10 boxes inside."
According to the National Restaurant Association's mid-year "state of the Restaurant Industry" report released in August, wholesale food prices have "trended sharply higher during the first half of 2021."
"Consumer prices for food away from home were up 3.9% on a year-to-date basis (through) June, putting menu prices on pace to register their strongest annual increase since '08," the report said. "Wholesale food costs are increasing at their fastest rate in 7 years, while hourly earnings are rising at a pace more than double that of the overall private sector."
On top of everything, the Walshes increased wages by $3 or $4 an hour to keep and attract employees.
"Even though our rental revenue has gone up, we're paying a lot more for labor," Walsh said. "I feel good about our staff making a living wage, but they went up dramatically."
Still, Walsh said Nadine's struggled to maintain enough staff throughout the summer, leading the owners to close an extra day. Nadine's is now open Wednesday through Sunday.
"We're turning the corner right now. We recently hired some employees, but we had a very small crew," Walsh said. "Nobody was getting rest."
She said closing the extra day was the best decision for staff. However, Walsh said they hope to reopen on Tuesdays soon.
"We're not struggling now, and we're thankful," she said.
Similarly, Chavez said the Republic is confidently looking to the future. He pointed out that September sales have doubled since 2019, from $75,000 to $150,000 this year. The restaurant's success, Chavez believes, is attributable to its reliable staff and customers.
"I got lucky enough to have such a young group of kids that were so passionate and ambitious who wanted to work and further their career," he said. "I couldn't ask for a better crew to fall on."
He said the core group of employees has been at the Republic for at least one year, and they added a few new faces over the summer with the help of a $1,000 retention bonus.
"Showing these kids what this industry can offer as far as a career and how awesome food is for people is what keeps them," Chavez said. "You do create a little bit of happiness in every bite ... So make sure you come into the Republic for happy smiles and full tummies."