Green, not mean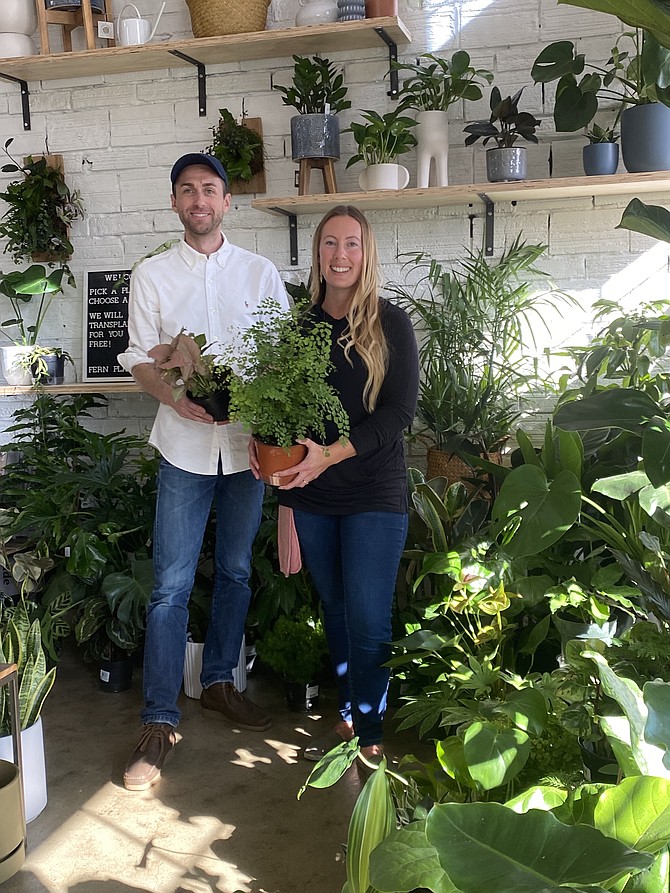 A healthy obsession with houseplants took root during COVID closures and lockdowns.
Society may have relaxed some, but the craze keeps growing.
Stacy VanWingerden, owner of VanHoff's Garden Center at 1844 N. Government Way in Coeur d'Alene, can attest to the trend.
"Definitely in the younger generations, we've seen a real interest," VanWingerden said. "People are adding green space to small areas."
Local plant shops aren't the only ones with evidence of the uptick in houseplant sales. The plant addiction is evident across TikTok, Etsy and Facebook.
Molly Helland runs the Coeur d'Alene Plant Exchange on Facebook. The group doesn't sell plants, but rather barters and trades clippings to support the growth of members' "collections."
"COVID has made us turn in a little more," Helland told BJNI. "We are (by nature) nurturing people and the houseplants have become such a great way to fill a void in people's lives."
As people socialize less and isolate more, the plant group has given members a way to meet new people, Helland said. The obsession with houseplants hearkens back to a day when technology wasn't our main social outlet, she said.
"We are so fixated in a technology mindset," Helland said.
"Creating a green nature space shows our proclivity towards nature."
Jess Geiger is a member of the Facebook group. She has always had a thing for plants but started collecting in earnest last March. She now has about 30 plants in her home.
"I love the aesthetic and enjoy watching the growth," Geiger said. "I am pretty amazed in myself each time I propagate a plant and don't kill it. I was given a few as gifts, fell more in love and started collecting more."
Sierra Park, a plant specialist and salesperson at Fern Plant Shop at 211 E. Lakeside, said some plants have a "cult following."
Hoyas are a tropical plant with over 200 varieties. Looking at about six of them offered at Fern, the differences are glaringly apparent.
"It's probably because they are a little more obscure, the rare varieties," Park said. "They also flower once in a while which can be a nice surprise."
Fern, owned by Alex Ekins and Amy Dolomont, is the second of three local houseplant boutiques owned by the pair.
They opened the downtown location in 2020 and could see that COVID was already changing everything. Previously, they'd owned other business ventures but noticed that the "botanical bent" was really taking off.
While many small businesses were closing due to COVID, Ekins and Dolomont chose to focus all of their energy on selling houseplants.
With offerings ranging from a $3 succulent to a 6-foot tall Dracena in a 14-inch pot for $379, Fern caters to brand-new plant parents or to those wanting a full home or office plant installation.
Fern is already booking projects for 2022. The client's space is evaluated for light, heat and moisture and plants are curated to best suit the environment and the owner's experience level.
"People began to spend more time at home," Ekins said. "As a consequence of spending more time at home, they wished to make their homes more comfortable."
That's only one reason Ekins believes the houseplant craze is growing. Part of it is the sheer enjoyment of nurturing a green life, he said.
Coming into Fern offers people an "enchanting experience." It's a "beautiful place to get lost in, to daydream and to be inspired by what is possible," he said.
Offering walls of foliage varieties, Fern has three full service plant shops in the Inland Northwest and offers classes in terrarium design, Kokedama and wall-mounted vertical gardens.
Fern also ships plants nationwide via online order, which was always a part of their business plan.
"Surprisingly we've found that we sell a lot of our product in major cities, New York, San Francisco, Chicago," Ekins said. "Part of that is the day to day in a place like that is a bit more challenging. The time that it takes to go to that retail location in a major city and bring home that same product potentially on a bus, a subway or up the stairs, having it delivered to your home while you're at work is a benefit to them."
Quality is another benefit of a houseplant boutique, Ekins said. With access to the best nurseries in the country and beyond, Fern sources foliage from Canada, Southeast Asia, California, Hawaii and Florida. That allows them to offer much more than local shoppers will find at big box stores, he said.
Georgie Davis, who's been responsible for houseplant inventory at VanHoff's for the past three years, said houseplant sales have more than doubled since she's been there.
"For all plants, there has been more demand," Davis said. "People are making themselves a happy place at home."
VanHoff's is closed to prepare for the Christmas season and will reopen on November 1. Fern is open seven days a week from 9 to 5. Class information: Fernplantshop.com