When things fall through, make a waterfall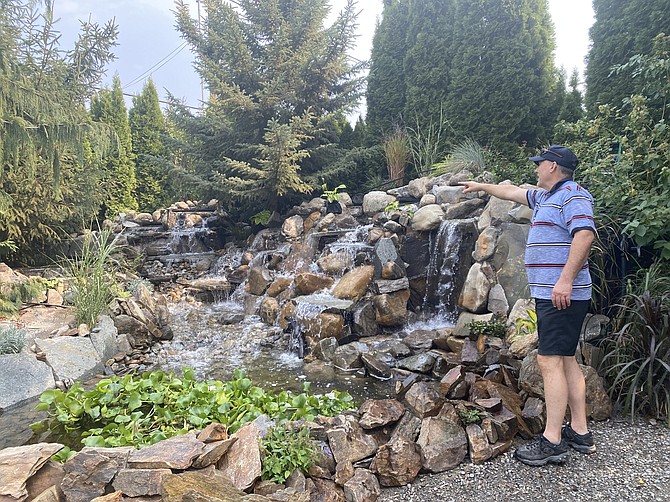 With the sale of the historic Roosevelt Inn falling through last May, owner John Hough needed a distraction.
It was time for a project, he said — one where he could get his hands dirty.
"I woke up one day and told my wife, 'I'm gonna go dig a big hole,'" Hough said. "I decided to build a waterfall."
With 22 tons of rock hand-installed piece by piece, the backyard water feature has played host to several weddings and a proposal.
As a wedding feature, the fountain garners a lot of attention, Hough said. He has further plans to install a mica-slate patio and sitting area around the edge of the pond, and he'll place 12 spotlights for romantic ambiance.
The venue can host events of up to 600 people, with 14 rooms and suites available. Built in 1905, the inn was originally a schoolhouse. Sprinkled throughout the home are relics hinting at the previous life of the building.
The luxurious backyard has three water features, a giant chess board and ample seating areas tucked among lush greenery.
Hough started the project in May with friend and chiropractor Bo Tucker of Spokane. The pair harvested rock from an old Coeur d'Alene River dredging site and hand-placed each one to create the fountain, which is surrounded from behind by mature weeping cedar and spruce trees.
Hough and his wife, Tina, had long planned to add the waterfall to the landscaping.
"We had this in our plans from 23 years ago," Hough said, though he believes this is the last major project they'll attempt.
"I just needed to learn how to do it first," he said.
Hough told his wife she would be amazed.
"And honestly, she was."
The Roosevelt Inn is still on the market, with several showings scheduled.
"But in the meantime we continue as if we'll be here for the rest of our lives," Hough said. "John and Tina Hough, just doing our fabulous thing at the Roosevelt Inn."