Making moves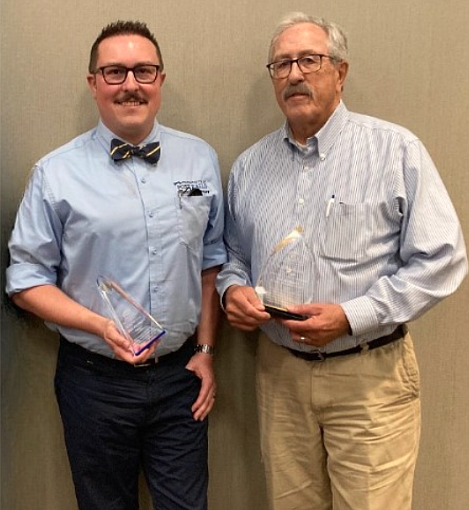 Field Herrington awarded Rising Star, Will Herrington earns Career of Service
Post Falls Deputy City Attorney Field Herrington and his father, longtime Idaho attorney Will Herrington who owns Herrington and Associates in Moscow, were honored June 24 during the 2022 Idaho Municipal Attorneys Summer Conference in Boise.
Field received the Rising Star Award, which is awarded to lawyers who have just started their careers representing cities in Idaho and who are making an immediate impact on their community.
Will received the Career of Service Award, Idaho Municipal Attorneys' highest award. It recognizes an attorney who has made outstanding contributions to the area of municipal law over his or her career, is an asset to the general legal and municipal law profession and embodies what municipal attorneys should strive to be.
Field has been with Post Falls since November of 2020 and previously was the city attorney for Rathdrum and Spirit Lake.
Will has represented many different cities throughout his career, mostly in Latah County.
Architects West welcomes Zach Johnson
Zach Johnson has been selected for the Landscape Designer position at Architects West. Zach brings with him over 20 years of experience to the firm. He earned his Bachelor of Landscape Architecture from the University of Idaho and is a certified permit technician. He previously worked for both the public and private sectors, including municipal planning departments, residential home builders and architectural design firms.
Zach's diverse portfolio includes a variety of design projects ranging from planting and irrigation for Sprague Avenue to Northern Quest Casino's parking area. Other projects involved design and platting, watershed restoration and streambank stabilization projects. Zach has a special interest in public places and community design. He loves to see ideas go from concept to a completed project. Zach is currently working on designs for Terminal 7, Atlas Waterfront, Children's Village and the Othello Ambulance Facility.
Architects West has been providing architectural, interior design, and landscape architectural and land planning services throughout the Northwest since 1973. Learn more at: www.architectswest.com
Avista Corp. Board Declares Common Stock Dividend
Avista Corp.'s board of directors has declared a quarterly dividend of $0.44 per share on the company's common stock. The common stock dividend is payable September 15, 2022, to shareholders of record at the close of business on August 19, 2022.
The declaration of dividends is at the sole discretion of the board of directors. The board considers the level of dividends on a regular basis, taking into account numerous factors, including financial results, business strategies, and economic and competitive conditions.
Morgan named CEO of Realtors Association
Coeur d'Alene Regional Realtors announced that Katherine Morgan has been appointed as the new CEO of the Association.
Morgan brings to the association extensive strategic leadership experience and a sincere love for her hometown community, said a news release.
"Emerging from a national search, we are excited to find Katherine right here with the region to lead the next chapter of our association's growth," said Lindsay Allen, CRR President. "Her genuine passion for our community is rooted in deep gratitude for having been raised in the Post Falls/Coeur d'Alene area and we are excited to welcome her leadership."
Most recently Katherine worked as the Spokane and Idaho Market Executive at Bank of America. Her background also includes senior executive roles at the Greater Spokane Valley Chamber of Commerce, the Spokane Home Builders Association as well as being a devoted adjunct faculty member at Gonzaga University.
Katherine received her MBA from Gonzaga University in 2014 and was recognized as Outstanding MBA Student of the Year. She's been acknowledged regionally as "20 under 40" by Spokane Coeur d'Alene Business Catalyst, Journal of Business Rising Star, NAWBO "Spirit of Women", and a former Honorary Commander for Fairchild Air Force Base. Katherine currently serves nationally as a Global Air Mobility Command Civic Leader to advance initiatives that support our nation's military families.
Morgan succeeds Ali Taylor, who after 23 exceptional years of service, is relocating to join an Association of Realtors in Florida.
Donald Morgan presents at LPL Financial conference
Rathdrum resident Donald F. Morgan, AIF® Independent Wealth Connections, recently had the opportunity to be a presenter at LPL Financials' Focus 2022 conference. The conference is one of the independent financial advice industry's premier events. Morgan joined a select group of advisors invited to present on two related subjects, which was held this year in Denver.
Throughout the four-day conference, financial professionals, institutional clients, sponsors and employees gained valuable insights and best practices from firm executives and thought leaders. The event showcases the latest resources, technology and capabilities to help LPL advisors and institutional partners deliver a better client experience.
"I was thrilled to be able to present at Focus this year," said Morgan. "Everything we do at Independent Wealth Connections is centered on enhancing the value we provide our clients, and this conference gives us access to the practices needed to do exactly that."
Morgan, with over four decades' experience in finance, leads an office that provides full-service financial planning, risk and portfolio management in a consultative, fiduciary-driven environment.
Northwest Endodontics welcomes Dr. Skylar Penberthy
Northwest Endodontics announced that Dr. Skylar 'Grizz' Penberthy has joined their team. Dr. Grizz is a native to North Idaho, and will be joining his sister, Dr. Brittney Penberthy, and father, Dr. Tim Penberthy.
Dr. Grizz attended local grade schools and graduated from Gonzaga Preparatory School. After Gonzaga Prep, he became a loyal Vandal at University of Idaho majoring in biology. Following his degree in biology, he went on to dental school at Oregon Health & Science University. Upon completion of dental school, Dr. Grizz continued advancing his knowledge with an AEGD at Virginia Commonwealth University School of Dentistry. Immediately afterward, he entered the endodontic program at Boston University and graduated with a master's degree in endodontics.
Williams, Bice join team at Verdis
Verdis has hired Michael Williams, PE, as a Project Engineer and Sam Bice as a senior project manager.
Williams graduated from Washington State University in 2014 with a bachelor of science in civil engineering and has more than seven years of civil engineering experience, including private and public projects. The Marine Corps veteran most recently worked as a civil project engineer at AHBL.
Bice started his career in the marine construction industry and then, in 2018, transitioned to vertical construction. He most recently worked as vice president of operations at Texas Dewatering, LLC, in Katy, Texas.
Verdis, based in Coeur d'Alene, is a woman-owned full-service land use planning, landscape design, civil engineering and construction firm. The firm has completed more than 160 federal projects in 14 states, in addition to projects for local and state agencies and private clients throughout the western U.S.
• • •
If you have a new, relocated or expanded business, or announcement of events, promotions or awards, The Press wants to let our readers know. Email the details to jtelford@cdapress.com.