Mix It Up earns national award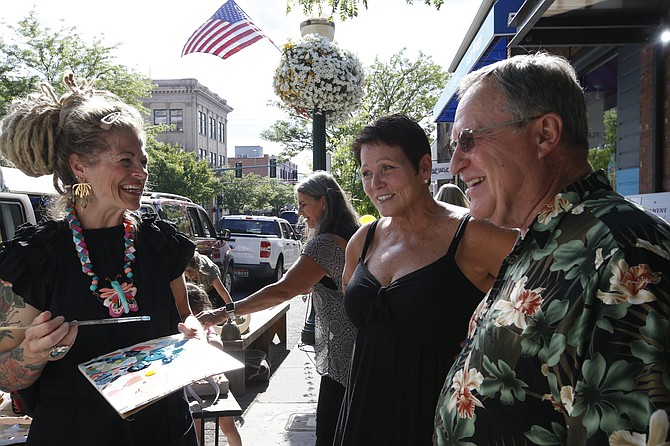 COEUR d'ALENE — Mix It Up isn't an art gallery. But strolling down Sherman Avenue on the second Friday of the month, you'd never know it.
A VW bus turned into a photo booth parked out front, while artist Michelle Allen set up her easel on the sidewalk.
Passersby were drawn into the home decor and gift shop, discovering inside handpicked, high-quality items they'd be hard-pressed to find elsewhere, as well as a space dedicated to showcasing local art.
For Beth Brown, who bought Mix It Up about four years ago, taking part in events like Artwalk and hosting her own — about 65 a year — is essential.
"It's just a chance for us to connect with our community," she said.
That mindset recently earned Mix It Up a major industry award.
In June, at a ceremony in Dallas, the store won the 2022 Retail Excellence Award for Best Store Events at the REA Awards. Mix It Up was chosen out of hundreds of nominees nationwide.
Brown bought the store about four years ago, with no experience in retail but decades spent in sales and marketing. She threw herself into the work of running a small business.
To receive such recognition from her peers just a few years later was surreal, she said. But it wasn't just her victory.
"It was an opportunity to put Coeur d'Alene on the map," Brown said.
The close-knit crew at Mix It Up take gift-giving seriously. Brown travels far and wide in search of special items for her customers. She never buys in bulk; the items in her store are carefully chosen and unique.
"The gift business is so meaningful," Brown said. "It's a way to show someone how much you care."
Soon, another community will get to experience Brown's personal touch. A second Mix It Up is expected to open in Whitefish, Mont. in November, just in time for ski season and the holidays.
The new location is a long-time goal finally coming to fruition.
"We've had this vision to open a store in downtown Whitefish," Brown said.
Her daughter, Vikki, will run the new store.
Even with a new store in the works, Brown's focus will remain on Coeur d'Alene and the community that has supported her through a whirlwind four years.
Though she's grateful for the tourists who visit Mix It Up, Brown said the local community is what makes it all possible. Each hand-picked item and special event exists to serve and strengthen that relationship.
"What fills my heart is the locals who come back again and again," she said.