Northwest Specialty debuts cutting-edge spinal surgery tech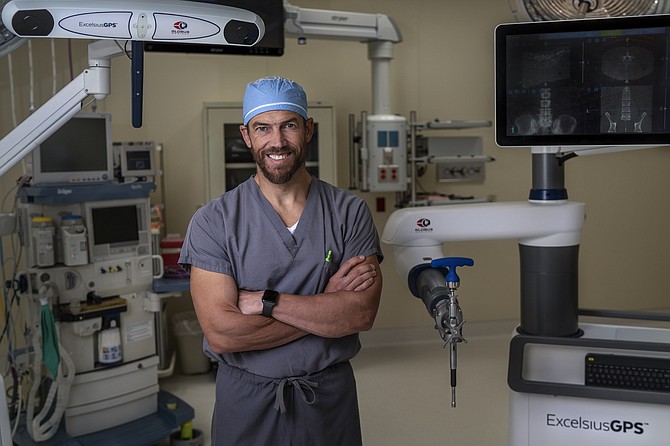 A Post Falls hospital that serves as an observation center for surgeons is now even more of an education destination.
Northwest Specialty Hospital announced in late May that it has added to its inventory the highly specialized ProAxis Spinal Surgery Table with advanced patient positioning technology.
Northwest is one of the only hospitals in the country to use the Excelsius3D Imaging System and ExcelsiusGPS Robotic Navigation System. Northwest also uses the Modus V, a digital microscope that offers a higher level of visualization into the patient and uses a stable robotic arm. The Modus V was originally designed for the International Space Station.
Augmenting Northwests spinal surgery capabilities, the ProAxis Spinal Surgery Table was added to the inventory in January. It features advanced hinge technology to provide precise surgical access and flexibility. It allows for flexion and extension of the lumbar spine with direct visualization of intraoperative changes in spinal alignment. ProAxis is radiolucent, which allows the Excelsius3D imaging system to capture images of the patient intraoperatively.
The IntelliPendant system controls the ProAxis table and stores the exact position of the patient for precise, predictable and consistent imagery. Tempur-Pedic Medical Pad technology is incorporated into all surfaces used by patients.
"Only a few places in the world offer this level of advanced robotic spine technology and that is a huge benefit for those living in our community at no extra cost," Northwest Specialty CEO Rick Rasmussen said. "We just wanted to do it because we felt that it was the right thing to do."
Dr. Roland Kent, who founded the Axis Spine Center at Northwest Specialty Hospital, is one of the first surgeons in the country to use the Excelsius 3D Intelligent Imaging System with the Excelsius GPS System. Kent said Northwest has practiced a customized approach to every patient since the spine center's inception.
"This includes both non-surgical and surgical strategies for those who fail conservative care," he said. "Cutting-edge technology in our operating rooms allows a perfectly customizable experience for every patient regardless of surgical complexity while increasing safety and decreasing recovery times."
Northwest Specialty is an observation center for surgeons from around the world who specifically request to observe Kent's surgical cases at Northwest. Site visit requests are made to and supported through Globus Medical's education department in an effort to familiarize and educate medical professionals to these new advancements in spine care technologies and techniques, Kent explained.
"We are the highest volume visitation site in the U.S. and we host two to three visiting surgeons per month," he said.
This new tech will give surgeons another learning opportunity when they visit Northwest Specialty.
Kent said from the administrative suite to surgical nurses, surgical techs, anesthesia providers, radiology techs, inpatient nursing staff, product representatives and more, Northwest Specialty "exhibits the highest degree of surgical competence and dedication to excellent patient outcomes."
Northwest's team is dedicated to patient safety and efficiency, he said.
"Being surrounded by our dedicated team, we have the opportunity to exhibit the highest quality of devotion to our patients while utilizing the most cutting-edge surgical technologies available anywhere in the world," Kent said. "I have worked at hospitals from large academic centers to small rural hospitals and I have never witnessed this level of focused teamwork in the surgical realm. This dedication is inspiring for those who take the time to visit."