Woman-owned Business of the Year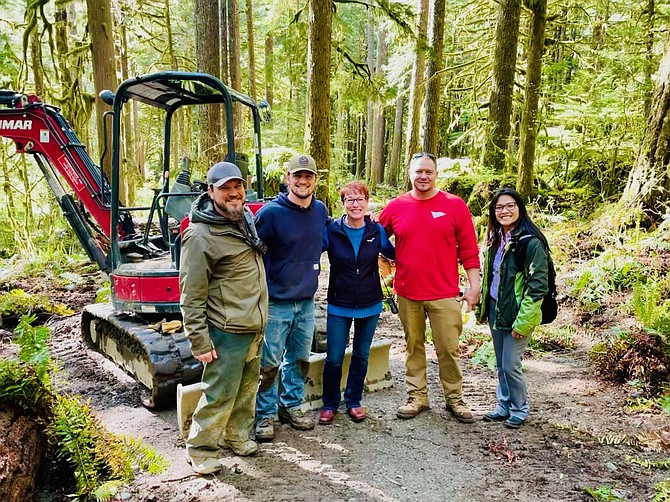 Business owner Sandy Young, the president and principal planner of Verdis, was recognized in June as the U.S. Small Business Administration Idaho Woman-owned Business of the Year in June.
Over 10 years between 2011 and 2021, Verdis, which is headquartered in Coeur d'Alene, saw a staggering 3,154% income growth and a net worth growth 3,398%.
Young and her late husband, Gary, launched a landscape architecture and land use planning firm in 2007 from a building basement with just one employee. As the company grew, they expanded their services to include civil engineering and masonry restoration and grew their team to 38 employees consisting of engineers, draftsmen, landscape architects, planners, constructions superintendents, masons, and laborers. Verdis now owns its own building and has a net worth of over $13 million.
Young's award was presented by Boise-based, SBA deputy district director, Shannon Madsen. Young spoke to the employees and friends who were gathered for the award presentation, referencing the poem "No Man is an Island," by John Donne. The poem's first lines read, "No man is an island entire of itself; every man is a piece of the continent, a part of the main."
"Every single person here deserves this award," Young said to her staff members.
The camaraderie among Young's strong and tightly knit team was evident during the award presentation.
"The atmosphere here is so dynamic, grace-filled and fun," said Noelle Adams, who has been employed by Verdis as an accountant for the past six months.
Young's husband Gary was diagnosed with lymphoma and passed away in 2015. Before he died, Gary urged Young to apply to the SBA program for women-owned businesses. Though she was deeply grieving the loss of her husband, Young handled her grief by working even harder.
Verdis was always a woman-owned business, as Gary preferred to simply be an employee, Young said. She was accepted into the 8(a) program for women-owned businesses six months after she applied. Young set to work traveling the country by car, and finding audiences to present Verdis to.
"I worked through my grief by driving, traveling and marketing," Young said.
Initially, Verdis only handled landscape architecture and land use planning. As Young presented to various government entities in pursuit of projects, she was told by many to come back when Verdis also handled construction. That spurred further changes to the company, as Young expanded what Verdis offered.
It took nine months of continuous marketing, but then the projects began rolling in, Young said. With the projects in, it was time to cultivate a larger crew.
Verdis now handles about 60-70 clients monthly. Since being accepted into the Small Business Association's 8(a) business development program in 2016, Verdis has completed over 155 federal projects as well as many private sector projects.
"Woman-owned businesses have a tremendous impact on Idaho's economy with the state being third in the nation for growth in the number of firms and growth in employment and revenue for women-owned businesses," Madsen said. "Sandy exemplifies this entrepreneurial spirit with her resiliency and innovativeness and is a tremendous asset to the state of Idaho."
The SBA 8(a) program is a business development program that provides business training, counseling, and technical assistance to small women-owned businesses. Partnering with federal agencies, the SBA strives to promote program participants to ensure they get equitable access to contracting opportunities in the federal marketplace. Once certified, participants are eligible to receive federal contracts. Participants stay in the program for 9 years, and Young is six years in.
Verdis has completed projects for the U.S. Air Force, National Park Service, U.S. Department of the Interior, Federal Highway Administration, U.S. Army Corps of Engineers, U.S. Forest Service, U.S. Department of Agriculture, Idaho Air National Guard and others. They also maintain a private sector department and have been involved in notable projects like the Kootenai Health addition, Riverstone Staybridge Suites, and the Kootenai Technical Education Campus.
Though many construction firms are struggling to find and retain employees, Verdis is not, Young said. Most employees come on board via word of mouth, and Young feels she has chosen the perfect person for each position, she said.
"I'm super proud of my team," Young said. "I couldn't be happier with them."
One requirement of the 8(a) program is that the company's net worth must remain below a certain threshold. So Young distributes profits among her employees. Verdis offers twice-yearly bonuses, and a profit-sharing plan for each employee. Other benefits offered are: ongoing professional development and training, paid holidays, paid time off, a 410K program, medical, dental and vision care, parental leave and relocation assistance.
Young's remodeled headquarters are at 3906 N. Schreiber Way in Coeur d'Alene. She has created a spacious and bright work environment that includes a central collaborative work space with large wooden tables.
SBA annual award recipients are chosen by a team of judges and are scored by looking at sales, employee growth and how the company serves their community.
"Sandy came out on top," Madsen said. "This is exactly the kind of business Idaho needs."
Visit Verdisnw.com for more information.