Rental market is a selling point, too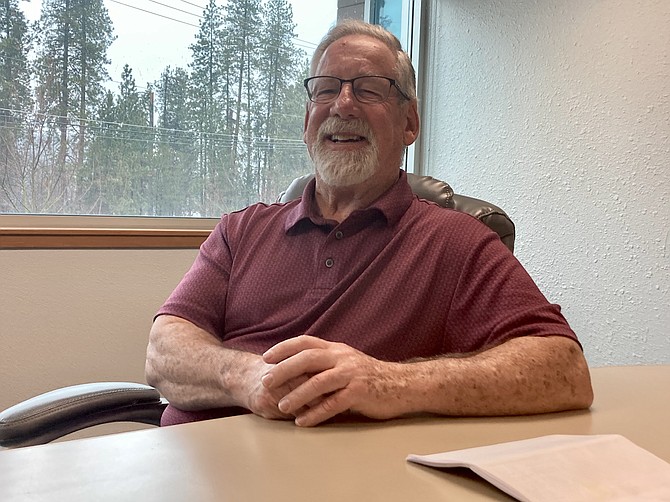 Going, going, gone.
With houses going up in cost and quickly disappearing off the market, many people have switched from sellers to rental providers.
The overall rental vacancy for the U.S. dropped to 5.8% in the third quarter of 2021, its lowest since the mid-1980s, according to a recent report from Harvard University's Joint Center for Housing Studies.
Builders are putting up new apartment complexes all over the place and rental rates have skyrocketed along with home prices.
"It's very expensive right now," said Rich Dussell, a real estate agent at Windermere/Coeur d'Alene Realty and owner of Property Management of Kootenai County. "It's a different market."
As rentals have grown in popularity with the hot real estate market, those who have the option might be interested in starting a rental.
Dussell manages more than 80 properties across the state, starting his business about five years ago because he had industry clients looking for property management for their rentals.
Every day he gets calls from someone looking for a rental, and he doesn't even advertise his business except by word of mouth.
A lot of people from out of state moving to the area are also competing in the rental market as they're needing a place to stay while they're building or trying to find a place to build. According to the 2020 U.S. Census Bureau, Kootenai County population as of April 1 had grown 23.7% since 2010.
Dussell said that while a few years ago the building process used to take between four and eight months, now it's taking a year or longer for homes to be built. Families need to find a rental during that time.
Many locals are also looking for a place to rent because the house they're currently renting is being put on the market with prices so high.
Dussell said he doesn't think the market will go back down in the near future. He said that ever since the selling market was projected to go up in 2012, it's stayed good - and rental prices have followed.
For anyone interested in converting a house into a rental, one way to start is contacting a property management company. Dussell said it's also important to shop around with different property management companies and don't just take the first one that comes up. Asking friends and neighbors is a good way to get referrals.
A homeowner should think about in converting a home into a rental is what they're looking to get out of it, Dussell said. He said the homeowner should determine whether they're looking to have a long term rental or a short term rental to make some cash before pulling it off the market.
Another important consideration is the condition of the home. Dussell said for his company, he would take an onsite tour of the house to check for any maintenance issues that need attention before the house could be rented out.
Some rentals are better suited for older and retired people; others are better for families with young children. Renters often have a certain location they're looking for, or they want a certain amount of land, or need a backyard for a pet.
Dussell said he's found that most people have a pet, and that's something a client would need to consider whether they want the home to be pet-friendly.
Dussell said a homeowner must also consider that even if they don't market as pet-friendly, the no-pets provision doesn't apply to service animals and they could end up with service animals in the home.
Other important things to consider include whether the client or homeowner pays for the sewer, water, and garbage bill, and how much money the homeowner is hoping to make off the property.
Dussell said in order to figure out a price, he looks to see what's happening in that area and where other rentals in the neighborhood are priced. Location plays an important role in determining the price for the rental. Right now, Dussell said the rental market is really good almost anywhere.
After Dussell has an onsite inspection and talks with the homeowners, he said he typically sends a copy of his management agreement and a copy of the lease for them to go over. Then if everything works for both parties, Dussell takes it from there. He finds the renters and has a maintenance person to handle any issues down the road. Management fees are deducted from the rent.
Dussell said it's important to remember that the house is going to be used. Homeowners should expect to have some maintenance issues and realize that, as much as they want the house to be taken care of, it won't be in the same condition it was when it was first rented out because the house will have been used.
He said homeowners should be prepared for maintenance issues such as replacing furnaces, water heaters and dishwashers. His maintenance team will handle all of the issues, but homeowners should be aware there may be extra costs for these items.
Greg Washington, a Realtor at Windermere/Coeur d'Alene Realty, said he had a rental several years ago that he managed which ended up being a bit difficult because the renter didn't take very good care of the property.
Today, Washington rents out two homes in the county, a more recent investment, and uses Dussell's company to manage them.
Washington said part of the benefit of hiring a good property manager is they will vet tenants to lower the risk of the tenant damaging the property. He said he would recommend that homeowners thinking of putting a rental on the market should make sure they have enough cash reserves for maintenance needs.
However, Washington said there are many benefits to owning a rental property, and it's not just the cash flow. Washington said personally, owning rental properties has been a good investment.
Other benefits for rental property owners include deducting certain rental expenses on tax returns, which may include mortgage interest, property tax, operating expenses, depreciation and repairs.
Rental property owners can deduct ordinary and necessary expenses for managing, conserving and maintaining their property, including expenses such as interest, taxes, advertising, utilities and insurance, according to the Internal Revenue Service.
Costs for certain materials, supplies, repairs and maintenance to keep the property in operating condition can also be deducted, according to the IRS. The IRS also states that rental property owners, when including the fair market value of the property or services in their rental income, can deduct that same amount as a rental expense.