SBA brings tools to job of building business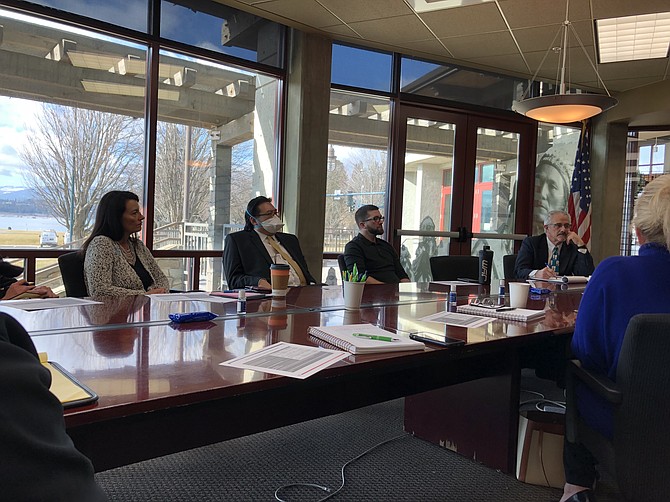 COVID has taken a huge toll on small businesses across the United States.
For the U.S. Small Business Administration, though, the challenges have also brought new opportunities to help local businesses thrive.
"The sheer volume of new customers and clients we've engaged with in the last 18 months is just staggering," said new Regional Administrator Mike Fong.
Fong joined the SBA last November. The region includes district offices in Alaska, Idaho, Oregon and Washington, which are home to more than 1.3 million small businesses that represent about 2.7 million jobs.
Helping small businesses thrive is vital to the economy, said Spokane SBA Branch Manager Joel Nania.
"We have a lot of businesses with under 10 employees here in the Inland Northwest. Before the pandemic we kind of took them for granted, that those businesses would always be there," Nania said. "Since the pandemic I believe that people have come to realize how important small businesses are to their everyday lives and they no longer take it for granted."
The public is also realizing that entrepreneurs are "out there taking chances everyday" and need customer support, Nania said.
The SBA offers many programs to assist small business growth, including free business counseling and training courses, mentorship programs, SBA guaranteed business loans, and federal government contracting.
The SBA has been in operation since 1953, but changing times have also shifted the focus of many small business owners. Previously, most small business owners sought help with financial issues. The biggest hurdle now? Getting and keeping quality employees.
Nania recommends enrollment in the SBA Emerging Leaders Initiative program to help business owners address the labor shortage.
An executive-level series, Emerging Leaders is designed to accelerate the growth of high-potential small businesses particularly in underserved cities. It provides tools to "catapult" a company to the next level, to help them "emerge."
The program is for established businesses that have been in operation for over three years and have annual revenue of at least $250,000. The seven-month program is free and includes over 100 hours of professional, specialized training and peer-to-peer counseling.
The Emerging Leaders Initiative has trained over 5,000 small business owners and created over 6,500 jobs since its inception in 2008. Participation has generated more than $300 million in new financing and secured over $3.16 billion in government contracts. For more information on the program, visit emergingleaders@sba.gov.
"One of the key points that Mike has been making is our focus on business resilience," Nania said. "The thought process is to create resilience in businesses that have made it through (the pandemic) - one, so they do survive and two, most of them have an EIDL loan. We want them to be able to continue to pay back that loan, and they want to be able to continue to pay it back. Creating a resilient small business community helps to prepare for whatever the next emergency is."
Both Fong and Nania have a long history of personal involvement in the small business community. Nania opened a bagel bakery in 1981, before the general public even knew what bagels were, he said.
Fong grew up in a family of small business entrepreneurs. Fong's father owned and worked in Chinese restaurants for decades in Idaho and Spokane. He saw how hard it is to run a small business. Fong worked in his family's restaurants doing prep work and waiting tables while his parents spent long hours working in the kitchen.
Both men are "cautiously optimistic" that the small business economy is on the precipice of taking off again.
"If the SBA can be there to help accelerate that, that's what we want to do," Fong said.
Expansion into international trade and federal contracting are two areas the SBA is really excited about, Nania said.
During the COVID pandemic, E-commerce has become more significant, Fong said. Whether by design or accident, many businesses have found themselves a part of the "export ecosystem." They might not possess the know-how to access worldwide markets, however, which is where the SBA comes in.
The SBA offers many tools that are "tailored to access working capital for folks in the small business international export realm," Fong said.
Many of these offerings have been underused.
The State Trade Expansion Program, or STEP, helps provide grants of up to $10,000 for small businesses to enter or expand into international markets. STEP financial support can teach small U.S. based businesses how to export and participate in foreign trade missions; design international marketing products and campaigns; support website globalization and e-commerce capabilities; and access trade show exhibits and training workshops.
Application materials and more details are available at sba.gov.
There seems to be a lack of awareness of the program, Fong said.
"This is a classic example of a program where there shouldn't be any money left on the table," Fong said. "Folks are doing really creative, innovative, smart things in terms of products and services, right here in our backyard."
SBA also offers extensive access to government contracting guides, assistance in finding and winning contracts and business development counseling. The U.S. government is the largest purchaser of goods and services in the world, spending over $500 billion a year on everything from catering and painting to various products and materials, Fong said.
That presents huge opportunities for local small businesses.
The SBA strives to support underserved business owners, and many programs are tailored specifically for them, Fong said.
In terms of federal contracting, the SBA offers programs for disadvantaged businesses, which are defined as being owned and controlled by persons who are socially and economically disadvantaged. Other programs are for women-owned and veteran-owned businesses.
The HUBZone program fuels growth in historically underserved business zones. Using information obtained from various government entities, geographic locations are designated as underserved, giving businesses there access to specialized programs. Additional specialized programs can be reviewed on the SBA website.
It can take a long time to locate and win an initial government contract and many businesses spend upwards of $80,000 to do so, but the payoff in business expansion can be worth it, Fong said. SBA representatives can walk business owners through every step of the process.
Business owners wanting to access these and other SBA resources can directly contact the SBA at 509-353-2810 or online.
The SBA also partners with the Small Business Development Center on the North Idaho College campus, SCORE Spokane, which offers free business advice, small-business workshops and numerous tools, SNAP Women's Business Center and Veterans Business Outreach, both in Spokane.