Inspiring innovation, sparking creativity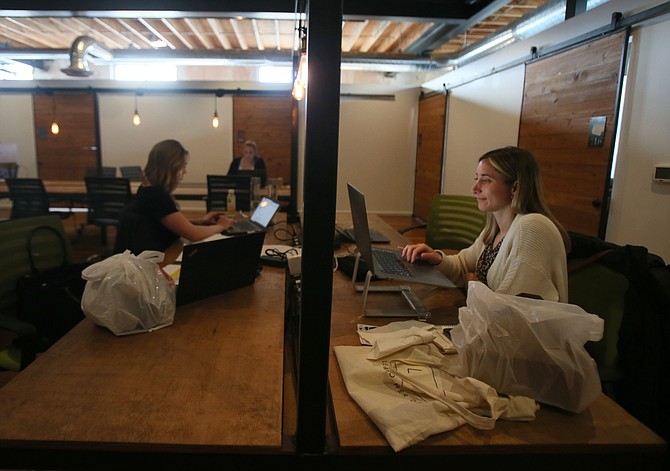 Laser focused on his laptop, Kenny Dodge lounged in a plush chair in the Innovation Den where his company, Blue Zone Marketing, conducts its work each day.
"It's great having an office space here. We actually have two," said Dodge, who works as Blue Zone's director of digital marketing.
"Its nice to have a smaller one for meetings and a larger one right up front by the barber shop for visibility," he said. "As a marketing company, that's huge. We get business every day from it. It's great to be so involved in the community. We can have meetings here, we see clients coming and going out of the coffee shop. We get to be involved with our clients in the community."
The Innovation Den, at 418 E. Lakeside Ave., hummed with activity on May 11. People collaborated in private or open-air offices, Coeur d'Alene Coffee Company customers met with clients and friends and the exchange of information and ideas was abundant.
It was just a typical day in the Innovation Den, where the Innovation Collective is headquartered.
"It's a pretty solid buzz we have going on," community lead Kirsten Rowley said.
The Innovation Collective is a company committed to helping others envision and fulfill their business, startup and entrepreneurial dreams.
Since it was established more than eight years ago, the collective has witnessed more than 200 of its community members turn ideas into action, including one who built a company worth more than $75 million.
"Our goal when we first set out was to create a home for innovators and people with ideas to discuss those and help each other accomplish them," founder Nick Smoot said.
More than 60 offices in the Den house a range of industries, from Mavericks Men's Hair barbershop to tech, marketing and production companies. Co-working areas provide home-away-from-home office space where friendships are made and ideas take flight.
"We have definitely cultivated a tribe here of like-minded people, which is the goal of the Innovation Collective," Rowley said.
The Innovation Den is a lovingly restored, more than 120-year-old building that serves as a hub for community events, including Coffee and Concepts the first and third Wednesday of each month and Fireside Chats once a month.
During Coffee and Concepts, attendees talk about "cool new things happening in tech, innovation, crypto," Rowley said.
"It's kind of a 'give help, get help,'" she said. "You make those organic connections to make things happen in real time, right there in the room. Companies are built and products are created."
Fireside Chats feature guest speakers who share stories from their professional and personal lives, highlighting successes, failures, innovations, tactics and tricks of their trades.
"You're going to see local people, local politicians or business owners," Rowley said. "Random, good citizens whose stories you've never heard."
The Think Big Festival, which attracts some of the biggest names in tech and innovation from around the world, is expected to return in September.
Innovation Collective's quarterly Story Summits and Leadership program provides connections and commitments for participants who are seeking inspiration on a deeper level.
"It's coming together, its mentorship and lessons just based on the personal stories of the people who are in the thick of it," Rowley said, "people who have garnered large success that you didn't expect to have access to a real, personal conversation with who are going to really spark inspiration in your journey."
Smoot said the collective has also added a venture program, Studio, to help people with early ideas for a company or invention.
"Our mentors in IC Studio have invested over $7 billion into companies and are your mentors in the program," he said.
The Innovation Den is part of Innovation Collective's economic development model that has been launched in other communities across the country: Victoria, Texas; Brooksville, Fla.; and Cazenovia, N.Y. Rowley explained that using a three-year rollout plan, the collective builds partnerships and expands its influence to breathe life into small towns, starting with frequent events.
"That's going to set the tone, the pace of, 'We're a presence here, we want to change the game, change the narrative of this town. Let's do some cool events,'" she said. "Then we're going to start building a mentor network and a success team in your town."
Innovation Collective has a small local staff, but has 16 team members and more than 70 volunteers across these communities, where the collective has contributed more than 90 tech and startup jobs. Partners include board members of large organizations, investors, school superintendents, major organizations that comprise the infrastructure of a town.
"They're in support of the Innovation Collective and what it wants to bring," Rowley said. "By year three, we're going to remodel a historic building and bring life back to that place."
Over time, the Innovation Collective's goals have grown to include helping communities across the country create strategic plans to unlock the creative potential in all of their community members, Smoot said.
The Innovation Collective model is also in the works in more communities in California and Nevada, Rowley said.
"We have some big goals here and in our community that we have yet to achieve," Smoot said. "Too many people still have so much creativity in them. Our town and their lives are better when it is unleashed."