Going way beyond average with the All Travel Guru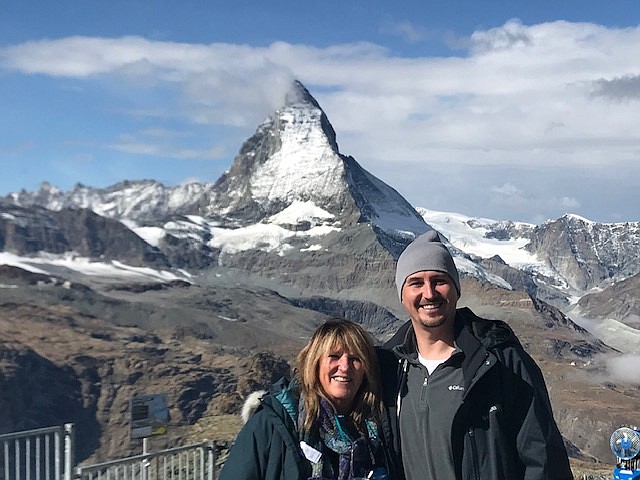 The popularity of online travel companies and travel rewards credit cards might make you think in-person travel agents are an extinct breed.
Nope. Far from it.
All Travel Guru in Post Falls has been thriving since 2010, and was recently named by Lux Travel and Tourism as the European Luxury Travel Experts for 2022.
"We were successful prior to COVID. We were an established business," said operations manager Ryan Villa. "But with COVID, now more than at any time prior, it's essential that you have a travel agent in your corner. Just to navigate all the different requirements for entry or return to the United States."
All Travel Guru makes every aspect of your trip seamless and easy, Villa said. Passion for travel is evidenced by the lively, exotic decor of their Post Falls offices.
As a European destination specialist, founder Lindsey Prumers has been a world traveler for decades. Prumers is from England, where her eldest daughter, Leanne Villa, was born. Prumers took her 6-week-old infant to Ibiza, Spain and hasn't stopped traveling since.
Prumers has instilled a love of travel in all of her children, said her son Ryan, who was born in Ibiza.
Prumers' third child was born in Texas.
"I've had three children in three different countries," Prumers said. "That tells you something of my desire for travel."
All Travel has clients nationwide and the itineraries are anything but ordinary. Specializing in personally tailored, high-end travel, every detail is carefully planned.
"We can do everything around the world — we're 'All Travel Guru.' But we really honed in on our specialty which is what we call foreign independent travel," Ryan said. "Focusing on a region like Europe, we're able to really customize the actual packages. I think that's helped distinguish ourselves from typical packages that are pre-built, or that typical travel agents might sell."
For All Travel Guru, it's about the individual. An initial one-on-one consultation with new clients helps Villa get a good feel for their personality.
"We're able to dive down and really figure out the travel style of the client," Villa said. "What specific hotels they're going to want to stay in — do they like chain hotels, or chain luxury hotels? Do they want more of a quintessential experience of the destination — more boutique hotels?"
In getting to know clients, Villa often picks up on little things — those personal touches that make the trip a "next level experience."
"This one client has this certain wine that comes from a specific region, and we were actually able to ship a bottle over from the United States to have waiting in his room," Villa said. "Or if they don't drink we try to figure out, are they into chocolates, or is there a certain flower that they like?"
Travelers are paired with a private guide throughout their trip.
"When we pair them with a guide, they have someone who's going to meet them intellectually and engage them correctly," Villa said. "That way it brings the destination more alive."
For Prumers, Villa and their staff, the work is as much about relationships as it is about travel. They typically book guests only in hotels they've personally visited.
Regional guides are people they've developed real friendships with. And the clients themselves often become personal friends who stop in Coeur d'Alene if they happen to be passing through.
"They always say when they ring in, 'How did I end up with a travel designer sitting in Idaho?" Prumers said. "They say it like they think this is some really rural area. They don't realize we can be quite sophisticated."
The family ended up in Coeur d'Alene "by pure chance," Villa said. Prumers married an American soldier, and that brought them to the United States. Villa's stepfather initially took a job on the Canadian border, while Prumers pursued work in the travel industry.
When her husband needed treatment for cancer, they went to the Cancer Center in Coeur d'Alene and the entire family relocated.
Prumers started All Travel Guru in her basement in 2010, brought Villa on in 2014 and expanded the business from there.
All Travel Guru specializes in trips to major European countries: the United Kingdom, France, Spain, Italy, Greece, Switzerland, Germany, Portugal and the Netherlands. If they don't "have boots on the ground" in a certain area, they use a destination management company with whom they've developed relationships to connect them with reliable travel resources.
Typically, trips are planned for couples or multi-generational families, though they sometimes cater to larger groups.
Generally speaking, travelers can expect to pay $500-$1,000 per person, per day. The most expensive trip they've handled was an 18-day European trip for a family of five costing $119,000.
Nothing is beyond the reach of All Travel Guru, including private yachts and jets or attendance at exclusive events like the Olympics.
To connect with Lindsey, Ryan and the staff at All Travel Guru, visit alltravelguru.com, reach out by phone at 208-209-5990 or stop by at 1210 N. Idaho St., Suite B, in Post Falls.