Collaboration for greater good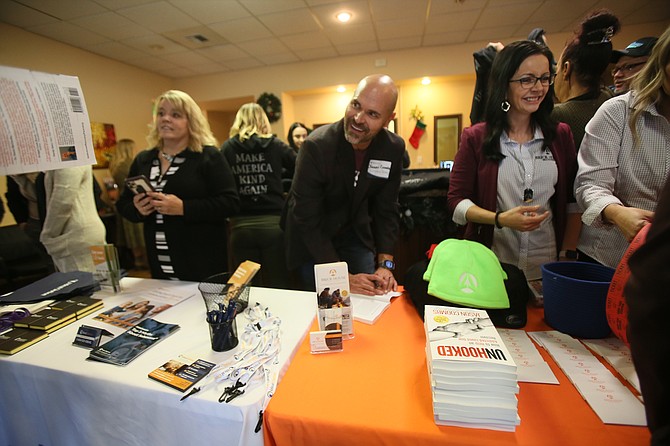 Two companies, one goal — to serve those struggling with substance abuse and assist them on their way to recovery.
Ideal Option and Brick House Recovery have come together under one roof at 3918 N. Schreiber Way in Coeur d'Alene to provide an array of services for clients seeking outpatient medication-assisted treatment for addiction and faith-based addiction recovery support.
"I feel great about this," Ideal Option CEO Tim Kilgallon said during an open house Nov. 4. "Brick House Recovery is so complementary to the services we provide. What we provide is specialization around medication-assisted treatment and what they provide is specialization around counseling and support. The two together really stand the best chance of having an excellent recovery zone."
Ideal Option was founded in Kennewick, Wash. in 2012 and now has more than 80 locations across the U.S. Eight of those sites are in Idaho: Two standalone clinics, one in Coeur d'Alene and another in Lewiston; two satellite clinics open once a week in Sandpoint and Kellogg; and four other clinics in Boise, Caldwell, Idaho Falls and Pocatello.
Since 2012, Ideal Option has helped more than 60,000 patients. In 2021, it served a 663-patient census in Idaho. For Idaho patients that remained in treatment with Ideal Option, urine drug testing showed:
• 88% less total opioid use
• 96% less fentanyl use
• 93% less heroin use
• 84% less methamphetamine use
• 71% less benzodiazepine use
Ideal Option opened its Coeur d'Alene clinic in September 2018, but in August 2022 relocated to the current building it now shares with Brick House, which prompted the open house to introduce both organizations to the community.
Kim Hill, in clinic outreach with Ideal Option, works closely with Brick House Recovery sites in Idaho Falls and Boise. She and a colleague were discussing the Coeur d'Alene expansion when they had the idea of sharing space with Brick House.
"I was like, 'We're getting a new building, and it's really large. Why don't we look at a partnership?'" Hill said. "It was more of a dream than a reality at that point."
She said as the CEOs became involved, both companies thought it would be a great partnership to have services that support each other.
"Both organizations are very big on community collaboration," Hill said. "That's how this partnership came about and we were able to come to terms to occupy the same building."
Brick House Recovery was established in the Treasure Valley in 2014 when founder and CEO Jason Coombs realized Idaho had an aching need for high-quality, private, higher power-based addiction recovery.
Since then, Brick House has worked to provide effective outpatient treatment for adults struggling with substance abuse and co-occurring disorders. Its market niche is that it serves adults who seek a spiritual approach to addiction recovery and mental health. It is based on faith, centered around family and offers a lifetime contract for clients who complete programming and commit to long-term success.
The name "Brick House" reflects a specific idea embedded in the company — that a healthy, sober lifestyle is built like a house: from the ground up.
"Both start with a strong foundation and a practical frame," states the description on brickhouserecovery.com. "Many people in recovery are eager for immediate, visible results. It's as if they're investing in the paint color and light fixtures when they haven't yet built a strong foundation in the ground, let alone the framework."
One of Brick House's main programs it offers in Coeur d'Alene is its partial hospitalization program, which is medically supervised and offers therapeutic and clinical services. This program is primarily for people who are experiencing increased symptoms, disturbances in behavior or other conditions that negatively impact their mental or behavioral health.
"The whole scope of the needs can't be accomplished by just one entity due to the variety. Providers do an excellent job in their scope," Coombs said, adding that it can be difficult for clients to build relationships with providers or "the next person they're handed off to."
In their new space together, Brick House and Ideal Option have an abundance of resources for clients who only need to walk across a hallway to continue their care.
"Here, they're able to make a connection with both entities at the same time, which then creates that relationship," Coombs said. "People recover in relationships, not in buildings."