Fostering vulnerability in entrepreneurs throughout Cd'A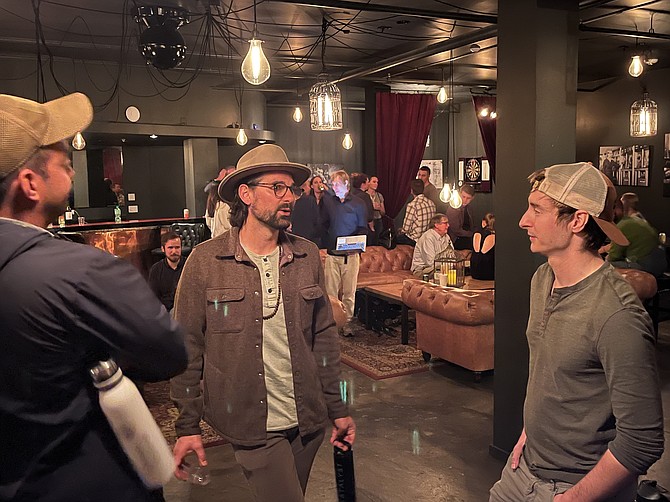 Just as the seasons began changing, students went back to school, and professionals of all industries started to return from their summer hiatuses, September marked the beginning of a new quarter-long sprint of personal development for the Leadership Community at the Innovation Collective here in Coeur d'Alene. Along with the regular monthly events that happen at the IC, such as Coffee and Concepts, Fireside Chats, Local Experts, and Unwinds, members also welcomed three world-class mentors to town for a weekend and participated in the quarterly Story Summit conference.
While Story Summits always prove to be impactful weekends for those who attend and engage in the process of making connections, having fun with active and creative group activities, and getting inspired by the stories in business and life that the mentors share, this past gathering carried an underlying theme of vulnerability within community and specifically the professional world in a way that was refreshing and unexpected.
Michael Leckie, Myron Burke and Jon Pederson were the invited mentors that joined the IC community to spend time and share lessons over the Story Summit weekend. They each previously held executive positions in Fortune 100 companies such as Walmart, Amazon, and Bloomberg and spoke of their experiences with the unexpected decisions that led them to walk away from their careers at these companies and pivot into new startups of their own, all at ages between their 40s and 50s and, for Myron, even after 23 years leading innovation technologies for Walmart. Some of the lessons that attendees walked away with were, "There's safety in patience when you don't know the next right move, but danger in hesitancy once you do," "projects never end and you will never arrive," and, "you can make any choice if you have your anchors of what you want to do for the world and who you want to be to go off of." These were part of the very non-traditional speaking series that takes place on the second day of Story Summits, which highlights real-life experiences that led to lessons learned in business and life that the mentors wish they had known when they were younger in their careers, and open and candid questions that are asked by the IC members throughout the conversation.
The vulnerability that members and our guest speakers embraced over that weekend seemed like an appreciative celebration for the members that had also just wrapped up one of the Innovation Collective 8-week Pathway Programs called Explore book club, in which those who participated, read and collaboratively worked through exercises from Brene Brown's Dare to Lead, which highlights the importance of bringing vulnerability into our workplaces to help aid employee psychological safety, foster open and helpful communication, and create team cultures that lessens loneliness and promotes personal growth. Over the course of the 8-week Pathway, members — who were all small business owners — had honest conversations and made important realizations regarding the way they show up in their workplaces each day and the vulnerability that they could benefit from applying to their lives as leaders, and came out with new perspectives and even bold accomplishments with their teams at the end of it. Offering time and space to have community with other entrepreneurs and creators and participate in programs and events that encourage growth, curiosity, and intention is part of the work that the Innovation Collective brings to their members.
Within that same vein, the September Fireside Chat featured Michael Kassarjian, owner of Maverick Men's Barber Shop which can be found right inside the Innovation Den itself, along with two other locations in town. Michael candidly spoke about his experience with beginning a brand that quickly gained national recognition and brought him great success only to just as quickly fail and almost leave him bankrupt, and the struggles that came along with recovering from that as well as the devastation of divorce and becoming a better version of himself before opening his first barbershop with the IC. It was a raw and inspiring conversation that left the audience encouraged to push through their own entrepreneurial setbacks — as he is now about to open his fourth location–and look for new perspectives in life.
The Innovation Collective has a variety of opportunities to get involved with for routine chances to engage with like-minded people in your community, get inspired by those who have faced trials and also seen success, and participate in programs and find resources that can help you in your journey to build the life you want today and create businesses and products that add value to the world around you. Coffee and Concepts is open to anyone from students to those who are retired and everyone in between, and happens on the first and third Wednesdays at 7:30 in the morning. It is a chance to talk about local and global news that is changing industries and economies to stay aware of relevant needs, and talk about projects and businesses that you may be working on and make immediate connections or solve obstacles right there in the room. The October Fireside Chat was held on Oct. 12 at the Innovation Den and featured Dana Bellefeuille, owner of The Village Bakery which is a delicious bakery in town that serves the community by giving job opportunities to those with disabilities. The Fireside Chat is free and open to anyone.
The next Story Summit will happen on Jan. 5 and 6, after this year's final quarter which will be filled with another sprint of personal and professional development through the IC's three different Pathways that are offered to members, along with other monthly premium events. We are also excited to bring back the Think Big Festival next year which is scheduled for mid-April. The technology street fair is a great opportunity to show the community exhibits of new technologies and products that are being created here in our area and connect with other entrepreneurs, keynote speakers, and investors over the weekend. For more information about getting involved as a sponsor or exhibit, or becoming a member of the Innovation Collective, go to innovationcollective.co or email the Community Lead, Kirsten Rowley, at kirsten@innovationcollective.co.
• • •
Kirsten Rowley is Community Lead of the Innovation Collective, 418 E. Lakeside Ave., Coeur d'Alene.