P1FCU is local people helping locals achieve their financial goals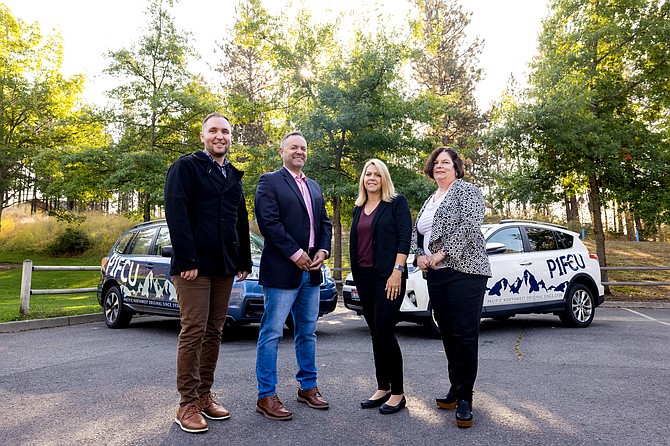 More than 20 years ago, Jodee Fyfe knew that Rathdrum needed a garden center — and that she had to be the one to create it.
"If I didn't do it, someone else would," she said.
Westwood Gardens Nursery has always been a "bootstrap operation," Fyfe said. It took years to get established. But the business grew along with its community.
When it was time to expand, however, Fyfe struggled to find a bank that would back her.
Then she found P1FCU.
"They're the best," she said. "They can look at you as an individual and make a decision. It's the best experience I've ever had."
Founded in North Idaho in 1938, P1FCU is a not-for-profit credit union with more than 100,000 members throughout Idaho, Oregon and Washington. P1FCU has branches in Coeur d'Alene, Hayden, Post Falls, Rathdrum, Athol and beyond.
Through P1FCU, Fyfe secured financing for equipment to expand her landscaping division, as well as a line of credit to grow her inventory. That financing is a lifesaver for a seasonal business like Westwood Gardens.
"We have no income in the winter, but we still have bills and payables," Fyfe said.
The biggest difference between P1FCU and the banks Fyfe worked with in the past? It's the attentiveness and trust that can be built when working with a local credit union.
Fyfe recalled a time when she needed financing for a truck — and fast. A staff member was available on a Saturday to get it approved.
"What other credit union does that?" Fyfe said. "They just made it happen."
These days, businesses have no shortages of lenders to choose from. That's why personal relationships and a high level of service are key to Jim Koester, the Post Falls Lending Center Business Services Relationship Officer.
"I'm happy to be the person who gets the job done," he said. "It makes me feel really proud that businesses like Westwood Gardens choose to stick with P1FCU."
P1FCU has a full product menu, with fixed-rate and adjustable-rate loans available, as well as repayment terms up to 30 years. The credit union is also one of the few lenders in the area that extends loans for manufactured homes.
"Our focus is to help the customer any way we can," said mortgage loan officer Salli Marsh.
P1FCU's business services team is made up of specialists who have years of experience, including Koester, to help position businesses for success. Services include revolving lines of credit, commercial real estate loans, equipment and vehicle loans and working capital loans.
Because P1FCU is member-owned, there are fewer fees than a commercial bank. That helps keep the credit union competitive.
"We pass the savings on to our members," Marsh said.
Koester pointed out that it's not just local staff supporting members. P1FCU's underwriters are also local, part of the communities where members live, work and grow their businesses.
"The decisions are made by local people who live around you and would truly understand your situation," he said.
Info: www.p1fcu.org