Actively building a successful business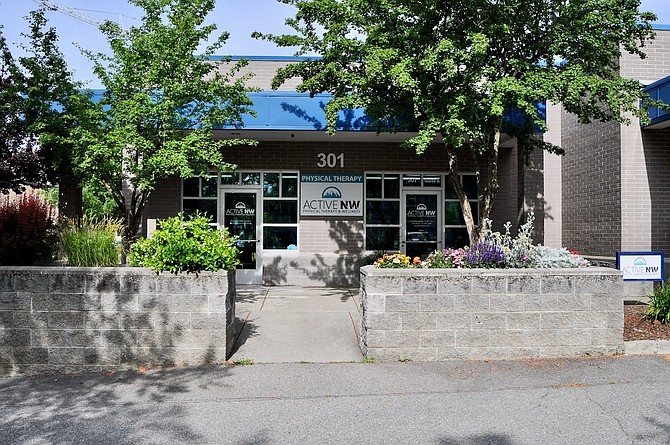 When Neil and Hannah Morris first tossed out the idea of jumping into business with their friends Shawn and Jean Sweetapple, they were just playing with the idea. Neil had recently made a career change from school teacher to physical therapist. He and Hannah, a PTA of 20-plus years, had been working in the same practice and had joked with their longtime friends that they should start a practice together.
But the Sweetapple's and Morris's shared love of outdoor activities and desire to help others enjoy all that the Pacific Northwest has to offer gave the idea some traction and ActiveNW Physical Therapy and Wellness was born.
From PT's to owners
Initially a bit nervous to take the leap, they mapped out a plan and things began to fall into place.
Within just a few months, they found a suitable location in which Jean and Neil could start seeing patients and they opened their doors. Six months later, Hannah joined the practice and Shawn came on as head of maintenance.
A friend recommended that they call North Idaho College's Small Business Development Center to meet with a business coach. All four enrolled in the recommended "Business Accelerator Series" classes. Together, they learned how to become business owners, identify and reach their customers, and create a focus on exceptional client care. They each left the classes with new insights, and from four different perspectives.
Creating a 'client care first' clinic
ActiveNW moved swiftly from idea to inception. "When you make the right choices, things just seem to go easily, which seemed to be the case for us," Shawn said.
As business owners, they knew they wanted to do some things differently to put a greater focus on patient care. Meetings with their SBDC coach helped them determine what that would look like and how to make it part of their everyday business.
"It was challenging at first," Jean said. "Bill insisted we have a weekly leadership meeting all together. He emphasized the value of strategic planning, collaborating and problem solving over working at an 'activity level' in the business."
During regular "leadership time," the team worked on being aligned as a team, setting goals and determining what activities would help them achieve those goals. This clarity helped them focus on creating the core principles they would practice in treating their patients.
What their patients see today is a highly effective team operating with core values integrated into their business. "We have a set time for each patient and we never budge on that," Hannah said. Rather than to simply provide a service, they are able to create an experience their clients can count on at each and every visit.
Staying clear in muddled times
After just two years in business, the team was ready to expand by adding another therapist. But within just days of putting a new PT under contract, COVID shut downs were in place. As an "essential service," ActiveNW was able to stay open, but there was a very real disruption to the number and frequency of clients as everyone tried to navigate this new frontier.
With a clear vision of how they wanted to care for clients and employees long-term, they were able to make necessary adjustments to secure work and plan for the new position, despite the disruption.
When clients began returning, inflation and rising labor costs cut deeply into business profits.
A continued commitment to core values enabled them to look outside the box of traditional reactionary activities to strategic problem solving that focused on both current and future solutions. For ActiveNW, staying competitive in a tight labor market would mean finding unique ways to show appreciation for employees and trimming costs in other areas.
Regular refocus
As business grew, they became comfortable, but not complacent.
"It was hard not be tempted to swap leadership/planning time for time with patients — the thing we would actually get paid for," Neil said.
"We don't quite fit the mold of the typical American business or American dream where the goal is to grow and make as much profit as you can. In our business, clients are not just a number or dollar amount, we are here for the benefit of everybody and our community," Neil said.
As friends, getting together once a week wasn't difficult, but more important than ever before. Despite clarity and focus, they always want to make sure they are still on the same page. This allows them to examine daily activities to ensure they are able to keep to their core values in the face of an ever-changing environment.
A PT's prescription for a healthy business:
As united in advice as they are in business, the Sweetapple's and Morris' offer what they've learned:
• Have clarity in your mission; know why you are in business
• Know who you serve and how
• Review it mission regularly with your team to reaffirm
• Keep to your company's core principles and visit them often
• Set firm boundaries to maintain healthy work/personal life balance
And most of all, said Neil, "be open to the opportunities that present themselves. They might not be what you expected but may be just what you need."
Active NW is located at 301 N. Third St. in Coeur d'Alene.
To learn more about how to grow as a business leader or to schedule a no-cost meeting with a business coach, visit NISBDC.com or contact 208-665-5085. Click the links to register for the free Business Acceleration Series or Special Topic Wednesday Webinars.
• • •
Katrina Boyer is the Training Coordinator at the North Idaho College Small Business Development Center.
• • •
October 2022 Training
• Answers to Legal Needs of Small Businesses; Wednesday, Oct. 5, 8-9 a.m.; Webinar
• Marketing Strategy For Profit — Accelerator Series No. 1; Thursday, Oct. 6, 5:30-9 p.m.; North Idaho College SBDC, NIC Campus-Hedlund Bldg. No. 143
• Creating Your Best Business Plan; Wednesday, Oct. 12; 8-9 p.m.; Webinar
• Managing Your Business Financials For Profit — Accelerator Series No. 2; Thursday, Oct. 13, 5:30-9 p.m.; North Idaho College SBDC, NIC Campus-Hedlund Bldg. No. 143
• Operational and Management Strategy and for Profit — Accelerator Series No. 3; Thursday, Oct. 20, 5:30-9 p.m.; North Idaho College SBDC, NIC Campus-Hedlund Bldg. No. 143
• Starting a Business in Idaho; Oct. 26, 8-9 a.m.; Webinar
• Digital Strategy for Success — Accelerator Series No. 4; Thursday, Oct. 27, 5:30-9 p.m.; North Idaho College SBDC, NIC Campus-Hedlund Bldg. No. 143