A business built for outdoor adventurers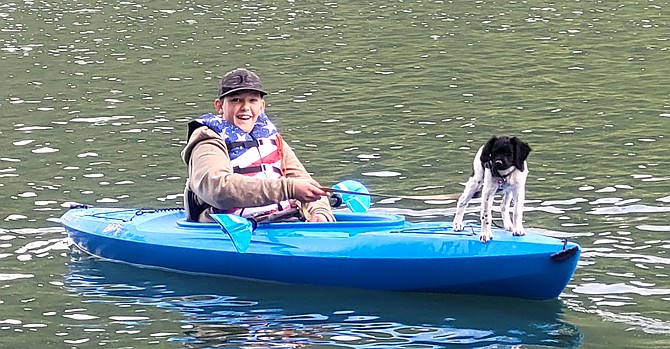 Adventurers seeking to lighten their load have a new resource for renting outdoor equipment and gear — Cast, Blast and Relax.
Owners Nick and Tabetha Franssen officially opened the business at Farragut State Park in May after sensing Athol was in need of a business that offered sporting goods.
"There's nothing out in Athol that caters to that," Tabetha said.
The two worked for seven months to bring a rental company to the area to make it easier for adventurers to enjoy kayaking, paddle boarding, fishing and bicycling without the burden of hauling all the gear.
The name, Cast, Blast and Relax, plays off the name of a Hayden store Nick remembered from when he was a kid: the Cast and Blast.
"That was the best sporting goods store in the whole area," he said.
They decided to add "relax" to the name to reflect the more leisurely side of playing in the great outdoors.
"We were just trying to encompass all the different things we offer," Nick said.
Cast, Blast and Relax makes it easy for singles, couples, families and groups to build the adventures of their dreams. At castblastandrelax.com, people can find bike carriers, kayaks, kid trailers and more for pick up or delivery.
"This is kind of an untapped business model, and a whole bunch of this has been because nobody else was willing to do it," Nick said.
The business is housed in a concession building at the Beaver Bay Recreation Area in Farragut, where it also offers small necessities such as first aid, fishing tackle, snacks and water floaties.
"We have quite a bit of inventory in the shop," Nick said.
This is a prime area to have a concessions business and gear rental, as it closes when it hits capacity and people don't want to lose their parking spots to drive 20 minutes to a store in town.
"Once you're there, you're there for the day," Tabetha said.
"There's showers there, but there's no soap dispensers," Nick said. "We have toiletries, Band-Aids, ibuprofen, things you need."
The delivery aspect is handy for North Idaho vacationers and locals alike, from Sandpoint to Coeur d'Alene.
"We'll deliver to VRBOs or Air BnBs," Nick said.
Inventory items are all locally sourced, which has been tricky for the Franssens during supply chain shortages and other inventory drains.
"It was onesies and twosies around town, solicited former bike mechanics and guys who do it out of their garages to buy premium bikes," Nick said. "Everything we carry is premium, even our little kid bikes... We were specific, it just took months of shopping."
"We started our business in one of the roughest years when there's no inventory," Tabetha said.
The business is a family affair. The Franssens' teenagers Nick and Jordan helped run the concession stand through the summer.
"We had people pretty impressed because our 12-year-old son was ringing up orders and cashing them out," Tabetha said.
The concession building is closed for the season, but Cast, Blast and Relax will have a concession stand in the mall to offer refreshments, hot soup and bread to hungry shoppers this Christmas season.
Nick said the business had such a good first season, they're already working on contracts for the next few years. Cast, Blast and Relax will offer snowshoe and sled rentals this winter. He said the goal is to open a second location in Kootenai County next summer.
"We could have never have started this business without the help of several other local small businesses," Nick said. "The Hayden Area Chamber of Commerce and their members were instrumental in us chasing this dream. From the get go, we decided we would only use local small businesses for help and services. We also owe much of our success to the Marketing Beaver and Standout Promotions."