Straight talk about leadership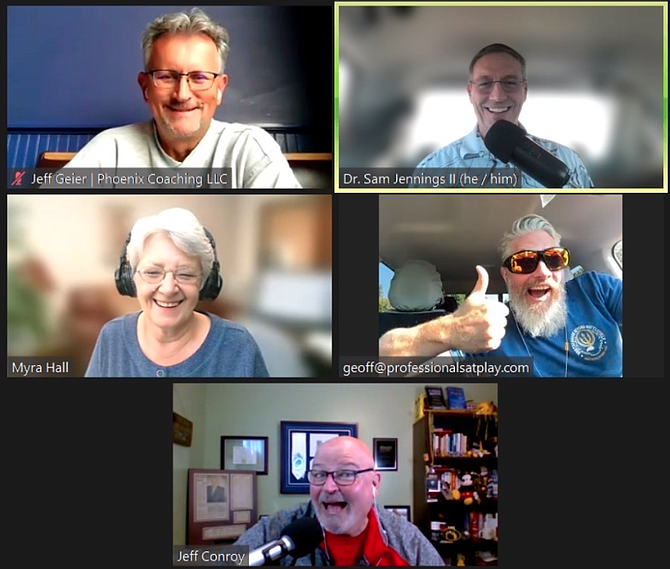 Many ideas about leadership sound good in theory.
What actually works?
Ask the creators of the "No More Leadership BS" podcast.
They'll tell it to you straight.
"We all have different backgrounds, we've all done leadership in a different industry, but there's similarities in it," said Jeff Conroy, owner of Conroy Leadership Consulting in Coeur d'Alene. "Leadership is leadership is leadership, any way you look at it. It doesn't matter if you're working with people in deep poverty versus people who are in education."
Conroy and four leadership/coaching colleagues developed the "No More Leadership BS" podcast in early 2021 and launched it in May 2021. He is joined by Professionals at Play professional speaker, trainer and coach Geoff McLachlin and 360 Clarity leadership and business coach Dr. Sam Jennings II, both of Kootenai County; Phoenix Coaching owner and executive leadership coach Jeff Geier of Colfax, Wash; and Myra Hall of Anderson, Ind., who spent 18 years forming, developing and leading an award-winning real estate team, which led to her become a coach.
Hall initially came up with the idea for the podcast.
"We all worked together in another firm, and that firm decided to go in another direction," Hall said. "We had formed a real bond, a real friendship between the five of us," she said.
That friendship is evident throughout each episode as the crew tackles a wide swath of leadership and coaching issues. Episodes are recorded via video conferencing each Saturday morning, during which the podcasters enjoy social time before hitting the "record" button. Their chemistry leads to some hilarious moments as they share experiences and insight, making for fun and informative listening experiences when new episodes drop each Wednesday.
"When we do the podcast, we're looking at the topic through our five different lenses," Conroy said. "We've all got a different perspective. We've all got experience, and we've all got something to say about our experience."
The podcast's key audience is people who work in middle management or higher, although it's enjoyable for anyone who is interested in leadership or has workplace conundrums to resolve.
"People who are struggling and don't know what they don't know," Conroy said.
Topics include the following, and many more:
• How to handle change within an organization (June 8, 2022 episode: "Don't Change That — It's the Way We've Always Done It")
• Horrible bosses (April 13, 2022 episode: "Bosses That Make Your Life a Living Hell)
• Taking responsibility (October 2021 episode: "The Benefits of Blaming Others")
• Worker burnout (July 2021 episode: "Is It Burnout, or Are You Just Unraveling?")
As of mid-September, the podcast had nearly 100,000 downloads, close to 4,300 listeners and was approaching its 70th episode. It had also been listed on podcasting charts in New Zealand and India.
"I started leading people when I was 19 years old in the Air Force, so I've been doing it for decades," Geier said. "I always knew you needed a sounding board or a mentor or something like that. But the truth is, I learn something almost every time we're together. I certainly learn something every time we do the podcast."
The podcast description states its goal is to "expose the gap between what leaders think they should do and what actually works...no BS."
"Join us each week as we irritate some, inform others and challenge all leaders to discover a better path to leadership excellence with unvarnished insights and dry-eyed suggestions," it reads.
Jennings referenced a recent episode titled, "Speaking Truth to Power."
"Everybody has that situation," he said. "It may not be every day, but there are tons of, 'This is not going to go well, but how do I tell the boss their idea is crap without telling them it's crap?' There's some real nuance to that.
"As long as we keep putting out content that helps serve more people, we're going to keep on trucking," he said.
Find the "No More Leadership BS" podcast on Spotify, Apple Podcasts, Amazon, Audible and other listening services.