Wander into adventure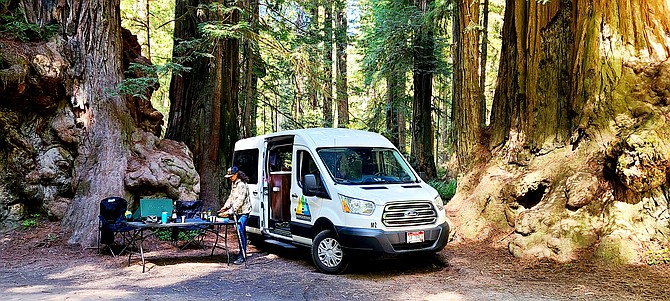 It's not a quite a camper and much more than a van.
"Our company is kind of the sweet spot between an RV and a tent," said Nick Leonard, co-owner of Wandervans Spokane/Coeur d'Alene. "We wanted to offer an easy way for people to get out and explore the outdoors – spend time with their families in an easy convenient way."
Wandervans is a combination car rental company and overnight accommodation, where customers rent a Ford van they can sleep in to travel up to 125 miles per day. Leonard, his long-time friend Jon Latorre, and the CEO Chris Cook became partners in 2020 to build Wandervans to what it is today.
The campervans are great for festivals, road trips, hiking or biking trips, snowboarding trips, national park traveling and much more, Leonard said.
"A lot of our business is fly-in traffic," he said. "Most people are going to Glacier. And we run a shuttle service to the airport."
But Leonard and Latorre, both Coeur d'Alene natives, are marketing to local travelers, who they think can hugely benefit from renting a campervan for family trips. And when they open a new Wandervans branch in Seattle, locals can fly there to pick up a van to travel to Olympic National Park, Whistler Blackcomb, or Vancouver (Washington or Canada).
As part of their goal to broaden their local traffic, the local Wandervans office added all-wheel drive options for snow and ski trips and heaters, a Pacific Northwest standard for the campervans.
The vans get up to 20 mpg and come outfitted with sleeping quarters, a sink, and the heaters can run while the vehicle is off, like those found in semi-trucks.
Unlike an RV, the vans are nimble and easy to drive.
It's like bringing your hotel room with you when you travel, for easy exploring.
"My wife is not going to sleep on the ground while we're camping," Latorre said. "She's just not."
So Latorre likes to travel with a Wandervan so she and their baby can sleep in the van, and he and his older kids can sleep in a tent.
Latorre and Leonard balance each other's strengths as business partners, like they have as friends since middle school.
Latorre is analytically minded, and spent years managing large vacation rental portfolios, while Leonard is pragmatic and business savvy, and has run a brewery for years.
Now as Wandervans Spokane/Coeur d'Alene co-owners, and partners in the corporation, they've each brought their skills to help their business thrive.
Latorre saw Wandervans as a huge opportunity when he met Cook, just before the company implemented a franchise model.
"In the campervan industry, I saw where they grossed 50% of the purchase price a year on average," Latorre said. "So the ROI was exponentially better than vacation rentals."
In the years since COVID-19 those numbers have come closer together, but they're still great numbers.
"Now these vehicles cost upwards of $60,000 with 7% percent interest," Latorre said. "We want to make sure we grow our revenue in proportion to our expenses."
And it's Latorre's job to manage the yields and numbers for Wandervans, especially with the franchise model and branch opening in Seattle.
"We originally started out of Boise," Leonard said.
Lattore said he saw the opportunity and approached Leonard, who had experience running a business.
"I showed him different models and he was all in," Lattore said. "And we already had proof of the concept."
A Salt Lake City branch of Wandervans was already running successfully, and Latorre and Leonard saw how they could make the model work where they lived.
Now they have a fleet of about 60 vans: 10 in Spokane/Coeur d'Alene, 20 in Boise, 20 in Salt Lake City, six in San Francisco, and six in Duluth, and they're aiming to add two new locations a year.
"It was surprising to see how much of our business was fly-to," Latorre said.
Their peak season is May through September with good traffic in October. And now during the off season, they've expanded the Spokane branch to include custom conversions.
"We made a mobile vet clinic, a mobile vaccine doctors clinic, and some normal conversions," Leonard said.
Some customers have loved the vans so much they've asked if they could buy one, so sales supplement profits during the slow season. The Spokane branch will build conversions and customize vans, or order kits from the corporate office to convert vans for sale. People can bring their own van to retrofit or buy one from Leonard and Latorre.
Most of the work to run a Wandervans franchise is automated with an online system, and just a few things need to be done locally, like cleaning, pick-up, drop-off and management, so the staffing overhead is relatively low. The vans come with service contracts through Ford, which means basic maintenance costs are also relatively low.
The average price of a van rental for six days is about $1,600. There are small and large options, and upgrade options that can affect pricing, on top of demand and availability, so pricing functions similarly to a flight cost.
"We're excited to run our 10-van fleet this year and see how it goes," Leonard said.