Built on history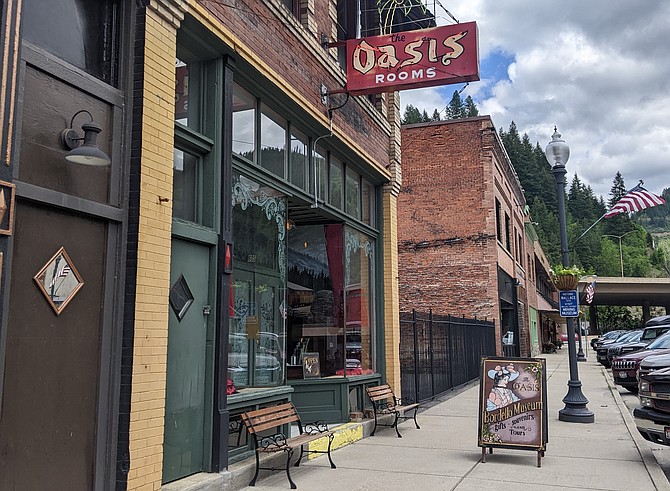 While the city's reputation of being lawless might have faded, there's no better place for a little adventure than Wallace, Idaho.
The seat of Shoshone County has a rich history that is almost unbelievable.
It's a town where the mayor once killed a man in broad daylight and got away with it, where bordellos operated illegally until the feds came to town in the 1980s, and where a Pinkerton spy once infiltrated and subsequently escaped a mining union.
And now, it's where people come to kick back, drink beer, go hiking, enjoy a scenic bike ride, or just explore the surroundings.
Nestled snugly in the crook of a mountain near the base of Lookout Pass, the city, with a population of fewer than 1,000 people, sits as a beacon for those who wish to embrace history firsthand while also being able to experience the surrounding natural attractions.
Over the past few decades, Wallace's leaders have worked diligently to market the city as a tourist destination. This includes the cultivation and evolution of several festivals, embracing the development of museums, and supporting the development of nearby tourist attractions — all while making sure the environment is tailored perfectly for people to come in, have fun spending their money, and then tell their friends about the great time they had at the Center of the Universe, which is a glorious inside joke that materialized into a cultural phenomenon.
Todd Howard is the superintendent of the Wallace School District and a fourth-generation Wallace resident. He's not only watched the evolution of Wallace, he's been a part of it.
"I feel that history provides a couple of different angles for Wallace," Howard said.
For some people, history is what draws them to the town, and then they find there are many other things to do, so they come back again and again, Howard said. Others come for other reasons — recreation or just to escape from the big city — and they find out about the history and return later to explore that.
History is a common theme because the entire city exists as part of the Wallace Historic District on the National Registry of Historic Places. It's a city frozen in time, with the residents working hard to maintain and preserve, down to the smallest details.
The aesthetic of Wallace has drawn and kept many people over the years, including resident Courtney Frieh.
Frieh serves on the Wallace Planning and Zoning Commission which works hand in hand with preserving the historic nature of the city. For her, Wallace checks all of the boxes.
"What sets Wallace apart from other small mountain towns is its rich and controversial history, its quirky, Wild West, fun-loving character, its original and historic architecture, and its gorgeous, still undeveloped, mountain setting," Frieh said. "For a city our size, having two breweries, a wine bar, many other eating and drinking places, and a historic theater isn't so bad either."
Pick an interest, pick a season, pick a hobby, and you'll likely find a festival, museum, or attraction in Wallace that fits it.
Running down the list, visitors can enjoy classic cars during Depot Days; embrace local traditions during the festive, carnival world of Gyro Days; or celebrate a local fruit with the annual Huckleberry Festival. If you like live music, the Wallace Blues Festival is a premier outdoor music event. The week-long Fall for History festival allows local historians to take visitors on trips into the past; Ski-Wallace turns the downtown streets into a high-speed terrain park.
And those are just the major events.
Each one brings its own unique flavor to the community and continues to draw more and more people to the area.
"My favorite festival is the Lead Creek Derby, (which is) part of Gyros Days," Frieh said. "I've lived all over the place and traveled the world and there is just nothing quite like it. Going strong after 80 years, the whole town of Wallace gathers in the town six miles upstream, drops a massive beach ball in the river, and then follows and races the ball down the river."
Prior to the event, wagers are placed on how long it will take for the ball to go from Mullan to Wallace, the closest bet wins a large prize that consists of several silver ounces from the local mines.
These festivals are the lifeblood of the city, filling hotels, short-term rentals, and generating hundreds of thousands of dollars in revenue for the different businesses and business owners.
"Small business owners that are successful in this town have become successful because they have the grit and determination of the predecessors of Wallace and they are smart – they know how to survive in a small town," Wallace Chamber of Commerce coordinator Julie George said. "The business owners of this town are the backbone of this community and they are the true masters of Wallace."
More than a century ago, Wallace was the metropolitan hub of a vast mining community. It was the presence of rough-and-tumble saloons, high society hotels and restaurants, houses of ill repute, and a cavalcade of shopping opportunities that made Wallace unique as the 1800s turned into the 1900s.
However, when a great fire destroyed two-thirds of the city in 1910, much of the downtown, luckily, was spared and what wasn't has been rebuilt and still endures to this day. This includes many of the buildings that now house museums and antique shops, as well as breweries and restaurants.
"Visiting Wallace feels like stepping back in time," Frieh said. "Wallace's fascinating history lives on in our many museums and parks, the antique city stair system, and our original, historic architecture. Wallace has a strict historic preservation building code which has helped keep the houses and buildings — almost all were built before 1920 — in nearly original condition. It is special because it is still authentic and has the beautiful patina of an old mining camp. The historic architecture and community focus on our famous history helps us attract tourists of all age groups and interests."
These museums include the Coeur d'Alene District Mining Museum, the Barnard-Stockbridge Gallery, the Oasis Bordello Museum, and the Sierra Silver Mine Tour. Each one has its own distinct flavor, while still maintaining a deep connection to each other because of the shared source material.
You never get a bad reception in Wallace, which may be part of its charm that separates it from the other tourist towns in the region.
"It's where I bought my first home with the love of my life. It's where I've raised three dogs and opened two small, thriving businesses," Wallace resident and business owner Sarah Murphy said. "It's walkable, friendly, quiet, and weird (in a good way). Everyone still waves and smiles at each other; we stop to talk on the (sunny) side of the street with each other."
For more information or to see Wallace's 2023 event lineup, visit www.wallaceid.fun.