Business comings and goings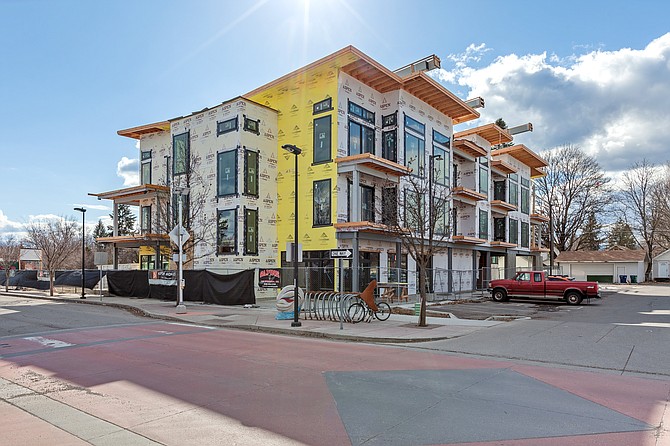 Midtown Centre Apartments completion slated for mid-June
With 16 luxury apartments on floors 2 and 3 and an Akamai Coffee Co. on the ground floor, the Midtown Centre Apartments building should be complete in mid-June at 821 N. Fourth St.
The apartments (12 one-bedroom and four two-bedroom) have floor-to-ceiling windows and private decks with an elevator and lawn that fronts Fourth Street.
Akamai Coffee is from Maui and will have a breakfast option, a drive-through and inside and outside seating.
The contact is John Beutler of Century 21 Realty at 208-765-5554.
Beau Monde Luxe opening in Hayden
With plans to open April 8, Beau Monde Luxe boutique is at 9428 Government Way in Hayden.
Owner and founder Brooke Miller offers high-end designer retail and consignment with items of apparel, shoes and accessories in new and like-new condition. She started with a downtown location in 2001 and now has stores in midtown, Post Falls and Athol.
The Hayden grand opening is 11 a.m. to 5:30 p.m. April 8 with regular hours of noon to 4 p.m. Sunday and Monday and 11 a.m. to 5:30 p.m. Tuesday through Saturday.
Brooke and Dave Miller are helped by Carrie Lasher, Melissa Hodson, Emily McCloud and Debbie Carlson. Phone 208-719-7595. Check www.BeauMondeStores.com and ShopBeauMondeluxe.com.
Rude Law opens on Fourth Street
Serving criminal, estate planning, family and real property needs, Rude Law has opened at 2310 N. Fourth St. (Suite A) in Coeur d'Alene.
Idaho natives Michael Rude and Alex Poorman have done litigation, trial and transactional work for half a decade and are assisted by Kristin Berg, head paralegal.
Hours are 8 a.m. to 5 p.m. Monday through Thursday and 8 a.m. to 3 p.m. Friday and closed during lunch hour. Phone 208-664-0278. Check www.rudelawcda.com.
Healing Hearts Mental Health Therapy open in Cd'A
With counseling for young and old and couples therapy, Healing Hearts Mental Health Therapy is now at 212 S. 11th St. (Suite 3).
Specialties include anxiety, depression and trauma with treatment on a collaborative process that is client-centered and based on self-discovery. Dan and Cory English have three therapists and plan to double the staff in June.
Hours are 9 a.m. to 6 p.m. Monday through Thursday and by appointment. Phone 208-939-1275. Check www.healingheartsmht.com.
Go Furniture Direct opens on Government Way
A furniture and mattress retail store, Go Furniture Direct has opened at 6055 Government Way.
Matthew Goodnight offers decor, accessories, sectionals, sofas, rugs, a horizontal bar and outdoor patio items with nationwide delivery.
Hours are 10 a.m. to 6 p.m. daily. Phone 360-901-7884. Check www.Gofurnituredirect.com.
Prairie Falls Golf Club construction begins
Construction has begun on major changes to Prairie Falls Golf Club at 3200 N. Spokane St., Post Falls.
The 43,000-square-foot facility will have 17 hotel suites with kitchenettes and oversize windows with mountain views and two executive suites and a presidential suite with a private balcony above the golf course.
It will also have a large event center that can seat up to 300 with a kitchen and bar, six golf simulator bays, a club house, retail pro shop, and local businesses such as River City Pizza, Anchored Coffee and The Lounge Day Spa & Wellness.
The golf course is open. Owners Rob and Emily Angeli Clark plan to open The Suites at Prairie Falls in June. Retail space is available at 1,700 square feet. Check www.prairiefallsgolfclub.com. Phone 208-618-4727.
Mix It Up Home opens on Sherman
With unique quality merchandise for the new store, Mix It Up Home opened Friday in the former Wells Fargo building at 305 E. Sherman Ave.
Adding to the original store at 513 E. Sherman, the "Home" location offers pillows, throws, table linens, accent pieces, lamps, wall art, mirrors, clocks, furniture and more. Original work of local artist Stephen Shortridge is featured. Another area has Windermere Coeur d'Alene Realty.
Hours are 10 a.m. to 6 p.m. and will expand in May. Beth Rich is the owner. Check www.Mixituphome.com. Phone 208-930-0001.
Farmers' Markets to open in May
The former downtown Farmers' Market on Wednesdays has moved to Main Street in Riverstone starting May 17. Hours are 4-7 p.m. with many vendors, food booths and live music.
The farmers and artisans from a 38-year history also will be at the traditional outdoor market at Prairie Avenue and Highway 95 from 9 a.m. to 1:30 p.m. Saturdays beginning May 13.
Tidbits
• Construction is busy for Cornerstone, a four-story complex at 1579 W. Riverstone Drive (across from Red Robin) in the Riverstone complex. The ground floor has three commercial spaces and two lobbies. It should be complete in June.
• Beacon Cancer Care and Ironwood Family Practice will be in the large building under renovation at 3815 N. Schreiber Way.
• A two-story building is under construction at 8552 Government Way for Hayden Surgery Center.
• A branch of Orthopedic Surgery and Sports Medicine (OSSM), Orthopedic Physical Therapy Institute (OPTI) is building a new structure at 8468 N. Wayne Drive in Hayden. It should open May 1. Check www.ossmidaho.com.
• Two 1,550-square-foot suites with 2,500-square-foot shop areas will be available for lease in Anderl Plaza under construction at 8512 N. Wayne Drive in Hayden.
• A sports complex and optional suites will comprise Mountain View Business Center under construction at 9044 W. Prairie Ave. Two to four additional suites range from 4,180 square feet to 9,023 square feet.
• U-Haul Self-Storage will be at Seltice Way and Herborn in Post Falls.
• Ellie Mental Health will be in Suite 1100 at 1579 W. Riverstone Drive.
• Two Harbor Center docks are being constructed at the end of Academic Way where the road ends at the building with multiple college offices. Both docks with about 25 spaces will open about Memorial Day and be seasonally open from May to September. One dock will house KJ Watersports with a rental fleet including pontoons, ski boats and waverunners. Check www.kjwatersports.com. The other dock will have Hayden Lake Paddleboard & Jet Ski. Check www.cdaboatrentals.com.
• A new building, Lake Forest Interior Design, is under construction at 9245 Government Way in Hayden.
• A commercial building with three suites is being constructed at 9041 N. Hess St. (just north of Walmart) in Hayden. The suites of 1,100 square feet each can contain retail or office places.
• A new building for Anthem Pacific Homes is being constructed at Highway 41 and 16th Avenue in Post Falls.
• Planning to be complete in late March, Olson Engineering is building a new office at 1649 N. Nicholson Center St. west of the 16th Avenue-Highway 41 intersection in Post Falls.
• A Nothing Bundt Cakes bakery will be built at 201 W. Neider Ave.
• The Lighthouse Motel is being renovated at 2018 Sherman.
• A large building planned to open in late summer or fall for 851 Fourth Ave. (at Idaho Street) in Post Falls will be called Kindred & Co. with books, home goods and a bistro.
• What has been Asian Twist in Ironwood Square (behind Albertson's) will be Our Thai House with major changes. Details here soon.
• Spoon Junkie or Rogue Carnivore evidently will be a new place at 400 N. Fourth St.
• Phase I of the new Kinder Prep Learning Center is under construction at 1847 W. Prairie Ave. The curriculum promotes hands-on, sensory and play-based learning experiences for ages 18 months to 5 years old in an environment that is nature themed and community driven. For information on pre-enrollment, check www.kinderpreplearningcenter.com. Phone 208-916-0265.
• Healthy fast food will be featured at Konala, a new restaurant under construction at 107 E. Seventh St. (behind the Bunker Bar on Spokane Street) in Post Falls. Owners Trace and Jammie Miller (also owners of The Bunker Bar and Burger Bunker) plan to open soon. The website will be www.konala.com.
• A 20,000-square-foot structure called Prairie Professional is under construction on the north side of the intersection of Prairie Avenue and Ramsey Road. The office building to be complete in December will have suite sizes from 2,200 to 10,000 square feet available. A main tenant will be Riverstone Dental Care.
• Golden Rule Brake is coming to 3826 E. Seltice Way (near the intersection of Highway 41 and Interstate 90) in Post Falls.
• Coeur Climbing Gym is leasing a large warehouse space at 764 S. Clearwater in Riverbend Commerce Park in Post Falls to open soon.
• The fourth Kootenai County location of Dutch Bros Coffee will be built soon at 6299 W. Pointe Parkway (next to Panda Express near Cabela's and Walmart) west of Post Falls.
• Magpie, a home decor, gifts, furniture and art store at 110 N. Fourth St., will move to the former Angel Gallery place at 423 Sherman in early May. Angel's Patricia Kovatch retired after 26 years in the business.
• Watch for Prime IV Hydration & Wellness to be in Ironwood Square.
• Burke's Restoration is building a new place at 3801 W. Riverbend Ave. in Post Falls. Details soon.
• The Thomas George building planned for the corner of Third Street and Front Avenue will be 18 stories mixed with commercial places on the first floor and 60 condominiums above.
• Watch for details on new buildings under construction for corporate offices for Roger's Burgers on Government Way.
• Bullet Bar & Grill will be on Idaho Street where The Den was in Post Falls.
• A new building for Etco Services is under construction off Huetter Road north of Seltice Way and I-90.
• The PACR office building is under construction at 1857 W. Hayden Ave.
• Orthopedic Physical Therapy Institute (OPTI) is constructing a new building in Hayden.
• An automotive service center will be built at 185 W. Clayton Ave.
• "Coming Soon" signs in Hayden are for a Metro Express car wash, Dirty Bird Self Car Wash and a Consign Furniture.
• Gentlemen Sausages will be in the former Abi's Ice Cream location at 112 Fourth St.
• TownePlace Suites by Marriott Hotel is being built where the Outback Steakhouse was in the southeast corner of I-90 and Northwest Boulevard.
• Watch for an Indigo Urgent Care building under construction next to Starbucks in the Crossroads Center off Ramsey Road.
• A new commercial and residential building, Midtown Centre, is being built at 821 N. Fourth St.
• A spy says a restaurant will be built where Atlas Road meets the Spokane River.
• Watch for The Flats motel at Sherman Avenue and 21st Street.
• • •
Contact:
Kootenai County — Nils Rosdahl at nrosdahl@cdapress.com
Benewah, Bonner, Boundary and Shoshone counties — Maureen Dolan at mdolan@cdapress.com