North Idaho accounting firms merge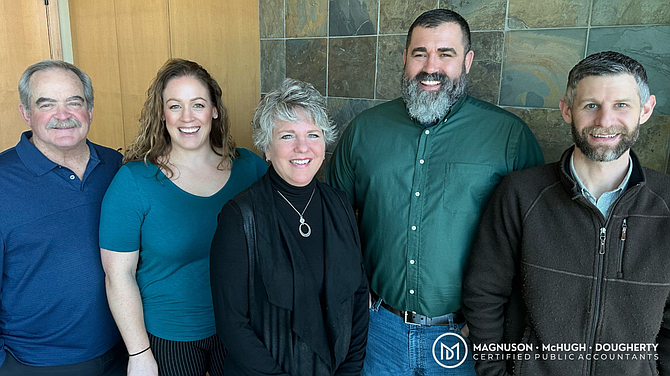 COEUR d'ALENE — North Idaho-based accounting firms Magnuson, McHugh & Co., P.A. and Dougherty & Associates have announced their merger — combining their collective century of expertise and experience to offer a wider range of services to their clients in the newly formed Magnuson, McHugh, Dougherty CPAs.
Founded in 1951, Magnuson, McHugh & Co. has been serving the North Idaho region for 72 years, providing financial services for individuals and small-medium businesses.
Dougherty & Associates' strategic tax planning-centered service model has been dedicatedly catering to individuals, small business owners, and investors in North Idaho since Bill Dougherty started the company in 1989.
"This merger brings together two of Idaho's most tenured accounting firms, marrying their strong histories of community values and professionalism to establish a deeper bench of experts and an expanded range of services under one roof," according to a press release.
Partners from both firms expressed that they were not necessarily looking for a merger, but often noticed similarities in company culture, high professional standards, and client-oriented missions of their two businesses at industry and community events, the release said.
From there, the eventual merger grew organically from the friendly and compatible relationship between the two firms.
Michelle Haneline, a managing partner at the former MM&Co. expressed excitement for the merger, saying "the team from Dougherty is just a great culture fit. We are all family-first people who love to have fun together while working hard for all of our clients. This merger will be a catalyst for extending our reach within North Idaho and we're looking forward to everything the future holds for MMD."
The merger creates a stronger, more comprehensive offering for clients, with a focus on the highest quality services and a personalized approach, the release said.
"The combined expertise of all players at the newly established MMD allows the firm to have many services under one roof, essentially creating a "one-stop shop" for the financial needs of a wide client base — from individual tax assistance to complex financial services for large companies," the release said.
Devlin Flamm, managing partner from the former DA, is enthusiastic about the merger's ability to facilitate a streamlined approach to managing entire client relationships in-house, from accounting and payroll to retirement plans and investment management.
MMD partners, Anthony Oss, Michelle Haneline, Mike Schaffer, and Devlin Flamm, are looking forward to all the future entails while maintaining their mutual long-standing legacy of great service, family-first values, and community involvement.
Bill Dougherty will remain as a principal with MMD focusing on retirement, estate planning, and financial planning. With a combined century of experience and shared visions for expansion, there is undoubtedly a bright future of growth in store for this integral North Idaho institution.
Info: mmd.cpa/
Contact: Magnuson, McHugh, Dougherty CPAs, 2100 Northwest Boulevard, Suite 400, Coeur d'Alene, ID 83814, 208-765-9500, cpa@mmd.cpa