Target audience: Cats — and those who love them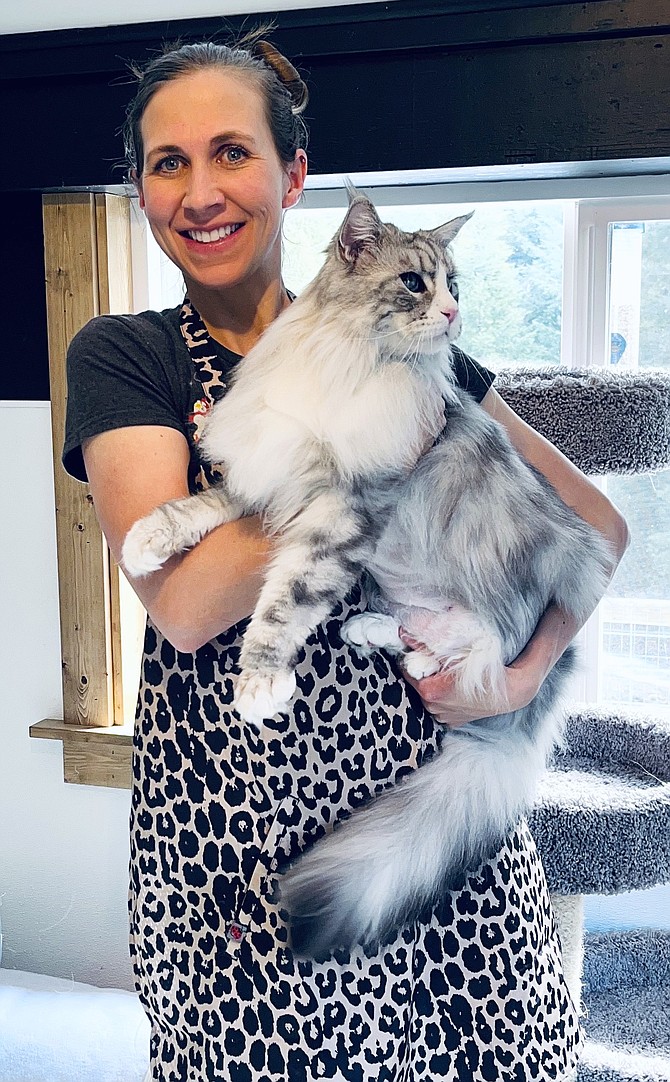 BONNERS FERRY — Julie Rosengrant saw a market need and started a business to fill it.
Now, The Catnip Getaway is the purrfect vacation destination for all things cats, when owners take a vacation of their own.
Rosengrant, a certified veterinarian technician, is one of the few cat groomers in Idaho and is located north of Bonners Ferry, in the Copeland area. She has clients from Clark Fork, Montana and even Canada.
At the Bonners Ferry Vet Clinic, where Rosengrant worked for 13 years, she would groom cats at their annual check-up and would often use sedation, but 98% of cats don't need sedatives, she said.
Grooming isn't something veterinarians want to spend time doing, she said. Rather, they want to take care of medical issues. The Cat Getaway can fill that need and free up local vet clinics.
Rosegrant received training on cat grooming, because she wanted to know what the professional groomers and breeders do and provide that experience to her clients.
She was encouraged to open her business by fellow animal lover and business owner Wendy Bertling of Selkirk Kennels in Moyie Springs.
"There really is no boarding location or grooming place strictly for cats," Rosengrant said.
Cat grooming may seem unnecessary, since cats tend to clean themselves, but Rosengrant said that is not the case.
"Cats lick themselves, but they don't clean themselves," she said.
The cat's saliva then turns into protein and eventually dander, which can make people allergic to their cat, she said. Cats do tend to be clean animals, but they can't maintain it on their own. That's where The Catnip Getaway comes in.
"Cat's consume a third of the hair on their body," Rosegrant said. "This can cause hair balls and discomfort. I hope to alleviate that by grooming."
A challenge Rosengrant has faced is educating the cat lovers around her. As cats have shifted from the role of barn cat to pet, the knowledge of cat care is not always available.
"Many people ask why do I cat groom, because they don't know the cats to be cleaned," she said. "Not only that, but I care for their nails and ears."
Rosegrant said she has even been surprised with how dirty and how much dead hair she has been able to remove from cats. Even Buddy, Dr. Roland Hall's cat seen frequently at the Bonners Ferry Vet Clinic, had a small mountain of dirty hair come off him at his grooming appointment.
"I was so surprised," Rosengrant said. "The hair just kept coming off, and I know that Buddy gets brushed everyday. He's the cleanest cat I know."
The Catnip Getaway uses all organic cat exclusive shampoos and conditioners and all tools and combs are feline grade. Rosengrant said this was a top priority for the health of the cats.
The Catnip Getaway charges only $14 board per day and provides discounts for lengthy stays.
Cats stay in "cat condos," which all have access to windows. Condos fit two cats, but only if they come from the same household.
Cats take turns out of the condo to roam The Getaway. They particularly enjoy the large window, cat post, cozy seat and rubs.
The cats also enjoy TV featuring birds and squirrels and the sounds of the outdoors. Rosegrant calls it "Cat-flick."
Rosengrant said every cat groom she has attempted has been successful. There hasn't been one to date which she couldn't complete. She takes her time and works with the animal to see what they are comfortable with. By the next visit they have warmed up to the whole experience and look forward to the results of the bath.
"I've had clients call me saying they can see the difference and that their cat is happier and comes and rubs against them," she said. "The cats always feel better afterwards."
Rosegrant started the business last May. She found the best way to advertise was to visit pet stores, vets and animal boarding businesses and drop off her business car for referrals. She also uses social media, which has also brought in business.
In addition to being Feline CPR and Advanced Life Support trained, Rosengrant has become a National Cat Groomers Institute Member and Feline Master Groomer Program Trained.
She is uncertain if she will go on to be a master cat groomer, but she hopes to expand the Catnip Getaway depending on demand.
For more information follow on Facebook at The Catnip Getaway, email thecatnipgetaway@gmail.com or call 208-718-2837.