An adventure park in the trees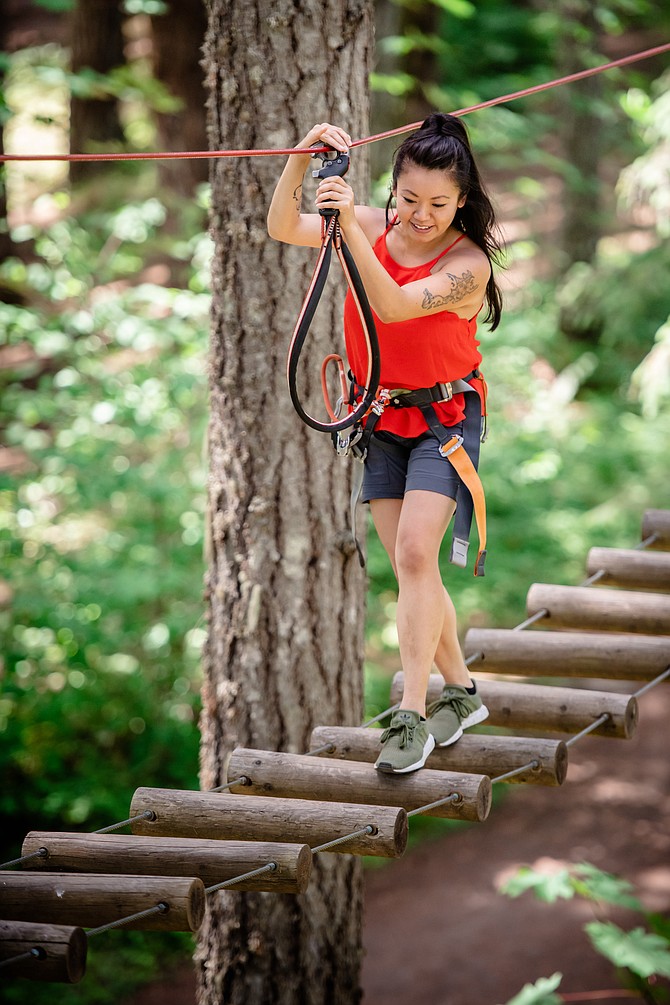 An aerial adventure course is nestled high up in the trees at Farragut State Park in Athol.
At the Idaho Tree to Tree Adventure Park, 17545 E. Locust Grove Road in Athol, guests participate in obstacle courses with elements such as ladders, zip lines, tight ropes, balance beams and bridges that wobble. Their objective is to move across platforms while fully secured in harnesses.
Participation is the key for a treetop experience — no prior experience required.
"If anyone is looking for a unique and exciting adventure unlike anything they have experienced before, they should come out and see what we have to offer," said Marissa Doyle, one of Tree to Tree's owners.
Tree to Tree Adventure Parks can be found in Oregon, New Jersey and Idaho. The park at Farragut opened in summer 2018.
"Farragut State Park opened up a proposal request to anyone interested in building and operating an adventure park," Doyle said. "We went out to walk the property and loved the location. We ended up winning the bid with the state and started the park."
As a business that promotes and requires physical activity, Tree to Tree uses liability insurance for any type of issue that may arise, as well as property insurance and workman's compensation for its employees. Daily, weekly, monthly and yearly inspections are conducted to ensure the courses and equipment are safe and ready for participants.
"We do have every participant sign a waiver that outlines our safety expectations and explains the types of activities we have at the park," Doyle said. "This is a good way for participants to understand what they are signing up for. It is also required by our insurance company."
Everyone who participates goes through orientation and training prior to climbing into the trees. Guides are also present to help when needed.
The obstacle courses and equipment stay in the trees throughout the year.
"We had our course built by Outplay Adventures LLC," Doyle said. "We worked with them on the original design and every year we make slight upgrades or changes to the course to keep it exciting."
Tree to Tree does not have any direct competition in the area. It's an adventure option for families, groups and business retreats.
It also offers fundraising opportunities for schools or organizations. During designated fundraising days, the park will donate $5 for each full-price admission a school or organization refers.
"We are also a fun active summer job for those in the area," park manager Thomas Hauck said. "We are currently hiring for the upcoming season as well," a few office staff and up to 10 guides or rescue guides.
Doyle said Tree to Tree opened a site in North Idaho mainly because of the love of the outdoors.
"Our goal is to introduce people to a new way to experience and enjoy nature," she said. "We chose northern Idaho because we recognized the people here also love the outdoors and appreciate all of the amazing opportunities the areas has to offer."
Tree to Tree's main season is Memorial Day to Labor Day.
Info: treetotreeidaho.com