Continuously creative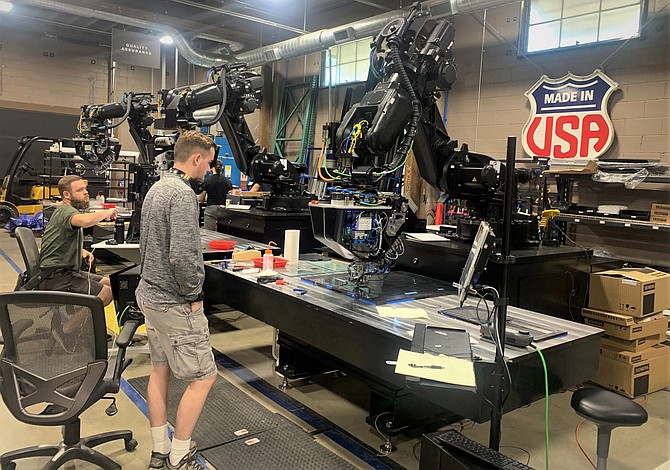 COEUR d'ALENE — For someone guiding a high-tech, cutting-edge company that employs about 50 of the smartest people you'll meet, Tyler Alvarado keeps it simple when describing his role as CEO of Continuous Composites.
"It's humbling to have the opportunity to come to work everyday alongside such a world-class group of people developing a technology that's going to disrupt the way you manufacture vehicles, aircraft, space travel," he said. "It's just humbling to do that with these types of people in an unlikely place like Coeur d'Alene.
"It just goes to show you can do whatever you want as long as you put your mind to it, work hard and don't take no for answer," he said.
Alvarado is not one who easily accepts the word no.
If he did, Continuous Composites would not be what it is today, a 3D printing company creating crazy lightweight, crazy strong parts through industrial-grade 3D printing that has earned an impressive following of clients and seen strong growth.
He's looking for opportunities of what can be achieved with creativity, drive and teamwork.
"My hope, and what drives me, honestly, is the just opportunity for this to change the lives of so many families in this community, who will go off to start other tech companies," he said. "And they're reinvesting the funding, the financial reward, into this community and into other businesses."
Alvarado, on a sunny Friday morning, is upbeat as he leads a quick tour of the two buildings that house the company started nearly a decade ago in Coeur d'Alene.
At 6 feet, 2 inches tall and 220 pounds, his is a large, energetic presence. He stops with pride in front of a large banner hung on a back wall that says, "Thank you Continuous Composites," signed by second graders at Winton Elementary, who toured the business and heard about 3D printing, entrepreneurship and robotics.
"We're trying to inspire the youth that you can go create whatever you would like, you have a dream, a vision, you work together," Alvarado said.
That's proven to be a effective game plan.
Continuous Composites has developed and patented Continuous Fiber 3D Printing Technology.
"CF3D combines high-performing composite materials with rapid curing thermoset resins to create complex parts on demand," says a description on the Continuous Composites website. "With the ability to print both structural and functional fibers, Continuous Composites presents a new future for additive manufacturing with composites."
Hmmm. That's not completely clear what that means for regular folks, but it is clear to those in the military and aerospace sectors, who are customers of Continuous Composites and part of the $5 million in sales it estimates to record this year.
It has contracts with the Air Force, NASA, the Department of Energy and Lockheed Martin.
He mentions the opening scene of the movie "Top Gun: Maverick" when Tom Cruise, playing the part of Pete "Maverick" Mitchell, is piloting a hypersonic aircraft that hits Mach 10. That it doesn't burn up, that it is protected by light, virtually indestructible material, is the kind of product produced by Continuous Composites.
"What's great about this technology, it brings together all of the engineering disciplines," Alvarado said. "All of those skill sets come together to develop the technology."
Continuous Composites generates revenue through selling machines as well as printing parts for customers.
After surviving the pandemic, but with little growth, Continuous Composites bounced back.
In June 2021, it raised $17 million through investors that gave it the capital to expand products and staff.
That opened doors.
"We didn't have the ability to commercialize our products and start supporting our customers in the field," Alvarado said.
It does now.
In the last two years, it has grown from about 20 employees to 50. About half are engineers.
In one building of its Lakeside Avenue home is the manufacturing side, where assembly and integration take place. Products are created, tested and prepared for shipping to customers.
It's here robots, like something out of Star Wars, stand tall operated by humans. One expects them to suddenly hop free and wield a lightsaber.
Not surprisingly, machines that do the work have names like Gemini, Mercury and Apollo.
In the other building, development and engineering happens as employees sit in front of large computer screens and converse with each other or someone at the other end of the line.
Alvarado loves it that the former startup company keeps college grads in North Idaho, rather than moving to Seattle, Boston or the Silicon Valley in search of work.
He credits a strong management team for the company's success. Different divisions focus on development, sales, marketing and manufacturing.
"I could never have dreamed of where we're at today. The technology has advanced leaps and bounds," he said. "The blue-chip customers coming through Coeur d'Alene to visit us, it's pretty surreal where we're at today."
Unexpected, though.
Alvarado graduated with a master's in business from Washington State University in May 2009.
He initially intended on going into investment banking, but the credit crisis at the time gave him good reason to pause.
He's glad it did.
"I always say I got more lucky than smart. I didn't go into investment banking," he said.
Teamwork matters. He encourages ideas, but warns against being emotionally attached to them.
"I don't care about being right. I care about getting it right," he said.
The company just landed a large software contract so it will need more software developers and is hiring.
As unlikely as it might seem in a field where smarts are a necessity, a key to working at Continuous Composites is humility.
"Not any one of us has all the answers," Alvarado said.
"The soft skills are from my perspective more important than the technology knowledge and the background because those are the things you're not going to change about a person," he said. "You either have the soft skills or you don't. You can learn the technology. You can learn some of the engineering but you can't change the soft skills."
Alvarado said they plan to expand the sales team and raise more investment capital in the coming months, which will allow it to hire more engineers to advance the technology.
He wants to keep the company nimble and agile, with the ability to make quick decisions and move fast.
It's working. Continuous Composites forecasts double-digit growth next year.
"We're proving that we can do it," he said.