Building a better nut spread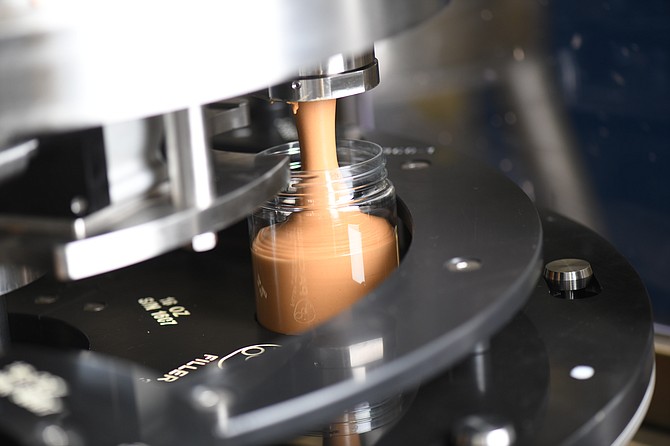 SANDPOINT — Delicious, versatile and packed with flavor.
You can only be talking about hazelnuts.
Now, a Bonner County company is taking advantage of the region's growing availability of hazelnuts to create a new line of products.
Nutlicious, a new hazelnut spread manufacturer opening its doors in Dover, aims to fill a void in the industry, and has its sights set on the space carved out by peanut butter, CEO John York said.
Regionally made hazelnut spreads are common in Europe. These high-quality spreads feature high concentrations of the nuts while remaining affordable for the masses. York loved such products and knew he could make the same thing happen in the U.S.
Each year, more hazelnuts are grown around the world, with an increasing number grown in the U.S., especially in Oregon, where Nutlicious gets its hazelnuts. Companies such as the one he partners with for the hazelnuts have planted more and more hazelnut trees, and they are now beginning to see the results.
In terms of volume, Oregon produces the third-most hazelnuts in the world, behind Turkey and Italy. There are now 10 to 12 different varieties of hazelnuts grown in Oregon, with the newer varieties stronger and better each year, York said.
As the number of hazelnut trees in the U.S. grows, so does the need to find and create products to take advantage of the nuts, York said.
He'd come across traditional hazelnut spreads while working for an Italian company about 10 years ago. The company's focus was on private labels, and York never got the chance to create a more traditional spread.
York said he fell in love with the taste where the focus was on the nuts' flavor. While some spreads contain between 8 and 13% hazelnuts, the Nutlicious spread contains 50% hazelnuts.
"Number one, it tastes phenomenal compared to some of the other ones, and it's a good product," York said.
While many in the U.S. are unfamiliar with hazelnut spreads, York said he envisioned a spread that looked similar to peanut butter but with a hazelnut flavor profile.
"But the taste comparison? There is no comparison," he said.
York said he knew that once folks in the U.S. got a taste of a more traditional hazelnut spread, they'd be as hooked as he was.
In addition to the hazelnut butter, or blonde version, which is the variety closest to peanut butter, Nutlicious also offers a cocoa version and a dark chocolate version.
"There's nothing on the market like what we're doing," York said. "As far as the blonde, every show that we've been to in the last year, it just blows people away. About 99% of the time, their first reaction is 'Wow.'"
He doesn't want to compete with other hazelnut spreads, just with the peanut butter industry.
"Hazelnut is a much stronger taste than peanut butter," York said. "Peanut butter — it's not neutral, but it's a closer-to-bland taste, right? There's not a real strong [flavor]. Hazelnut, the way I compare it, is peanut butter being like rosé with your wine, and a hazelnut butter being like a cab, right, or a very dark, earthy-type type of wine."
Adding more hazelnuts to the spread does several things, York said. Not only does it highlight the boldness of the hazelnut, it also means less sugar is needed.
While they played around with different concentrations, York said he likes the taste profile of the current recipe, which blends the nuts, sugars and oils in a way that delivers the taste profile he is after.
While the company will eventually offer a range of products, York said the immediate focus is on its spreads. The three standard spreads — blonde, cocoa, and dark cocoa — will be offered online around mid-September, and Nutlicious is aiming to have the product in stores sometime in the first quarter of 2024.
As the product goes live for sale on e-commerce, York said the company's retail team is already doing the legwork to connect with grocery stories to get Nutlicious into brick-and-mortar facilities.
Shipments will be sent out via the U.S. Postal Service, thanks to a new rate on packages that will allow them to ship coast to coast.
York was talking to the hazelnut growers he contracts with for the nuts as his plans to create a top-tier spread moved forward. As it happens, they'd come across the old Thorne Research building in Dover and got a good deal on it. As his conversations with the company moved forward, they mentioned the building and that their own plans to create a spread were being put on the back burner.
Would York be interested? He was.
"The more and more we talked, both sides got a little more serious about doing something," York said.
Despite looking at other states and locations, the sites were either lease-only or would be cost-prohibitive to build. York immediately saw the potential of the Dover facility. While some reconfiguration was needed, York said the building itself — and already-approved 40,000-square-foot expansion when the site was owned by Thorne — made the building a perfect fit.
Add in the proximity to the hazelnut farms in Oregon and the ability to ship out its finished product, and the Dover location makes sense and gives Nutlicious room to grow.
In addition to its main production line, Nutlicious also has a smaller line, which allows it to create specialty spreads such as a coffee chocolate version.
"With that line, we can do a lot of different things," York said.
The company has been in operation since April as it worked to fine-tune its recipes. It's also been sharing its spread with local restaurants, who have created everything from pies to mousses and more.
"I want [our product] to be like when your mom made, when your grandmother made it," York said. "That's where all of it kind of started."