Serving those who serve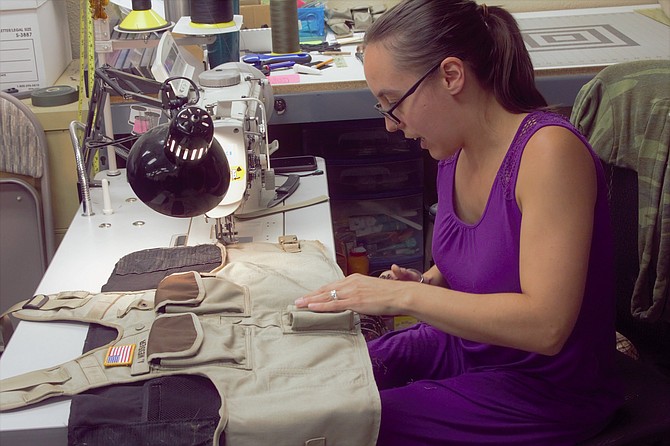 BONNERS FERRY — For more than four decades, Richard Cowell Tactical, a family-owned and operated business has provided custom tactical gear for law enforcement and public safety professionals nationwide.
The company was established in 1979 in the Sierra Nevada foothills of northern California by Richard and Patricia Cowell. Patricia Cowell was known for her sewing skills, and together the Cowells made specialty garments for clientele, typically western themed.
Richard Cowell was in law enforcement and his contacts asked if Patricia was able to make vests and holsters, since she was already making buckskin vests and chaps for clients. From there they developed a product and began to establish clientele.
The business first started in a shop on the family property with all seven Cowell kids eventually measuring, cutting and sewing nylon and canvas load bearing vests and holsters for local law enforcement.
The Cowells' children Julieann and Matthew now run the business together, managing the production room with a handful of local employees.
Cowell Tactical has moved away from strictly hiring family members, as many of the kids have grown up and have careers and families of their own. They hired their first employee in the mid-1990s and reopened the shop in Bonners Ferry in 2005.
What makes Cowell Tactical stand out from the competition is the customization of their products.
"Each vest is customly designed for the needs and size of the officer ordering," Matthew Cowell said. "Vests last for five to seven years, which is saying a lot when an officer wears them every day. Everything is made in house. "[officers] are in vests 10 to 12 hours a day, they live in them, must be comfortable and efficient."
When a vest needs to be modified or refurbished, whether that is due to new equipment, additional needs or changes in sizing, Cowell Tactical is of service and works with the client to meet their needs.
Armored vests were first added as law enforcement equipment to take the 30 pounds or so of equipment weight off an officer's back and hips.
Cowell Tactical created a product for law enforcement use and to keep up with national trends and accommodate the movement and health of officers, Julieann Cowell said.
Cowell Tactical has been there to find innovative ways to better serve those who serve. The vest design is based on a WWII jump parachute vest.
Originally the vests were designed to carry gear externally and worn over body armor and the officers uniform. Today, the majority of their designs are load-bearing armor carriers that are part of the external uniform and hold both the armor and the gear.
A highpoint of the business is the clientele it serves. Cowell Tactical has worked with police and sheriff departments across the United States and federal departments such as the DEA and forestry groups and K-9 handlers.
Some of the challenges Cowell Tactical has faced and overcome over four decades are relocating to North Idaho and having to modify the vest design as the national trend changed to external carriers versus the previous internal carriers. From moving to that design, Cowell Tactical has seen more demand across the U.S.
An innovation they are proud of is maintaining their level of customization and quality, by using 1,000-denier Cordura nylon in most of their products, which is a very durable, heavy, and finely woven fabric typically used for outdoor gear.
Pockets are made of double layers of the 1,000-denier Cordura nylon and double stitched to the vest body. The armor carrier body is lined with breathable, antimicrobial spacer mesh for comfort and ventilation, Matthew said.
What makes Cowell Tactical stand out from other producers is the level of quality material, craftsmanship and customization, Julieann said.
"The vest is wearable longer than the life of the armor," she said. "No one does what we do."
The owner's attributes of the business' longevity and growth to their organic connection to market demand and their customer's specific needs.
"That includes custom measurements, styles, colors, gear, placement, etc. Designing and redesigning is an integral part of our operation," Julieann said.
Cowell Tactical's popularity has been due to word of mouth between departments and customers returning for additional modifications. Many departments across the country have named Cowell Tactical as the authorized vendor for equipment. In the New Jersey market, they started with only one department and now serve several dozen departments in that state.
"Cowell Tactical's growth and legacy is largely due to word of mouth referrals between departments and clients," Julieann said. "These are clients who are happy with a high quality, fully custom, life-saving product they use every day. We work closely with each one to match their unique specifications in order to provide that."
All products custom made to order including, external armor carriers, load bearing vests, identification placards and vests, MOLLE pouches and holsters.