Tedder Industries: Proudly made in Post Falls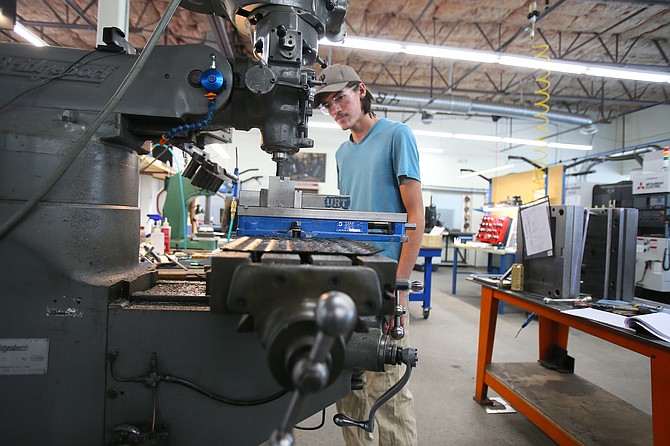 "Made locally in Post Falls, Idaho."
It's a phrase Tedder Industries is proud to display with its products, which are made at 4411 W. Riverbend Ave. in a 75,000 square-foot space that once housed Post Falls Factory Outlet stores.
Tedder Industries produces a variety of gun holsters, gun belts and popular firearm-related brands. The company is the home of Alien Gear Holsters, Rapid Force, Tactica Defense and Big Foot Gun Belts.
"Alien Gear Holsters is well-known for our comfortable and versatile concealed carry holsters, while Rapid Force offers durable and reliable accessories tailored to the needs of law enforcement and other professionals," Tedder COO Sandi Little said. "Big Foot Gun Belts manufactures heavy-duty gun belts known for their strength and durability, perfect for securely carrying firearms and accessories."
Alien Gear Holsters was founded in 2013 by Thomas Tedder, the visionary behind the company, Little said. Tedder wanted to create high-quality, comfortable and versatile concealed carry holsters for firearm enthusiasts. He recognized the need for innovative and reliable holsters catering to the diverse needs of concealed carry permit holders, law enforcement personnel and other firearm users.
With this passion as the impetus, he developed a new generation of adjustable and functional holsters. Through extensive research, development and testing, Alien Gear Holsters was born.
"One of the standout features of Alien Gear Holsters is its unique modular design, which allows users to customize the holsters to their specific needs," Little explained. "This modular approach ensures a secure fit and optimal comfort for various firearms, making it a popular choice among firearm owners."
Tedder employs about 200 people and operates as a vertical facility; all aspects of the business are conducted in-house. Employees are involved in various roles and tasks in the production process:
• The engineering team designs and develops innovative holster solutions, ensuring they meet quality and safety standards.
• The purchasing team sources materials and components required for production, ensuring a smooth supply chain.
• The injection molding department is involved in manufacturing parts used in the holsters' construction.
• Employees in the sewing department are responsible for crafting the holsters using specialized sewing machines.
• The shipping team manages the logistics and distribution of the finished products to customers and retailers.
"An entire vertical facility allows us at Alien Gear Holsters to control the production process, ensuring quality, efficiency and faster response times to customer demands," Little said.
That competitive advantage has helped Tedder rank high in national and global markets.
"For gun holsters, certainly we're probably in the top three gun holster manufacturers in the world," CEO Shawn Hostetter said. "In North Idaho, there's certainly no other manufacturers that do what we do at our level."
Some high points for the company include market recognition, customer satisfaction, expansion of product line and partnerships and collaborations.
"Not only do we have all the jobs here, but we work with a lot of local companies," Hostetter said.
Tedder Industries also closely works with local law enforcement and military out of Spokane.
"We're working on some contracts with both," Hostetter said. "We do testing. We've had them come visit our factory and do drills in our factory, which is really fun for them. It's a resource for them."
Challenges range from keeping up with ever-changing firearm regulations to supply chain management, economic conditions and market fluctuations.
Attracting experienced talent has been a struggle, as well.
"Drawing that level of experience to a community where it's become very expensive to live is hard," Little said. "Usually, most people, if they're wanting a move, they're looking for some other offset, a cheaper lifestyle or something, especially when the pay isn't quite in comparison. We've been attracting a bunch of people for a better quality of life and it's cheaper, but I think when they get here it's really not cheaper. That just hasn't balanced out."
Even so, Tedder Industries continues to be one of the largest, fastest-growing and most popular manufacturers of gun holsters and accessories for concealed carry in the United States.
Info: tedderindustries.com