Visionary versatility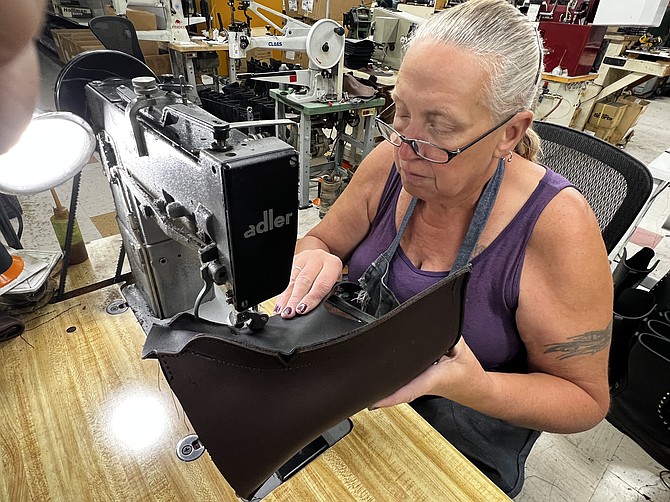 KELLOGG — In the 1980s, after decades in the footwear industry, John Hoffman had a million-dollar idea.
Upon relocating to North Idaho with his family in 1973, Hoffman and his three brothers opened Hoffman Shoes. It became a staple of the Shoshone County community, with multiple locations throughout the area, but when the mines began closing, the Hoffmans had to adjust what they were doing.
It was a pivot that turned the business from a regional shoe company into a national brand.
Hoffman Boots is now widely recognized as the go-to boot for many in the lineman, logging, hunting and wildland firefighting industries.
The business, in its 50th year, is owned and operated by John's children, Tom Hoffman, Jim Hoffman and Beth Gibbons.
"Between my dad and uncles, there wasn't enough money from the shoe stores alone to support three families," Gibbons said. "When the mines began to shut down, local men started logging for an income instead of mining. My dad decided they would start making logging boots to supplement their income."
The idea was to take the boots they were making and add removable calks, pronounced "corks." These calks, similar in design to what you would find on golf shoes or football cleats at the time, added a new level of traction for loggers.
With their new design fresh on the market, John and Barbara Hoffman set out on the road and began showing their new boots throughout the Northwest. In no time at all, Hoffman Boots began outfitting customers and stores in Alaska, Oregon, Montana, Washington, and of course, Idaho.
The logging industry carried the company for a while but added restrictions to forests reduced the demand for logging boots, which again forced John to pivot. This time, he had his sons helping him.
"It was the mid- to- late '80s when we decided to start making lineman boots for the utility worker," Tom Hoffman said. "Mike McCracken, a lineman that grew up in the Silver Valley, asked us to come up with a custom winter boot for his lineman profession."
This would be the idea that to this day helps sustain Hoffman Boots.
Tom Hoffman, who was attending the University of Idaho at the time, began studying the linemen profession, meticulously trying to construct the perfect boot for such a unique job.
At the same time, Hoffman Boots still produces boots for logging, and they have found ways to improve the variety of boots they offer.
"You look at other companies who used to be big in that area, they haven't changed their model in 25 years," Jim Hoffman said. "They're still making the same type of boot that are 10 pounds a pair, whereas some of our newer boots like our Armor Pro boot weigh about half that, they're waterproof and very stable. We're offering all of the benefits that the other ones used to offer with half the weight and for a lot less money and very little break-in time. Being versatile has been the key to our success."
Hoffman Boots now offers more than 100 different styles of boots, which are sold in every state across the country, Canada, and around the world. The lineman industry has been the most successful of any of the business' endeavors, and it remains its greatest source of profit today.
Their hunting boot line has also grown over the years.
"I am not a lineman nor a logger, but Tom and I have always hunted," Jim Hoffman said. "Developing a boot in our factory that we and many others believe is the best hunting boot out there has been something special. If you're an outdoorsman, you have to give our Explorer boots a look."
Much of the work is done at their small warehouse in Kellogg, just a stone's throw away from Interstate 90.
Hoffman Boots employs a staff of roughly 16 people. Armed with equipment and machinery older than most of the employees, each person has a specific purpose on the production floor. From gluing soles, building calk bottoms, or sewing leather, each person has a unique skill that makes the boot complete.
"Owning a business is an idea. Your employees are what turn this idea into an actual business. We have been so blessed to have such great employees," Jim Hoffman said.
Just a few years ago Hoffman Boots was Shoshone County's largest shipper, sending out thousands of pairs of boots each year.
They ship approximately 100 pairs of boots each day during the summer months, and it's roughly double that during the winter months.
"We take pride in using quality material and having our hands on almost every product," Jim Hoffman said. "Our customers count on our products to get them through the day. Instead of mechanized injection-mold production that is disposable, we take a different approach and build our boots from the sole up, allowing them to be re-built. We believe in quality, even if it costs more."
Over the years Hoffman Boots has developed partnerships with other factories around the world in order to make their constantly evolving designs a reality. These factories include three Italian factories, one in Germany, one in Canada and a couple in the United States.
But almost all their products pass through Hoffman Boots' Kellogg factory for final touches or to be shipped to a customer or one of the major retailers that sell Hoffman Boots.
That million-dollar idea John Hoffman had 50 years ago became a multi-million dollar company, and the industry standard in boots.
For more information, visit www.hoffmanboots.com or call 208-784-8153.