Gov. Little: February is STEM Matters Month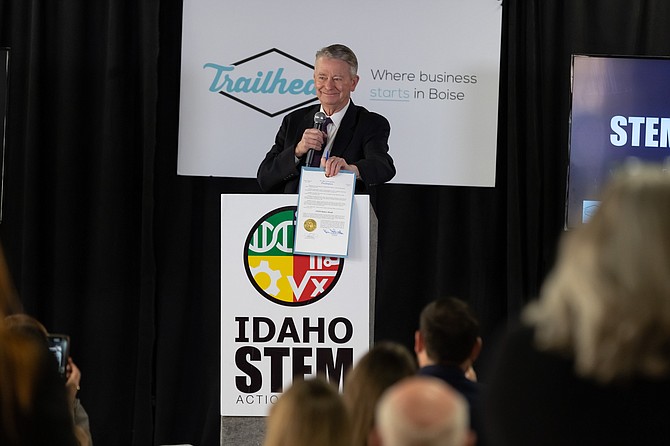 Idaho Gov. Brad Little has announced that February is STEM Matters Month.
In its eighth year, STEM Matters has morphed from a one-day celebration at the Idaho State Capitol to a weeklong virtual event during the height of the COVID-19 pandemic to a monthlong statewide celebration.
The Idaho STEM Action Center will be spotlighting the FIRST Idaho SUPERPOWERED LEGO League Challenge North Idaho Championships Saturday, Feb. 11 at River City Middle School in Post Falls.
The Idaho STEM Action Center in Boise hosted a kickoff event Wednesday at Trailhead, a Boise co-working space for entrepreneurs and business professionals, where Little read a STEM Matters Month proclamation.
"In our ever-changing economy, Idaho STEM Action Center is uniquely situated to connect young Idahoans with the education and training our industry leaders want in a workforce," Little said. "From logging to computer science, mining to health care or teaching to business, the skills that STEM education fosters will propel Idaho students into high-paying, meaningful careers."
Other state and business leaders were in attendance and discussed the importance of STEM education in today's technology- and knowledge-based economy.
"Here is why STEM really matters: Idaho National Laboratory conducts world-class research, but to continue making scientific breakthroughs, we need to prepare a STEM workforce for the future," said Jennifer Jackson, STEM education and early workforce development program manager at Idaho National Laboratory and chair of the STEM Action Center board. "Our partners all over the state also need a STEM-prepared workforce. Idaho's economy depends on it. STEM education is an essential early workforce development strategy for Idaho."
WinCo Foods Director of Talent Development and Idaho Workforce Development Council Chair Deni Hoehne concurred, emphasizing STEM is everywhere. She said every job is a STEM job.
"The 37 members of the council constantly talk about that every time we're together — what can we also be doing and thinking about STEM?" Hoehne said. "For example, I am in the retail grocery industry. Do you know that the cart clerk operates a robot? The manager of a grocery store uses probably five different pieces of software just to get the products on the shelf right. The space planning department uses geometry constantly to figure out how many gelatin boxes can really fit if we also add some pudding there. It's all about geometry. If you want to teach your kids STEM, go to the grocery store. It's right there in front of them every day."
Tiam Rastegar, Trailhead CEO and executive director and co-chair of Boise Entrepreneur Week, Idaho's largest entrepreneur-focused event, said its partnership with Idaho STEM Action Center is crucial to the event's Youth Innovation Challenge. The competition tasks students with proposing solutions to real-world problem statements Boise Entrepreneur Week has sourced from its community partners, including local business and community leaders.
"I really wanted to take this opportunity to bring to life what STEM really means to Trailhead: It's about planting seeds," Rastegar said. "These are our future entrepreneurs who will help us build businesses right here in Idaho."
STEM Action Center Executive Director Caty Solace said early STEM education is paramount.
"The 'action' that the STEM Action Center is all about is that long game," Solace said. "Looking at Idaho's youth and saying, 'OK, how do we spark excitement about the world of work for them tomorrow?'"
Watch a stream of the event at https://www.youtube.com/watch?v=YqWF2qT58jc, courtesy of Idaho Public Television.
As part of STEM Matters Month, Idaho STEM Action Center is hosting virtual discussions with leading employers and helping spotlight other events statewide that highlight careers in science, technology, engineering and math. Visit stem.idaho.gov/stem-matters for details about the events happening during STEM Matters Month.
According to Solace, STEM knowledge and skills are important to the future of Idaho.
"STEM learning helps students develop creative thinking, problem solving, innovation and collaboration skills," she said. "These durable skills are in high demand by Idaho employers that want to solve problems in our communities and beyond."
Solace said STEM jobs in Idaho are projected to grow 15.4% by 2030, outpacing the national average of STEM job growth at 10%, and that 90% of jobs will require digital literacy within a decade.
"STEM jobs are incredibly interesting and include careers in health care, engineering, software development, finance, agriculture and construction," she said. "In addition to being personally rewarding, they're financially rewarding, too, with STEM jobs paying nearly twice as much as non-STEM jobs."