Connections beyond the food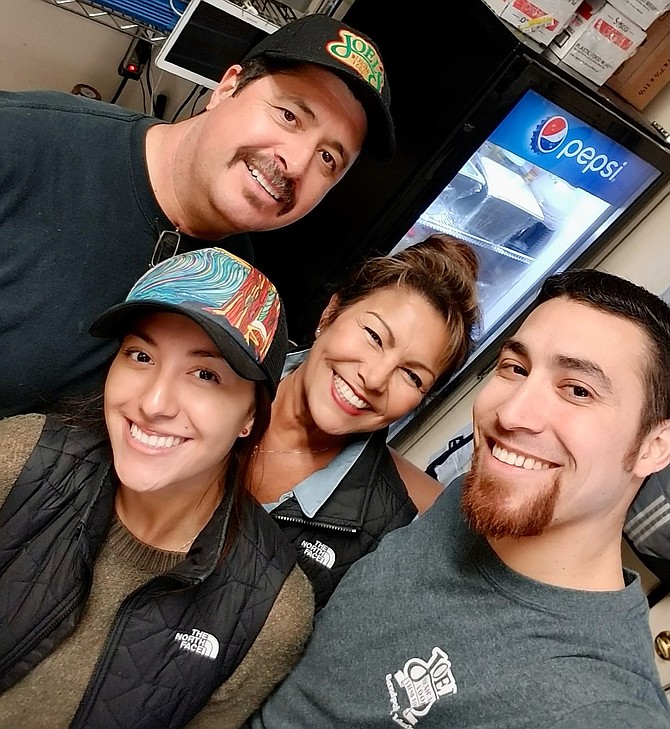 SANDPOINT — When you go to Joel's, don't forget the poppers.
It'd be easy to forget as you ponder the many options, trying to decide what to get when it all sounds so good.
But as delicious as the food is — and the poppers are legendary — it is the Aispuro family that makes Joel's Mexican Restaurant a must-visit spot for breakfast and lunch for both Sandpoint residents and visitors alike.
Family is at the heart of the restaurant — whether it is Joel and Rebeca Aispuro Sr. and their children, or the employees who have become like family, or the customers who are welcomed with a friendly smile.
And that's just the way the Aispuros want it.
"It's really nice to be able to have a business that people enjoy, and you don't want to sell a product that people don't like," Joel Aispuro, the couple's son and manager of the restaurant said. "It's nice to be able to have a product that people enjoy, and you're also to make connections beyond the food."
Because the family works to keep the prices reasonable, Aispuro said they see customers more regularly than some.
"You get to build those relationships and friendships, and you get to see their kids grow up," Aispuro said. "You build those relationships where it goes beyond the restaurant, where it goes to like, 'Hey, Joel, my kid is gonna play basketball, I heard you coach' or 'Hey, Joel, XYZ, this is an issue with city council and what do I do?' You know, so you get to build a relationship beyond the restaurant."
That relationship between the senior and junior Joels and the community began when Joel Sr. and his wife brought their young family to Sandpoint from San Diego in the mid-1980s.
"[My parents] just wanted to get out of the fast pace, busy life so it was kind of like a leap of faith. We're just gonna go," Aispuro said. "They said, 'Let's start a taco truck up there and see where it goes.'"
When Joel Sr. and Rebeca moved to North Idaho, it only made sense to open a food truck in Sandpoint. Located near the present-day Oak Street Food Court, the small food truck was a popular go-to spot for lunch.
Soon that truck was replaced by a larger one and then, a few years later, the Aispuros moved a few blocks over and opened their Church Street location.
"My dad has been in the food industry since his early teens, really working with food, growing up in Mexico, and having to work to survive, it's what you do. It's what he knew. It was natural, it only made sense," Aispuro said of the decision to open the food truck. "His philosophy at the time and still is, is 'I'm going to work my hardest for anybody I work for, so I might as well do it for myself.'"
At one time or another, the entire family has worked at Joel's. It makes sense, Aispuro said. Close-knit, they share a love for the community, serving good food, made with love to the people they care about.
With four kids of his own, the younger Joel loves seeing his kids coming into Joel's — just as his parents love having their kids close by as part of the family's restaurant. The point is especially brought home when a customer tells him how excited they are to be going to see their family after a year apart.
Employees and customers quickly become family, with Aispuro noting that the restaurant is blessed to have had employees who have worked for them for several years or more.
"I'm gonna live in a community. I want to invest in that community, it's what a community is," said Aspire, who also serves on the Sandpoint City Council. "And so the more you know people, the more you're able to help, the more you're willing to ask for help if you need it."
It's one of the reasons why he ran for city council. Raised to help others, Aispuro realized that the connection he had formed working at Joel's could also be used to help residents in the city as a whole.
"Not everybody's called to politics, but some people are," he added. "For others, it's working for nonprofits. For others, it's helping people on the street without anybody knowing. So, yeah, that's just the type of person I am, how our family is."
While there can be good and bad being a part of a family business, none of his family would have it any other way.
"I mean, it has its ups and downs but that's anything in life, you know," he said. "The best part is your family's usually the ones that know what's really going on in your life. So when there's an emergency or something you need, they are more likely to understand."
While they love working together, Aispuro said that, like any business, there can be challenges.
"You have years of history, right? So, you know the good, the bad, and the ugly about everybody," he said, before chuckling. "You're gonna have triggers, and they're gonna have that family competition or whatever or OK, 'I know you're my mom, or you're my sister, I know you're my brother but come on,' and separating that isn't always easy.
"I would say the biggest challenges are different thoughts of what we need to do or how we need to handle things. But you grow through those, you know, you try not to look at them as long-term challenges, you try to grow to them find compromises."
Working through those challenges is about talking to one another and realizing that they all want the same thing — to serve great food, work together, and be able to live in a place they all love.
"For us, it's just communication," Aispuro said. "And you learn throughout the years to be more vulnerable, learn how to express things differently. You know, build that trust. To just also be willing to accept that you're not always going to get your way and that's important, too."
It is a matter of focusing on what's important, of focusing on what's best for the business, instead of who might have had which idea or when.
"It's what is best for the business and if it's a positive thing, then I'm glad it happens," Aispuro said.
The pandemic and resultant lockdowns were hard on everyone, including restaurants. From supply chain issues to the challenges of finding employees, Aispuro said, a lot changed in a short period of time. It will take time to recover and he encouraged both customers and businesses to be patient and to be kind to one another.
"I think the more patient we can be with each other, especially people in our community, the further we're gonna go. People that work at a restaurant, or people that work at a hardware store, or people that work at a bank, they're real humans that have real lives and they're just trying to do their job, it's not always going to be what you want, or what you like, or the service you used to have. Just be patient."
Each business has had to adapt and change what they do and how they do it. At Joel's, one of the changes was to close the restaurant on Wednesdays to give employees a chance to catch their breath and spend time with their own families and loved ones.
At the end of the day, family comes first, whether it is immediate family members or the community at large — and that's just how the Aispuros want it.
"We're super blessed. We get to live where we love, get to serve food to the community, get to see smiles and it's amazing," he said. "And not just our food, but just good food in general. It's amazing how food can make us so happy, right? So it's a blessing to see, people just be happy. You know when you're just really hungry and you've got some good food, and you just see smiles? It's just cool."