Cattle, hay the Cloverdale way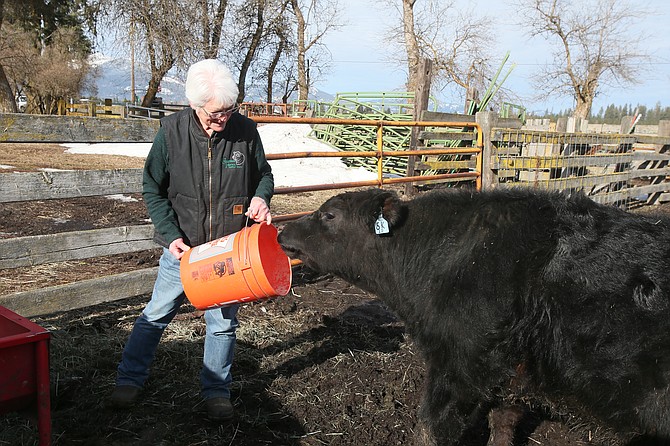 RATHDRUM — Two calves made a break for it and briefly wandered along Boekel Road before good Samaritans alerted Bill and Donna Boekel the young cows were loose.
"There's nothing out there to eat but rocks, so I don't know what the hell they were doing," Bill said.
"They were just curious," Donna said.
After the calves were safely returned, it took three hours to fix the fence where someone had driven through.
"The weather was nice," Donna said. "It was a good thing it didn't happen the day before. You have no choice but to go out there and fix it."
Such is a day in the life at Cloverdale Farms, on a rural stretch in Rathdrum at 1180 W. Boekel (pronounced "bay-kuhl") Road. The ancestral farm, homesteaded by Bill's grandparents in 1902 on a road named for the family, continues to be a family affair.
"It's just wonderful with the whole family," Donna said. "We've got four kids and they're all involved now. One lives in Munro, Wash., but he'll come over and spend a few weeks when we're haying and then comes back from time to time to help."
Bill, 86, and Donna, 82, are the main proprietors and third generation at Cloverdale Farms, where they grow hay that helps feed the nearly 50 head of cattle on the farm. They also sell the hay in local markets and feed stores.
"I don't think we've sold any other than locally," Donna said. "It's amazing how many people have a horse or a cow, especially horses."
Cattle are the heart of the operation. Cloverdale Farms is a new member of the American Angus Association, the largest beef breed association in the world with more than 22,000 active and junior members. The association records ancestral information and keeps production records and genomic data on individual animals to develop industry-leading selection tools for its members.
Cloverdale joined the association to register an Angus bull that will be sold in the future. He is the offspring of one of five full-bred Angus cows on the farm.
The first Angus bought by Cloverdale was purchased from Donna's brother, Ron Rosenberger of Rocking R Cattle Company in Hayden, who has raised Angus cattle for many years.
"My pride and joy — I got a wonderful bull calf out of him that I got to take to Denver," Donna said, showing off a gleaming National Championship Lowline 2016 belt buckle.
"He was the grand champion," she said. "At that time they called them 'lowlines.' They renamed them and now they call them 'Aberdeen,' which are a smaller Angus. They're back to the old Angus that we used to see in the '50s and before, then somebody decided big was better."
Just because the farm is old doesn't mean its methods are. A few of the cows are cloned from embryos.
"They developed them in Australia and they were trying to decide if size had anything to do with feed efficiency," Donna explained. "In the process of doing that, they created smaller ones they named 'lowlines' and discovered that no, size didn't have anything to do with feed efficiency. I think it took them about 26 years to decide that."
The Boekels continue to experiment with genetics to craft optimal animals.
"We're trying to create a gene pool that we think would be marketable," Donna said. "The last couple of years, we've raised some embryo calves. You breed the cow. After seven days they can go in and collect the eggs that have developed."
While Cloverdale is the original outfit, the Boekels and their adult children and their spouses created 4D Land and Cattle, starting with hay production in 2004. The business grew and thrived because of the hard work and dedication of the family. Angus cattle and American Aberdeen cattle were added in 2016 as a way to "use the farmed ground." Most of the Angus at Cloverdale are registered through 4D. Cloverdale and 4D together grow and farm on about 1,500 acres on the Rathdrum prairie.
Although the landscape is changing around the farm as prairie lands are developed into subdivisions, apartment buildings and commercial properties, Cloverdale Farms doesn't have any plans to go anywhere for at least a few generations.
"It's a fulfilling life. It does feel satisfying, especially in the summers. You work hard all day," Donna said. "It's always been a family thing."
Info: cloverdalefarms.net or 4dlandandcattle.com