Minds unite at Story Summit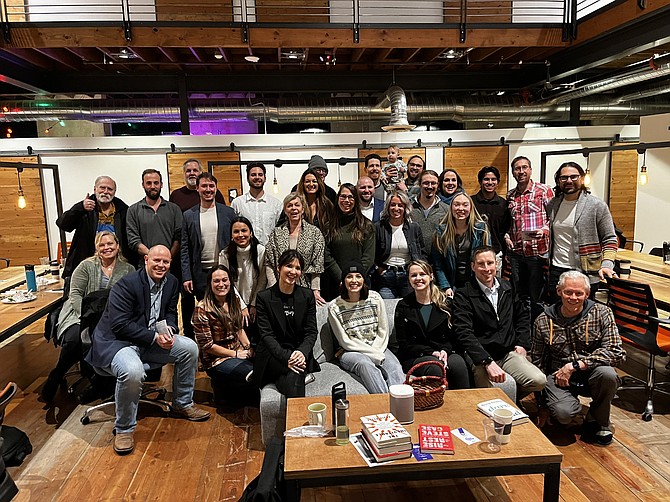 If you cross a business conference with a wellness retreat, you'll find yourself among peers seeking inspiration and fellowship at Innovation Collective's Story Summit.
Held every three months, Story Summit offers entrepreneurs and business professionals an in-depth way to engage, interact and, of course, share their stories.
"In short, it unlocks the next level for you and your teams," Innovation Collective founder and CEO Nick Smoot said. "It gives you access to incredibly talented mentors. It connects you to a community of like-minded individuals who are investing in their personal and professional growth. It forces you to think outside of the box."
Story Summit events include social hours with "show and tell" business pitch and project sharing opportunities, wellness activities such as yoga sessions, time for community exploration, group meals and mentor storytelling.
"Hearing others' stories and how they perceive them helps you better understand your own life," Smoot said. "Our lives are all built by the stories we tell ourselves. Having the right narrative in your mind and truly believing/acting on it changes your future."
January's Story Summit featured Zach Caceres and Brig. Gen. Blaine Holt.
Caceres, an engineer and entrepreneur at heart, has been a builder, a software engineer and a founder as well as an international speaker. He has helped build technology that powers startups, including curology.com, odaptos.com and makesoil.org.
Holt, who is now retired from the Air Force and lives in Coeur d'Alene, led U.S. logistics efforts in Kyrgyzstan with a besieged base and a country steeped in violent revolution. He transitioned from U.S. deputy representative to NATO to a life as a turn-around and startup entrepreneur. He advised several startups and frequently is a podcast and radio program guest. Holt is a Newsmax contributor, columnist and a lifetime member of the Council on Foreign Relations.
The next Story Summit will take place in July.
"Where else can you gather in a room with friends to hear an executive from Google or a general from the military tell you stories about life and business lessons they wish they knew when they were younger?" Smoot said.
Story Summit happens in Coeur d'Alene and in Innovation Collective communities across the country. The cost of the two-day experience is $150 per person and open to anyone. For Innovation Collective members, it comes with a ticket for the member and another for a guest as part of their monthly membership, which ranges from $100-$250 per month.
Info: innovationcollective.co