Hecla exceeds 2022 silver production guidance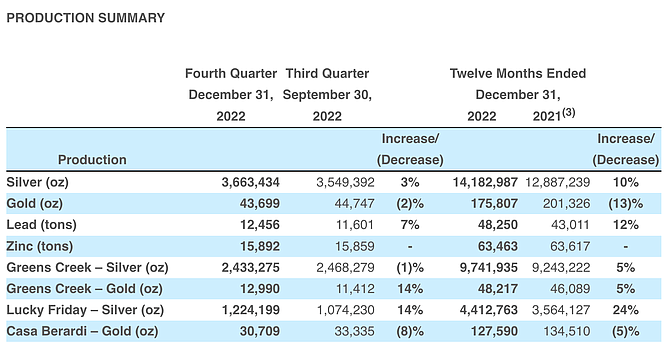 COEUR d'ALENE — Hecla Mining Company announced its preliminary silver and gold production for the fourth quarter and full year 2022 and certain estimates for the Keno Hill mine for 2023.
HIGHLIGHTS
Annual
• Silver production of 14.2 million ounces, Hecla's second highest, was an increase of 10% over last year driven by a 24% increase at Lucky Friday and a 5% increase at Greens Creek
• As expected, gold production decreased 13% to 175,807 ounces as Nevada production ended
• 12% increase in lead production; zinc production unchanged from 2021
• Keno Hill development on schedule with production planned to start in the third quarter of 2023, ramping-up to an expected 440 tons per day (tpd) by year end
Quarter (compared to 3rd Quarter 2022)
• 3% increase in silver and 2% decrease in gold production
• Lucky Friday silver production increased 14%
• Casa Berardi gold production decreased 8%
• Lead production increased 7%; zinc production unchanged
"Hecla is the fastest growing silver producer with a 40% increase in production since 2018. This sustainable growth is due to the continued strong performance of Greens Creek and dramatically higher production from Lucky Friday," said Phillips S. Baker, Jr., president and CEO. "Greens Creek had record throughput in the fourth quarter and Lucky Friday's production was driven by higher grades and the innovative Underhand Closed Bench mining method."
Baker continued, "In 2023, with Keno Hill expected to produce more than 2.5 million ounces of silver, Hecla could achieve as much as 17 million ounces of silver production, which reaches our production goal a year earlier than planned and would make Hecla the largest silver producer not only in the United States but also in Canada. With silver's growing use in the solar industry and the focus on clean and green energy, this is an exciting time to be the leading silver producer in the world's best jurisdictions."
OPERATIONS
Greens Creek
The Greens Creek mine produced 9.7 million ounces of silver and 48,217 ounces of gold in 2022. Fourth quarter production was 2.4 million ounces of silver and 12,990 ounces of gold. The mill achieved a new throughput record of 2,502 tpd in the fourth quarter. Annual silver and gold production increased by approximately 5% over 2021 due to increased mill throughput. Fourth quarter silver production was in line with the third quarter of 2022 while gold production increased by 14% due to higher milled grades. For the year, the mill operated at an average of 2,415 tpd in 2022.
Lucky Friday
At the Lucky Friday Mine, 4.4 million and 1.2 million ounces of silver were produced in 2022 and the fourth quarter, respectively. Silver production increase of 24% year over year was attributable to an 11% increase in mill throughput and 12% higher grades. Silver production increased 14% in the fourth quarter compared to the third quarter of 2022 due to higher grades. The mine achieved multiple milestones in 2022 with record mined tons, and record mill throughput of 978 tpd in the mine's 80-year history.
Casa Berardi
The Casa Berardi mine produced 127,590 and 30,709 ounces of gold in 2022 and the fourth quarter, respectively. Gold production declined by 5% over the prior year due to lower grades as ore sourced from the pits accounted for a higher percentage of the mill feed, partially offset by higher throughput and recoveries. Fourth quarter gold production was 8% lower compared to the third quarter of 2022 due to lower milled grades. The mill operated at an average of 4,353 tpd in 2022, an increase of 4% over the prior year, and achieved yet another throughput record of 4,468 tpd in the fourth quarter of 2022.
Keno Hill
At the Keno Hill mine, development remains on schedule and the mine is expected to commence production in the third quarter of 2023 with a phased ramp up projected to reach 440 tpd by the end of the year. Ramp-up and development costs from January 2023 until full production is achieved are forecast at $35-$40 million. 2023 silver production is forecast to be more than 2.5 million ounces and is expected to come from the Bermingham and Flame & Moth deposits.
ABOUT HECLA
Founded in 1891,Hecla Mining Company (NYSE: HL), headquartered in Coeur d'Alene, is the largest silver producer in the United States. In addition to operating mines in Alaska, Idaho, and Quebec, Canada, the company is developing a mine in the Yukon, Canada, and owns a number of exploration and pre-development projects in world-class silver and gold mining districts throughout North America.