Gem State tourism: Looking up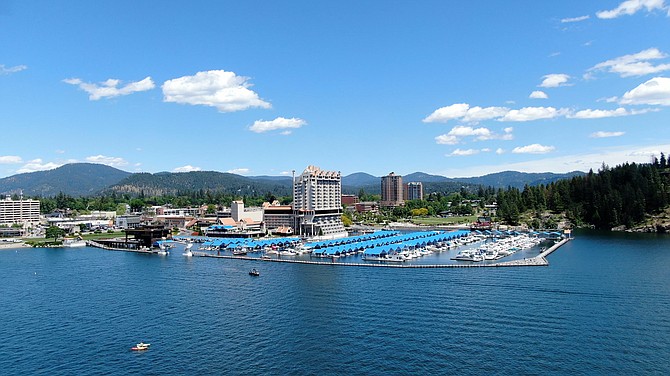 Idaho's tourism and travel industry is experiencing a shining moment.
The 2021 economic impact report prepared by Dean Runyan Associates, Inc. for Visit Idaho and released in late December shows trends ticking upward from 2020 across all things tourism in North Idaho and the rest of the Gem State.
"We saw large increases in travel and tourism to our region through the pandemic," Coeur d'Alene Convention and Visitor Bureau Executive Director Mark Robitaille said.
"While even in 2020 we fared quite well considering, 2021 saw significantly higher than average increases," he said. "The most obvious reason was Idaho, basically, closed for only a matter of two months while our neighboring states were closed or limited for much more time. People were still looking for places to go to get outside, recreate in a safe environment and still experience some sort of normalcy."
Direct travel spending, which includes purchases made by travelers during their trips as well as lodging taxes and other applicable local and state taxes paid by travelers at the point of sale, was up 37.4% across the state for a total of $4.8 billion in 2021. This is an increase of 12.2% over 2019, and a record high. That's equivalent to approximately $13.1 million dollars per day.
Travel spending is up even more in Kootenai County, an increase of 43.3% for a total of $896.3 million. The Idaho Panhandle, encompassing the state's five northernmost counties, experienced $1.1 billion in direct spending, for an increase of 37.5% over the previous year.
Idaho saw a 10.2% increase of nearly $50,000 in direct employment positions, which include full- and part-time wage and salary workers and proprietors. In 2021, travel-generated employment represented 49,800 jobs. Most job growth occurred in leisure and hospitality, which gained approximately 4,590 travel-generated jobs over the previous year. Kootenai County saw an increase of 20.6% in travel-related jobs, for a total of $9,400 in 2021, while the region experienced a 17.9% increase for a total of $12,200.
Direct earnings — wage and salary disbursements, earned benefits and proprietor income — of employees and businesses attributable to travel expenditures across Idaho experienced a 16.9% increase, with a total of $1.4 billion. Kootenai County's 2021 direct earnings saw a 29.5% increase over 2020, at more than $310 million. The Panhandle experienced a 27.1% increase at $384.7 million.
Idaho's direct tax receipts, which are collected by the state, counties and municipalities, as levied on applicable travel-related purchases such as lodging, food and beverage services, retail goods and motor fuel, experienced a 31.1% increase over the previous year, bringing in $610.2 million. Kootenai County saw $65.2 million in tax receipts in 2021, an increase of 43.6%. The region overall experienced an increase of 39.2% in tax receipts, for a total of $88.2 million. State and local tax receipts generated by travel spending increased to $376 million in 2021. State and local taxes increased 34.2% and 42.1%, respectively.
Spending by Idaho visitors who stayed in short-term vacation rentals grew from $502 million in 2020 to $685 million in 2021, an increase of 36.3%. Visitors who stayed in Idaho campgrounds spent $148 million, an increase of 9.9% over the previous year.
In 2021, travel spending in Idaho increased by 12.2% compared to 2019, when the U.S. travel industry declined by 27%.
Robitaille said he was not surprised to see Idaho's tourism and travel industry fare so well per the economic impact report.
"It's a bold illustration of the significant economic impact tourism has on our region," he said.