Blue Compass RV points to what matters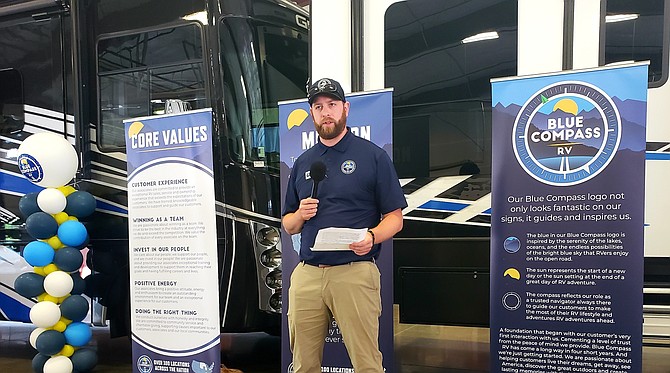 The founder, president and CEO of Blue Compass RV, Jon Ferrando, traveled across the country to launch the company's new brand and unify the corporate culture in his vision for the future.
The company was a collection of over 100 RV dealers across 33 states, but Ferrando wanted Blue Compass RV to mean more than that.
"We had 30 different brand names on our stores," he said. "We wanted to bring them together from coast to coast."
As part of the rebrand Ferrando will center Blue Compass around great customer experience, he said. "Whether that's sales or service. We'll give the customers peace of mind. No matter whether our customers buy here and are traveling through Texas, they'll be able to come find us."
With how RVers love to travel, Ferrando's vision was to be there for people everywhere.
"It was challenging," he said. "If the customer bought from us here and they were traveling somewhere else, they wouldn't know who we were. We tried to connect the dots, but this brings it all together in a super powerful way."
After investing millions of dollars in uniform employee training curriculum, service upgrades and national standards, Ferrando launched the new Blue Compass RV brand in a ribbon cutting in Post Falls July 10, and across the country throughout the month. The Post Falls location was formerly Blue Dog RV.
The CEO personally recognized exemplary employees in each of the company's showrooms as part of the brand launch. He met sales teams and servicemembers to drive home the core values of the brand: investing in their people, winning as a team, positive energy, doing the right thing and customer experience.
Each showroom has already been implementing the standards for months to enthusiastic employee support, and part of the brand launch tour was celebrating top employees at each Blue Compass branch.
"Blue Compass is a memory maker," Post Falls' top sales representative Evan Woolley said. "Unlike many other RV dealerships, we do the right thing. We stick around and continue to help."
Doing the right thing includes the sales and service teams acting with integrity, which company leaders reward. Blue Compass also prioritizes being there for people when they need them, even after the RV has been sold. Service stations and on-call support walk travelers through a diagnostic if they run into challenges on the road.
To invest in its team, Blue Compass developed a training curriculum for every employee to become the best salesperson they can be. And for service members to have the tools to fix anything on the lots.
Teams also celebrate wins together, like the CEO meeting top employees in person during the brand rollout.
"Blue Compass is one of the only companies I know of that says that they value positive culture, and then actively teaches about positive emotions, engagement, relationships, meaning and achievement," Spokane Valley branch's Krystal Malta said. "The follow through is there in order to achieve the positive culture Blue Compass is building this empire on."
During the brand launch, employees were also invited to pitch their own experiences with the brand. Ferrando listened as people told him what the company means to them.
"Our vision is to be the greatest RV company the world has ever seen," Woolley said. "And that's not just selling and fixing the most RVs, but providing the most comprehensive camping experience. Period. Here at Blue Compass we don't believe that the journey should end with the first step, but we will always be taking the next step with you."
Blue Compass is the second largest RV sales company in the U.S., and the company's mission is to become number one.
Ferrando has a nuanced definition of what number one means, though. Blue Compass will become the best RV company in the world, he said, and becoming the biggest will naturally follow.
The CEO and president wants customers and employees alike to feel like a part of the Blue Compass community. And the showrooms will illustrate that core cultural value.
"We're building a great, positive culture," he said. "We have more in training and development than any other RV company out there. We have this new compass university where we train our people. We spent millions on that."
The company also invested heavily in the marketing designs, websites, apps and a seamlessly integrated core look that will be reflected in the company nationally. And any showrooms Blue Compass buys moving forward will be integrated to the new brand.
"We're going to continue investing in people," Ferrando said. "Because that's what's going to be the differentiator for us. We're continuing to grow."
And investing in people results in a better experience not only for the staff, but also for the customers.
"We're bringing our processes to be more uniform, but we're really bringing it together for a more consistent elevated customer experience," Ferrando said. "That's what we're driving toward. And really staying connected to our customers after the sale."
When people buy an RV from Blue Compass, Ferrando wants them to feel like a part of a community. The company stands behind their product by offering a support and service department at each location, and the service department in the Post Falls location is one of the best in the nation, Ferrando said.
Adventurers don't want their vacations ruined by mechanical challenges, so Blue Compass lots offer premium and dependable RVs that are reliable for customers and staff, Ferrando said.
The product the company offers is something that reflects its new mission, brand and core set of values.
"Hidden in these boxes of metal plastic and wood are endless possibilities, places and adventure," Woolley said. "I may not be the one making all the memories in each RV, but I take joy in knowing that I helped facilitate a family's first memories in every RV I sell."