Top-notch wine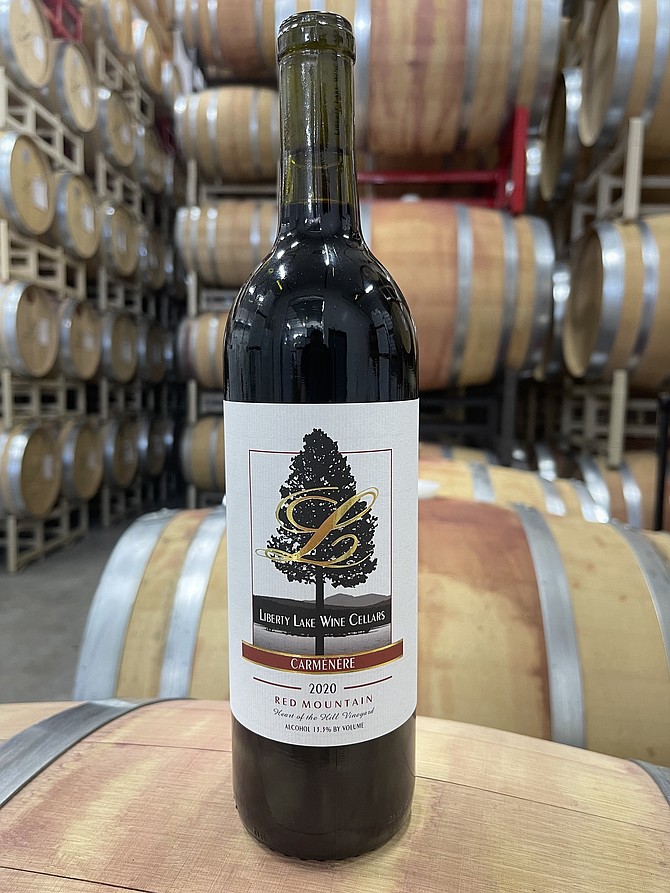 Wine Enthusiast's 93-point score for Liberty Lake Wine Cellars 2020 carmènére tops all North American scores for the varietal, ranks second worldwide and is top nine of nearly 1,400 carmènéres reviewed by the publication to date. The score will be published in the June/July 2023 print issue of Wine Enthusiast on May 30.
The same wine was awarded 97 points and Best of Class from the regional Savor Northwest Wine Competition in March, along with a Best of Class win for the winery's 2020 Cabernet Sauvignon at the same competition.
Mark and Sarah Lathrop of Coeur d'Alene co-own the winery, with Mark serving as winemaker and Sarah managing the tasting room, wine club and marketing. Sarah also serves as a board member and treasurer of the Spokane Winery Association.
Carmènére is a varietal of wine grape that is becoming increasingly popular with producers in the U.S. — but is commonly associated with wines from Chile in South America. The grapes used for this wine were from vines planted at Heart of the Hill vineyard in 2008 by Kiona Vineyards, one of Liberty Lake Wine Cellars' primary grape growers located in the Red Mountain AVA.
This wine's recognition by the publication follows the highly acclaimed 2018 vintage that resulted in the Spokane-area producer being designated as the 2022 Great Northwest Wine Magazine's "Washington Winery to Watch," and 2019 vintage wines that were given three "Editor's Choice" designations by Wine Enthusiast and four 90+ scores.
The winery's upcoming 2020 vintage also saw three additional "Editor's Choice" designations and a total of six 90+ scores from the publisher, a leader in the wine industry with a readership of more than 4.1 million people. However, not all wines from the vintage have been reviewed by Wine Enthusiast to-date.
Liberty Lake Wine Cellars focuses on small-lot production of many varietals, and over the last two vintages Wine Enthusiast has given "Editor's Choice" designations to the winery's offerings of Cabernet Franc, Merlot, Petit Verdot, Sangiovese and the Heritage Reserve Blend (twice) — the latter being an equal blend of Syrah and Cabernet Sauvignon. 90+ scores have been given to Cabernet Franc, Cabernet Sauvignon, Carmènére, Gewurztraminer, Merlot, Petit Verdot, Sangiovese and the Heritage Reserve Blend — a selection of wines that represent the vast majority of production for the winery.
The winery sources all grapes from the critically acclaimed Red Mountain AVA in Washington state except for Sangiovese, which comes from the newly formed Candy Mountain AVA close by. Both AVA's are located just south of the Tri-Cities and are a 2.5 hours' drive from Spokane.
"The 2020 vintage was especially difficult given the logistical problems of dealing with COVID, labor shortages and the possibility of wildfire smoke affecting the fruit, but we are certainly happy with the results of going forward with harvest. Wines overall from this vintage will be of especially high quality for the Red Mountain AVA and nearby AVA's for most producers," said Mark Lathrop.
Liberty Lake Wine Cellars is located at 23110 E. Knox in Liberty Lake, Wash. The winery is currently open to the public Friday from noon to 8 p.m., and Saturday through Sunday from noon to 5 p.m. without reservations. Liberty Lake Wine Cellars has been in operation since 2005. The winery can currently ship directly to customers in California, Colorado, Idaho, Montana, Nevada, Oregon and Washington.