Millworx on the rise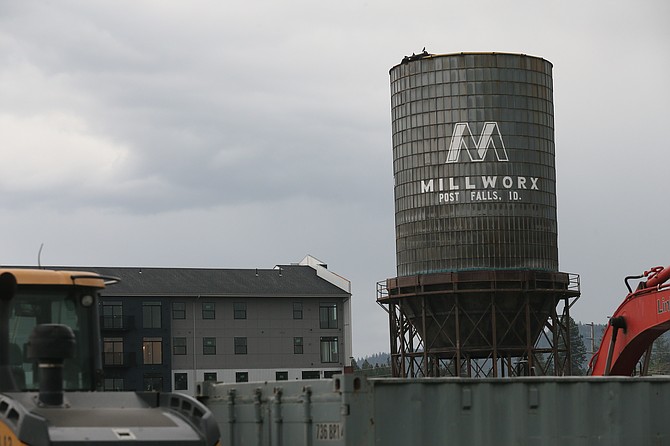 The redevelopment project on the old Idaho Veneer site in Post Falls — Millworx — just welcomed its first tenants.
When the project is complete in five to seven years, it will boast courtyards, greenspaces, a 150-unit hotel, markets, bistros, walking paths, gym facilities, housing for hundreds of residents and an urban community filled with amenities.
"In Kootenai County in general, we struggle to have planned projects that have mixed use," said Danny Davis, a commercial Realtor with Coldwell Banker Schneidmiller Realty.
"Oftentimes, you see growth throughout the prairie and it's a lot of garden-style apartments, a lot of single-family homes. They're nice, but some people would call them 'cookie cutter,'" he said. "This is an opportunity we have for a developer to come in and do a planned development for the entire project, with mixed types of units and to have everything flow and connect, with the idea of having commercial businesses and services close to a lot of not only homes for sale but also higher-end apartments for rent."
Millworx is at 704 E. Fourth Ave. near Interstate 90, the North Idaho Centennial Trail and the Spokane River.
Spokane-based A&A Construction and Development is the main developer. Davis and his colleague, Coldwell Banker Schneidmiller Realty real estate agent Robert Jacobs, said Millworx's urban neighborhood plan was inspired by Riverstone in Coeur d'Alene and Kendall Yards in Spokane.
"It's A&A's flair on those projects," Jacobs said.
Davis said they are hopeful the development of Millworx will start a snowball effect to build more of a dense downtown core as businesses and services fill in toward Spokane Street.
"Post Falls doesn't really have a downtown," he said. "We are the easternmost node of downtown Post Falls."
Jacobs said he is most looking forward to the commercial aspect of the development.
"Having this built out as a place where you can come, park, get out and walk around and have things to do, that dense commercial area is something that Post Falls is lacking," he said. "It takes some risk for somebody to take that first step and really get into it… Nobody's really gone this far to get going on a big chunk of it, and we're missing that."
The old Millworx hog silo is included in the site plans. Common space is expected to be created around it, including an amphitheater for music events and social gatherings.
Three condo styles provide diversity for tenants: the Garden, with landscaping and a garden path; the Ridge, set along Fourth Avenue; and the Vista, offering mountain views. Ridge and Garden units will feature high-end upgrades and finishes. Vista units are designed for clients "who want everything and the kitchen sink," as stated on the Millworx website, millworx.community. Prices vary from about $470,000 to $785,000.
Garden units range from about 1,300 square feet with two bedrooms and two-and-a-half bathrooms to about 1,700 square feet with three bedrooms and two-and-a-half bathrooms. Vista units are about 2,400 square feet with three bedrooms, three bathrooms and detached garages with accessory dwelling units above the garages. Ridge units range from 1,400 square feet with two bedrooms and two-and-a-half bathrooms to 1,680 square feet with three bedrooms and two-and-a-half bathrooms.
A roundabout will be installed on Fourth for ease of access. The site will also have ample parking, Davis said.
"The mixed use buildings around that will have commercial space, big patios that look out," Jacobs said. "It's all cohesive, planned to be a really nice spot to hang out, and hopefully you live here too so you can just walk down the street."
"It's a neat little community here in Post Falls," Davis said.