'Beacon' of health care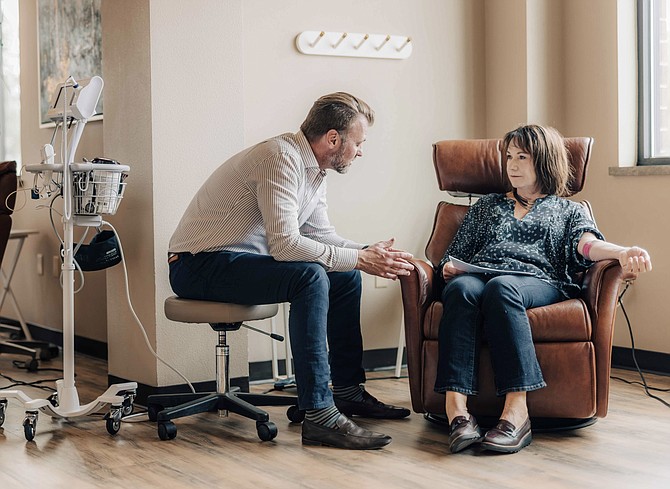 COEUR d'ALENE — Walking into the Beacon Clinic, as far as Helo Hancock is concerned, is a little like coming home.
It's a place where they not only know your name, but the names of those with you.
"It's kind of a family around here," said Hancock, the Beacon CEO. "I think we're different."
Earlier this year, the former Beacon Cancer Care took on a new name and moved into a remodeled 43,000-square-foot building at 3815 N. Schreiber Way, Suite 101.
Hancock said they wanted to create a "spa-like feeling rather than sterile, institutional feeling you often see at bigger facilities."
For instance, the infusion room, where medications are administered, looks out on a garden, which was done intentionally.
"It's very comforting," Hancock said. "It's very peaceful and calming and soothing."
Patients have said their visits to Beacon Clinic — which treats cancer, blood disorders and rheumatic diseases - are a highlight or their day.
Hancock said Beacon aims to create a "boutique experience" — a private physician practice where medical care is tailored to each patient.
"We have created something where people are welcome. They feel loved," he said.
Beacon Clinic was founded by Dr. David Bartels in 2018. He started it because he had worked in larger medical organizations and believed health care could be done differently and better.
"He never felt like he had the autonomy to take care of patients the way he believed he should be able to take care of them," Hancock said.
Such was Bartels' relationship with patients that they had his cellphone number.
"Which is very rare," Hancock said. "That really struck me as what a great service in connection to patients."
Beacon has been growing since and today has several thousand patients.
In February it expanded into radiation oncology and moved half of its oncology team to Post Falls. In April, it added rheumatology services.
It went from about 35 employees some 19 months ago to about 85 today.
"The goal is to grow around the right physicians and the right providers, and really around the right people and the needs in this community," Hancock said.
He said physicians have noticed Beacon's approach and said, "I want to get a part of that."
Before joining Beacon, Hancock served with the Coeur d'Alene Tribe for 17 and a half years as a legal intern, attorney, lobbyist, legislative director and chief executive officer of Marimn Health.
He saw what was going on at Beacon and wanted to be part of its mission.
"I feel like my primary job is making sure our team has everything they need to take care of patients," he said.
Beacon Clinic may continue to expand.
"There are certainly other specialties that make sense," Hancock said. "We definitely have an aggressive strategic plan."
But growth is not the goal.
"We'll make the best decisions for what the community needs, and help more people in our area," he said.
Beacon has patients who are fighting "the greatest battle of their lives," Hancock said.
"A lot of this stuff is very life and death," he said.
Beacon is involved in numerous research trials on cancer treatments in hopes of finding the best outcomes for patients.
"There really isn't a great alternative for the types of cancer they're facing," he said.
Beacon Clinic maintains connectivity between patients and providers, what Hancock referred to as a personal touch.
"We really want people to always feel like they're coming to a really safe place where people know their name and they're going to get the best care," he said.