Nurturing employee wellness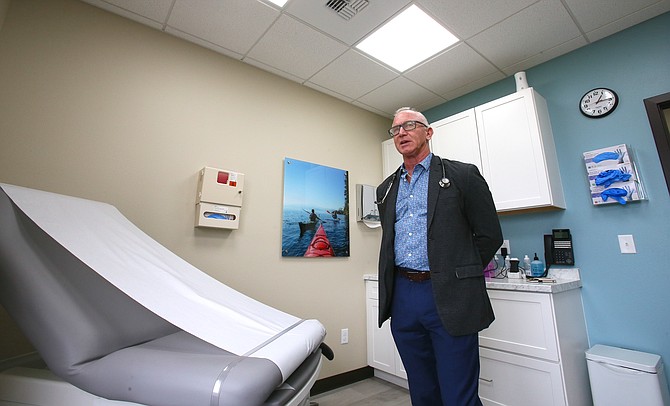 COEUR d'ALENE — "If you look good, you feel good. If you feel good, you play good. If you play good, they pay good."
"It's the Deion Sanders saying," said Dr. Craig Smith, resident physician of the new Hagadone Medical Clinic.
While this is true for the wide world of sports, it also applies to other professions and industries, especially those built on the most precious commodity: People.
"It's a very high quality of person I get to take care of that wants to take responsibility for their health," Smith said. "These people care about not just the aesthetic part, but being educated on how to manage their own health because they're anxious to get healthier."
Hospitality, food service and media are among professions that flourish when their people are flourishing. Employees in those industries transfer their positivity to clients and customers who, in turn, pay well, tip well and return to those businesses because their experiences were exceptional.
"They're self-driven because they're in hospitality, and they're taking care of people that are high demand, but high quality people," Smith said. "It's a positive."
The key to a healthy business is a healthy staff. The newly opened Hagadone Medical Clinic, easily and privately accessed by the Hagadone Corporation's 1,931 employees on the second floor of The Resort Plaza Shops, is an investment in nurturing employee wellness and a message to employees about how much they are valued.
"It just really was the most exciting thing that could have happened to the Hagadone Corporation to be able to be a part of something like this," said Brianna Shriner, corporate administrative manager for the Hagadone Corporation. "I don't think it was ever a thought in our minds that this wasn't something we wanted to do."
Opened in August, the Hagadone Medical Clinic is operated by PMR Healthcare and open to Hagadone employees and their dependents. Clinic benefits include free in-clinic treatments and free dispensary medications, no fees for most lab work, a convenient location, free parking, school and sports physicals, easy appointment scheduling and a dedicated medical team led by Smith. Although it is a Hagadone venture, personal medical records are safeguarded and employee information is confidential.
Smith said this investment in employee health is a labor of love on the part of Hagadone Corporation President Brad Hagadone.
"It's not just a noble thing; he doesn't gain anything politically and doesn't have to do it if he doesn't want to," Smith said. "He cares about his people."
Hagadone Corporation Chief Financial Officer Mont Garman served on the committee that made the decision to open the clinic and offer this free, high quality on-site service to team members. The concept of "free" minimizes the financial impact health care costs can have on a family budget, he said.
"We, as a company, understand this, and are excited to offer this as our way of saying we care," Garman said. "We wish for every employee and their families the best life possible, free of the financial worries rooted in health care today."
Without a demand for a co-pay or other financial barriers, Garman said team members will hesitate less about making needed appointments, and, most often, will go to those appointments the same day, unlike most primary care clinics.
"This leads to much healthier outcomes for the employee, and less time away from work," he said. "It's all about access to health care."
Garman said employees are the Hagadone Corporation's greatest asset.
"In today's ultra-competitive workforce environment, we are compelled to provide a benefits package superior to our competition," he said. "The bottom line is, we care about the people who work for our organization, and always want the best for them."
Shriner said employee reception has been overwhelmingly positive, with many team members simply sharing their gratitude for the new clinic.
"There's a buzz taking place among the team members — they're thinking about future health — which is generating conversation about health journeys," she said. "That absolutely puts such a positive vibe in the work atmosphere between team members. That directly reflects into their productivity and their job."
Most employees she has spoken with shared they just haven't been going to the doctor, Shriner said.
"Primary care is really hard to get into, and it's a big inconvenience to go off site and get your prescription, schedule your appointment, remember your appointment in three months," she said.
Shriner said this service improves employee benefit packages, a reflection of how the company cares for its people.
"We want our team members to not only think of their position with Hagadone as a job, but as a lifestyle," she said. "We want them to feel like it's family here and that we absolutely care about them and their dependents and what they're doing outside of work. We care about giving them good benefits and benefits that are readily available."
With all the pressures of the outside world, the Hagadone Corporation is always innovating new ways to care for its employees, whether it's promoting physical activity or encouraging team members to develop self-care routines.
"We want to be sure our team members don't have to carry all that burden," she said. "If there's anything we can take off for them and make a clearer, better headspace, we want to do that."
Garman said the idea of an employer-sponsored medical clinic was first introduced to the organization by Scott Burkhardt of Alliant Employee Benefits.
"The company believed this was an investment worthy of investigation," Garman said. "We put together a team of executives, which included Brianna Shriner, Bill Reagan, Clint Schroeder and Sara LaPresta, to study the viability of such an endeavor. After 10 months of research, negotiations, and clinic buildout, we now have a beautiful primary care clinic we can all be proud of.
"As I have said before, it's about the people," he said. "It's about the employees. They are our greatest asset."