A pathway to wellness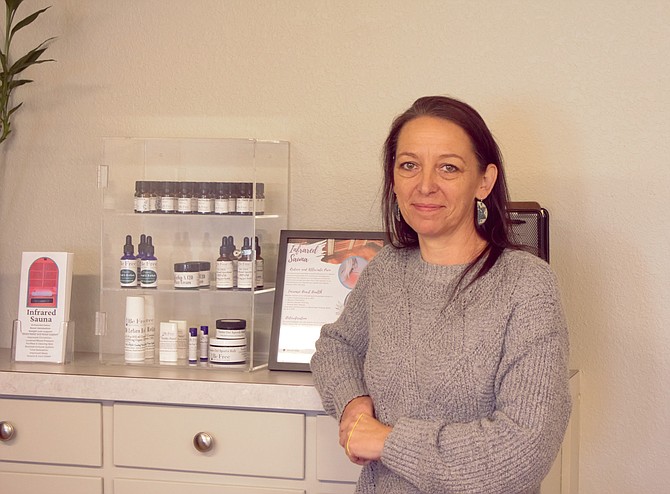 BONNERS FERRY — Be Free Natural Living offers pathways to wellness by providing holistic vegan bath and body care products and infrared sauna treatments.
Amanda Fairchild hadn't planned to start down this path of holistic wellness, rather it came about from necessity. In 2013, her young child, Jada, contracted Lyme Disease from a tick bite.
"We were seeing a natural doctor who recommended a different solution for pain," Fairchild said. "Meanwhile the medical doctor offered pain medication."
The Fairchild family all went on a wellness journey along with Jada. Fairchild began researching natural solutions and creating her own natural products for family and friend use.
In the summer of 2017, she began selling her home-made products. Before fully diving into the business, she set a goal of making $200 by the end of the month. If she reached the goal, then she would pursue the business venture.
She made two times more than her goal.
From there she realized there was a need for her health-conscious products. At the time her main products were bug spray, comfrey salve and pain relief cream, which she and her family used regularly.
As customers requested additional products, such as cream for diaper rash, Fairchild has created products and product lines to fulfill the needs of clients.
She has stretched her product line to include shampoos for sensitive scalps, deodorants, tattoo creams, mommy and baby products, men's products and more.
Fairchild has the whole body in mind when designing products and only uses ingredients that are peer reviewed in scientific journals, as to ensure the safety of clients and the best results.
"I have a lot of books on the body and follow people that have been in the health industry for a long time," she said.
She makes the products as natural as possible, but does use preservatives in order to prevent E.coli and other diseases from growing.
When creating products she keeps body systems in mind, such as the lymphatic, endocrine, nervous and circulatory systems, knowing they all work together.
For seasonal illness, she offers tinctures, such as elderberry and elderflower, which are used to boost one's immunity.
In addition to her own products, Fairchild has also collaborated with other companies in designing their own natural products. At this time she is working with a Montana-based men's line focusing on facial hair care and sells the product wholesale.
The greatest challenge for Be Free Natural Living, has been getting products in stores and maintaining name recognition.
Be Free Natural Living products have been in stores around Boundary and Bonner county, but not having enough supplies to fill stores and entry-level label equipment hurt name recognition.
Fairchild said due to the paper labels peeling off, many of her customers lost contact information and did not know where they could buy additional products. By investing in high quality labels she has seen more customers return for additional products, whether that is to restock on cream or explore other product lines.
In order to have products in stores and not rely solely on the website, Be Free Natural Living is looking to get back into stores, especially the Montana market.
Be Free Natural Living is not just wellness products, but also offers a two person infrared full spectrum sauna, which is used for infrared light therapy. Full spectrum means the sauna goer enjoys the benefits of near, mid and far infrared waves in the same session.
"Sweating is the body's natural way to heal," Fairchild said.
The sauna is low EMF carbon and ceramic heater design, included with a high-tech Bluetooth sound system and chromotherapy lighting for added health benefits. Appointments must be scheduled in advance and package specials are available.
Fairchild is finishing her phlebotomy program and hopes to offer IV nutrient treatment by next year. Since being diagnosed with malnutrition and taking care of her ill child, Fairchild has been treated with IV treatment and has seen the benefits for herself.
"The IV treatments totally saved her. And sometimes with people you have to bypass their livers for them to get the nutrients in," she said in support of IV treatments.
Be Free Natural living is located at 6737 Cody St., Ste B, Bonners Ferry. For more information, visit befreenaturalliving.com.