Mountain West Bank celebrates anniversary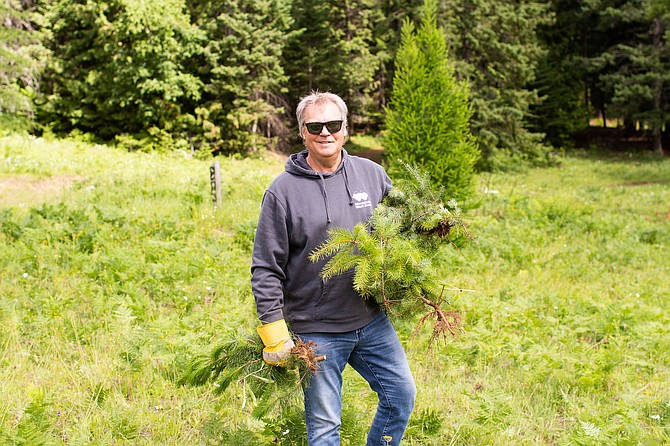 On its 30th anniversary, Mountain West Bank staff and executives celebrate three decades of giving back and look ahead to continuing their legacy of community service.
Mountain West Bank employees commemorated the milestone throughout Idaho and eastern Washington this summer by volunteering for projects dedicated to the communities in which they live.
"The Mountain West Bank staff is dedicated to volunteering at local nonprofits because they know this commitment makes communities stronger and more resilient," said a news release. "Working with these nonprofits allows Mountain West Bank to say thank you to the community members who support them."
Mountain West Bank CEO Scott Anderson joined the team working on the Kaniksu Land Trust community forest in Sandpoint.
"Our bank has been around for 30 years and we'd like to be around for a lot more, so we're here helping today, tomorrow, together," Anderson said, in the release.
He said that at the bank they take advantage of opportunities to give back to their communities.
"We're certainly mindful of the great things that our communities do for our bank and the loyal customers that we have," Anderson said.
In addition to Sandpoint, bank staff volunteered for nonprofits in Nampa, Athol, Coeur d'Alene, Meridian and Boise.
Mountain West Bank was founded in Coeur d'Alene in 1993. The bank offers a complete array of personal and commercial financial services. In addition to its Coeur d'Alene headquarters, Mountain West Bank operates 20 branches, financial service centers and lending centers throughout Idaho and eastern Washington. It is a division of Montana-based Glacier Bank, a wholly owned subsidiary of Glacier Bancorp Inc. (NYSE: GBCI) that operates 222 offices in 144 communities in Montana, Idaho, Colorado, Utah, Washington, Wyoming, Arizona and Nevada.
Info: MountainWestBank.com